Upcoming Live Music
Derby Week dominates the end of April and the first week in May this year and, as usual, there are a number of mega-music events to go with the couple of minutes of racing that wraps it all up. For those unfamiliar with the events that surround the Derby, you should know that the last week before the big race, the entire city gets progressively more party-oriented until Friday, when half the city takes the day off to go to the Oaks. On Saturday, a big chunk of the rest of Louisville also takes off and there are parties all day and into the night. Louisville, like New Orleans, has its very own civic holiday and we're all glad to observe in our own way. You're welcome to come and join in. Have fun and try not to get arrested. Go listen to some of the music listed below.
• Acoustic / AAA
"Hillbilly-boy-makes-good-in-the-big-city" may be a thoroughly hackneyed scenario but that doesn't mean that it doesn't happen anymore. Robbie Fulks, former guitarist with Special Consensus and founder of the rock band Trailer Trash Revue, is a current occupant of the aforementioned scenario. Fulks is big in the AAA and alt-country markets, though not in the rock scene. He'll be at the Phoenix Hill Tavern on May 19.
Tix and info: 589-4957
• Alan Rhody hasn't been in town for a while. He returns on May 27 for a show at the "new" bar on Frankfort: The Light House, which occupies the space at the corner of Frankfort and Pope that has been home to several watering holes over the past few years. Easy place to find.
Tix and info:
Bluegrass
Check Berk Bryant's "Bluegrass Beat" on page 8 for a list of festivals coming up in the next few weeks.
• Del McCoury must have decided that he likes in Louisville, in addition to finding at audience here, the Del McCoury Band so last's big winner at the IBMA Awards Show will be at the PHT on May 20. This is not exactly the room favored by bluegrass purists but, hey, you play where they'll let you (and pay you) and where there is an audience. Pack your earplugs in case you have to travel through one of the other bars in the PHT, plus a mask if cigarette smoke bothers you and go listen to these guys pick.
Tix and info: 589-4957
Blues
• It's a no-brainer for the blues concert of the month: BB. King at the Palace on May 21. However gone the thrill might be for BB, it's not for the rest of the blues fans in town and there are a number. Combined with the fact the King is a legendary and the recommendation has to be for you to pick up the phone and order your tickets right now if you think you want to go, otherwise, Bucky, you will MISS OUT.
Tix and info: 583-4555 or 584-7777
• Stevie Ray's has a couple of notable acts coming in. On May 1, Tommy Castro will groove his way through the room and on May 16, Sandra Hall & the Junior Wells band will be there. Big Al & the Heavyweights return on May 3, just in time for Derby and Nigel Mac & the Blues Attack are in on May 11.
Tix and info: 582-9945
Celtic
• Celtic music lovers will have to take road trips for their dose of major Celtic acts this month. The 18th Annual Kentucky Scottish Weekend, scheduled for May 12. 13, 14 at General Butler State Park will feature lots of pipe bands in competition, plus fiery Celtic act Seven Nations and balladeer Alex Beaton. You can find out more at www.kyscottishweekend.org or by reading Decimus Rock's Celtic Corner on page 22.
Country
• The big country event for May is probably the May 4 show at Freedom Hall: John Michael Montgomery, Lorrie Morgan and Lee Greenwood. While none of these performers is currently the hottest ticket in country, they all have had major hits and lots of fans. In the case of John Michael, a goodly number of folks from his hometown, Nicholasville, will probably make the trek to the Fairgrounds. With all the music happening Derby Week, this one is likely to be one of the bigger concerts.
Tix and info: 361-3100
• Montgomery Gentry fans should make note to pencil in May 27, when the guys headline at benefit show at the Laurel County High School Football Field. This one is to raise money for the Buffalo Volunteer Fire Department. You'll have to tune in to E-town's KMO Country 1-6.3 to find out where to get tickets or log on to their website at www.starradio.com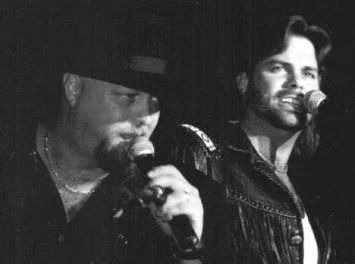 Montgomery Gentry
• Wade Hayes graces the big room at Coyote's on May 18, proving thereby that he's not really "Old Enough to Know Better." Okay, that was the title of his '94 hit. Since then, it's been a bit thin for this Oklahoma boy, though his '98 release, "When the Wrong One Loves You Right," kept him in the game, enough that the tickets for this show start at $12.
Tix and info: 589-3866
• Even though Glen Campbell had his success and is best known for his songs on the country charts, he's a versatile guitarist, if Louisville musicians who have jammed with him have anything to say about it. Be that as it may, Mr. "By the Time I Get To Phoenix" will be in concert at Renfro Valley on May 6 for two shows. Might be just the place if you want to get away from the rigors of Derby Day.
• Country music's answer to Arnold Schwartzenegger, Aaron Tippin, will present a concert at Renfro Valley Entertainment Center on May 20. A country traditionalist, Tippin's "You've Got to Stand For Something" became a bit for an anthem for a number of different folks. He'll sing that one, plus whatever new material he's working on.
Tix and info: 800-765-7464
Gospel
• Kentucky Kingdom's May 13 Gospel event will feature none other than the Staple Singers' ("Respect Yourself," "I'll Take You There") plus a selection of Louisville-area gospel acts. The event is free with paid admission to the park.
Tix and info: 502-366-2231
Jazz
• Jazz fans will have to partake of the offering Louisville jazz musicians this month. Sandy Neuman's Jazz Jam has moved from the Rudyard to the Comedy Caravan. It's held every Wednesday, from 10 p.m. to 1 a.m.
Info: 459-0022
• Dick Sisto's Fridays and Saturdays at the Old Seelbach Bar regularly offers up national-level jazz players sitting in with the Sisto Duo or Trio. A most elegant and refined drinking establishment for listening to live jazz.
Info: 585-9211
Musical
• Your choice for musicals in May at two: you can catch the last of the run of "Joseph and His Amazing Technicolor Dreamcoat" at the Derby Dinner Playhouse or you can wait a few days and see their production of the movie (or was the movie based on the musical>) "Grease," beginning on May 9. Either way, you get to have a nice dinner and watch professional actors and singers at work.
Tix and info: 288-2632
Orchestral
• The Louisville Orchestra will wrap up the 1999-2000 Hilliard Lyons MasterWorks season with Gustav Mahler's Symphony No. 9, a work that Mahler was reluctant to write, thinking a ninth symphony a bad omen, since other composers had died during or directly after writing a ninth symphony, including Beethoven, Schubert and Bruckner. Mahler finished his ninth symphony and started on his tenth but died in May of 1911, before the ninth had been performed. Maybe he knew something.
The Coffee Concert will be presented Thursday, May 11 at 10:30 a.m. and the Hilliard Lyons MasterWorks concert will be on Friday, May 12 at 8 p.m. Both concerts will be held at The Brown Theatre.
Tix and info: (502) 584-7777.
R&B
• The Orchestra's ever-popular SuperPops series will have The Four Tops as the "pops" act for the May show, which is set May 20 at the Palace. The Tops, of course, are one of the standard-bearer groups for Motown vocal soul/R&B and they have a ton of hits. If you do not know who they are, then you're just a know-nothing whippersnapper. Buy tickets for your Mom and take her; she'll enjoy it and so will you.
Tix and info: 583-4555
Rock
• Churchill Downs' pre-Derby "Festival in the Fields" has a pretty fair line-up for the Thursday, May 4 $2 show: Collective Soul is the headliner, with the hot Three Doors Down and Louisville faves Fiveast opening. All that, and you can bet all day.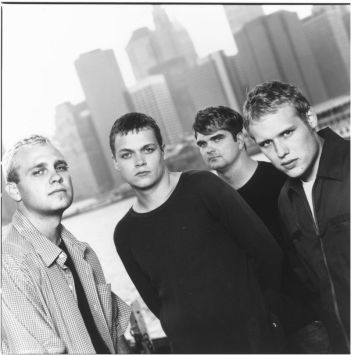 Three Doors Down
Gates open at 11 a.m. and the music starts at 1 p.m.
The Friday, May 5 lineup features nostalgia act Loverboy, plus Happy's 4-Day Weekend and the socially unconscious Velcro Pygmies.
Info: 636-4400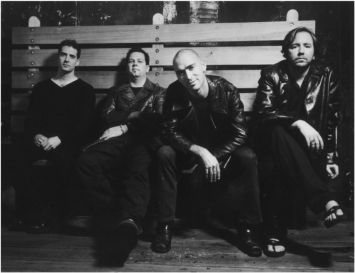 Live
• The rock band Live claims to still embrace the tenets of rock: personality and anti-convention. You can decide for yourself if this band is the real deal when they appear at the Gardens on May 16 as part of the "Distance to Here" tour. Also on the bill is singer/songwriter Tracy Bonham, who has a sophomore album, Down Here, to promote, and Local H, which is a duo.
Tix and Info: 584-7777
• Coyote's books more than country, as most folks around here know. For the Tuesday of Derby week (May 2 for non-Louisvillians), it'll be Sebastian Bach, the original singer for Skid Row. Look for a reprise of those "Youth Gone Wild" days and lots of covers of SR material. It's a free show if you get over to Coyote's and pick up a ticket. Otherwise, it's $5.
Tix and info: 589-3866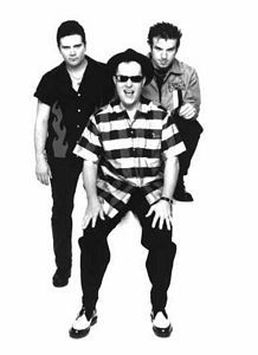 Reverend Horton Heat
• Hang in until May 23 and you can catch the Rev. Horton Heat and Los Straitjackets at Headliners. RHH has a new CD, so you know they'll be cruising and the Straitjackets will deliver their Latino version of surf music, complete with Mexican wrestling masks. It's quite a site.
Tix and info: 584-8088
• The Rockin' at Riverpoints Series cranks up on May 19, when the Classic Rock Allstar Group, Digby kicks this series off. On the 26th, it's BR-549, Unknown Hinson plus other acts. You have to buy a $1 pin to get in this year. On the waterfront.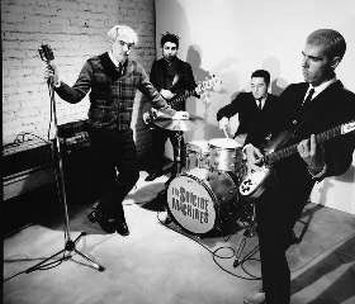 The Suicide Machines
• On May 19-21, those krazy kids at Initial Records are staging KrazyFest3 on the Belvedere. On Friday, it's the Suicide Machines, Boy Set Fire, the Enkindels, Skam Impaired plus three more bands. On Saturday, it's A.F.I., Elliott, One King Down and nine more bands. On Sunday, it'll be By the Grace of God, The Jazz June, King for a Day, The Juliana Theory and seven more. Phew. Find out more at www.initialrecords.com
Tix and info: 499.7865
Rap/Hip-Hop/Urban
• Hip Hop Tour 2000> >brings it home to the Gardens on Sunday, May 7, for a traditional after-Derby blast. (This is not to be confused with the maybe-it-will, maybe-it-won't Derby Day event being worked on by the Mayor and Board of Aldermen as a means of dealing with the West Broadway Derby Day action.) The lineup (not in order) is >Sole, Hypnotized Mind, NAS, Black Rob, Lay It Down Record, a>nd> Three 6 Mafia.
Tix and info: Gardens Box office of 584-7777
World Beat
• Cubanismo! is described as "a virtuoso group of musicians loyal to traditional rhythms but devoid of nostalgia, forging a modern Cuban music which never leaves the clave or loses sight of the great Cuban dance rhythms." Whatever you say. Hot Cuban music is entree for this event at the Kentucky Center for the Arts on May 3.
Tix and info: 584-7777
• The Speed Art Museum AfterHours series of Thursday night gatherings to schmooze, nibble, kibitz and network, as well as listen to whatever band is playing. For the May 18 event, it'll Caribe for an Island Party feel. Wear your wing tipped flip-flips and a really loud shirt over daytime gear, then eat, drink and dance. It get's wild and crazy over at our toniest museum.
Info: 634-2700