Down On The Corner
• I've been plugging away at plugging away for the twin Louisville music television shows, " Mid City Mix" and " Live at Mom's," now airing on WYCS Ch. 24 on Thursdays, beginning at 8 p.m. The scheduling has settled down for the moment, since the crew at Mom's in Jeffersonville went crazy and began taping episodes every Friday, which they encourage you to attend. They staked out the 8 – 9 p.m. slot on YCS plus there's an additional program connection to WTFX The Fox. "Mid City Mix" follows at 9:30 p.m., with a bit of a different format and including more interviews from the musicians.
There will be another taping of "Mid City Mix" on Sunday, November 12, from 2 to 6 p.m. at the Comedy Caravan. Acts scheduled to appear are TheMarks, Open Window and Splatch . TheMarks, fronted by the ever-lunatic saxophonist Mark Watson , has all-new personnel (other than Watson) … or maybe some new personnel … or maybe he'll appear with somebody else … or … naw, it'll be TheMarks. Splatch has a new CD, according to leader Tony McDaniel , so they'll have new material to present. Open Window is a contemporary Christian act.
Admission is free for three half-hour shows, the bar will be open and children are welcome, so long as they're old enough to be quiet when necessary. Call 893-9933 for more information. Check the TV listings for broadcast schedule information.
• The WFPK "Cash & Clash" event at Phoenix Hill on October 22 was a Louisville music industry schmoozefest in addition to being a fund raiser for Public Radio, always a worthy cause. As it was held on a Sunday, it seemed like every musician in the city was in the place, either playing or waiting to play or had just finished playing. Lots of fun and the music was good, too. Cornbread Mafia blew the plan of one Cash song, one Clash song, but the non-musicians in the crowd loved the tune they did. Simple decency prevents repeating the title; suffice it to say, the song is an invitation to carnal knowledge. The watching musicians were disgruntled, of course, as they had followed the rules.
• Spreading of Cornbread Mafia , they're working on doing a showcase in New York City, mebbe CBGB, according to Cornbread head Adonis Mertz , who wandered around the Phoenix Hill Tavern in his trademark silver cowboy hat and alien-eye sunglasses.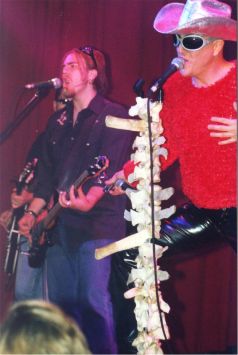 Alex Tench, left, sang backup for Cornbread Mafia lead singer Adonis Mertz, right, during Cash Or Clash. The mic stand decoration appears to be a bovine spinal column.
• Another Louisville artist is making waves out there in the big wide world. Jazz vibraphonist and ear X-tacy Records artist Dick Sisto is getting enough national airplay with his recent CD, End of Time, that it has made it onto the Gavin Jazz chart. Gavin is one only two major trade publications that publishes a jazz chart. (The other is CMJ (College Music Journal). Yea, Dick Sisto!
• Okay, Louisville musicians , if you had a song or other musical project appear on a more-or-less legitimate record chard, (okay, we recognize that record charts are often little more than puff pastries but still . . .) call me at 893-9933 or email at LouMusNews@Louisville.net and let me know the details: on what chart, when, what song or project. I'll do a wrap-up for the end of the year.
• Way across the musical divide, Louisville metal band Flaw has been inked to a seven project deal with Republic Records. The deal includes guaranteed tour support among other sweeteners, according to our erstwhile jazz columnist Tim Roberts, who got the word from Flaw's management.
• Gary and Lesia Brewer have a new addition to the family. Mason Garrett Brewer joined an older brother, Gary Wayne, on September 26, weighing in a 7 lb. 12 oz. Mother and son are doing fine. Gary might be able to take a brief break, now that the baby's here and the IBMA Trade Show is over. In addition to his booth, Gary organized and hosted a "Tribute To Jimmy Martin" showcase, featuring a number of former Sunny Mountain Boys and other musicians who acknowledged Martin's influence on them. The King of Bluegrass, seated in front, was his usual irascible self.
• Gerstle's Bar in St. Matthews has expanded, added a new sound system with digital recording capability. Oh, yes, and they've added new restrooms, a larger stage more seating and access for the handicapped. Gerstle's is at the intersection of Lexington Road and Frankfort Ave, at the end of the White Castle parking lot but don't park there.
• Americana artist Joel Timothy has signed on with Focal Point Video Productions to be their resident composer and all-around musician-type guy. They sort of finagled him into the job, but you'll have to get him to tell you the story.
• Recent moves in the business: Mark Stein is out at Dixie Music, following the closure of Third Planet Music on Hurstbourne Lane. Nick Reifsteck has signed on with Jimmy Brown at Guitar Emporium. Anybody I missed should give me a shout out about it.
Codas
• Edward E. Curtis , 79, died on Sept 26 in Louisville. He was a musicians, a former musical repairman for the old Durlauf Musical Instruments Co. and a member of the American Federation of Musicians, Local 11-637.
• Rose Bein Lerman , 86, died October 1 in Louisville. She was a former pianist with the Louisville Orchestra and the Hilton Supper Club in Miami Beach; a performer for WAVE Radio, and a pianist and opera coach for various opera companies.
• George Edward Wicks , 78, died October 8 in Louisville. He was a retired musician.