I've Got A Mind To Ramble
KBS Celebrates Its 11th Birthday
Every year, the Kentuckiana Blues Society is legally required to have a general membership meeting, at which officers and directors are elected. To entice the members to come, we have usually staged a birthday party after our brief formal meeting. This year will be the eleventh anniversary of the incorporation of the KBS in July of 1989.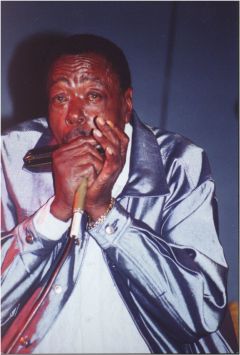 Cary Bell at Stevie Ray's
The membership meeting and birthday party is scheduled for Sunday, November 19, at Stevie Rays. Once the business is taken care of, the Sofa Kings (Deluxe) will crank things up at 4 p.m. This five-piece band from Richmond was the winner of the KBS Unsigned Blues Talent Competition in August. The headliner will be Eddie Shaw and the Wolf Gang, who will come on at 7 p.m./ Shaw and his bass player, Shorty Gilbert, were in Howlin' Wolf's band from the late Sixties until Wolf died in 1976.
Shaw's tenor sax can be heard on Magic Sam's second Delmark LP, Black Magic, and on Sam's exuberant "Live" album. During the 80s and 90s, Shaw made several recordings on his own for Evidence, Rooster and Wolf Records. His most recent recording, Can't Stop Now, came out on Delmark in 1997, and included his son Vann on lead guitar and Eddie Taylor's son Tim Taylor on drums. This is the configuration he will bring to Stevie Ray's, with a few surprises added.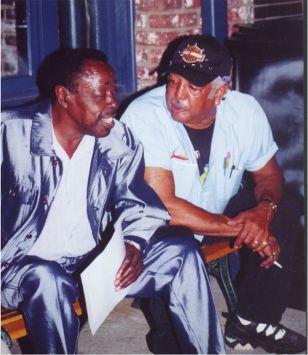 Cary Bell and Sonny Sitgraves reminiscing at Stevie Ray's
If you have not heard or seen on Vann, his exotic appearance belies his skillful backup and solo guitar work. When Eddie and the band get to movin' and grooving', the place rocks, as it did during a tribute to Howlin' Wolf at this summer's Chicago Blues Festival. When Jimmy Dawkins came to perform at the 1996 Garvin Gate Blues Festival, he brought Eddie, Vann, Shorty and Tim with him. It was a memorable set, as Jim Rosen sat in with the band. If you have not experienced the high energy Shaw brings with his honking horn and his catchy and inventive vocals, then come on down and sample some Champion Bar-B-Que while you "bluze out." The admission is $8 for the public and is free for all KBS members.
Carey Bell Brings Chicago To Main Street
It's so easy to close your eyes and imagine that you are in a Chicago blues bar when you're listening to Carey Bell. He's been blowing his harps since the mid-Fifties, when he came to Chicago with stepfather, the pianist Lovie Lee. Bell has spawned a whole generation of bluesmen with sons Lurvie (guitar), Steve (harp), Tyson (bass) and James (drums). Bell performs at Buddy Guy's Legends nearly every month but prefers to be on the road. His band at Stevie Ray's on October 2 had Steve Jacobs, his guitarist for twelve years, bassist T. H. James and drummer Mark Keefer. Most of these guys are from Schenectady, New York and they join up with him for his extended road trips.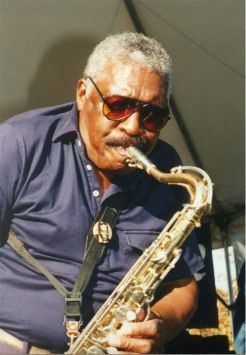 Eddie Shaw at the 1996 Garvin Gate Festival
Bell likes to warm up with several double Jack Daniels and cranberry juice to sweeten his sound. He carefully makes a selection from his assortment of chromatic and regular harps and proceeds to blow deep tones and riffs that hark back to his mentors, Little Walter and Walter Horton. Like many elder bluesmen, Bell plays sitting on a chair and occasionally strolls through the crowd.
At Stevie Ray's, he played many Chicago classics, included "Mello Down Easy," "Broke and Hungry" and "When I Get Drunk." My favorite was his slow haunting blues, "I'm a Lonesome Stranger,"" which has this open line: "the highway is my life and the hotel is my home."
Bell recognized Sonny Sitgraves in the audience. Sitgraves had drummed with many Chicago blues band during the Sixties and Seventies, including Johnny Littlejohn, Buster Benton and the Wolf. They had a talk about the old times during the breaks. Bell invited Sitgraves to sit in with the band, along with another harpist who traded riffs with Bell on "Walking By Myself." If you like your blues harp with a big, fat, upbeat tone, then Carey Bell is your man.
Next Month
I've been asked to be a judge for the Columbus, Ohio Blues Association's Blues Challenge, when twelve bands will be competing. Accordingly, next month, I'll fill you in on the star of the art of Buckeye Blues.