LRS FEST 2000
By Jason Koerner
An estimated 30,000 people showed up at Waterfront Park on September 29, braving drunks, the weather and the crowd to hear Vibralush, Ultimate Fakebook, Dust For Life, Peter Searcy, Wheatus, Stoke 9, Disturbed and P.O.D. The concert had its ups and downs, but overall, the crowd got what they came for. Here's what went down…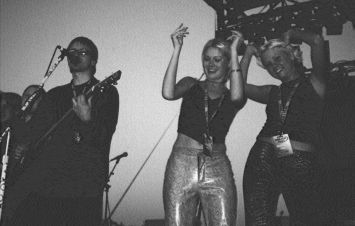 Wheatus on stage with a couple of lucky "Teenaged Dirtbags"
I got there too late to see Vibralush, but the audience members I spoke to about them had good things to say. There are several pieces in the band, and musically they are very talented. They were not as heavy as Disturbed or P.O.D. but their music was a good way to kick things off nonetheless. You may have heard their hit single "Touch and Go" on WLRS.
Ultimate Fakebook was a real pleaser to the punk fans. A three-piece setup and simple chord structures made this group's material extremely catchy. I can't get "Tell Me What You Want" out of my head for anything! The band had a killer set ending and great vocal harmonies throughout, but the "Buddy Holly" glasses and Get Up Kids T-shirt were enough to win my respect.
Then came Dust For Life, the heaviest so far, and they really got the crowd moving. This Memphis quartet is off to a great start: they are touring with Three Doors Down and Nickelback. I absolutely love their single "Step Into the Light" and found myself singing it constantly after the show. I "heard" that the band may be touring with Creed and Sevendust after Thanksgiving. That tour "may" be a Southern route through the U.S., including Atlanta, Biloxi and Memphis. Hopefully, Louisville will not be left out of the schedule if a tour does come around.
(Later on their website, I found a tour diary written by the band, and on the Louisville date, there was a link to their pictures featured on www.wlrs.com. It's a look at what goes through the minds of the touring rockers. Their address is www.dustforlife.com.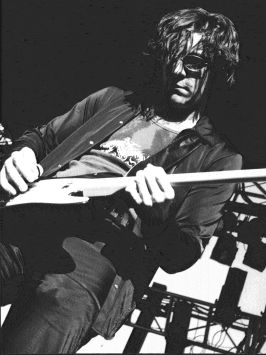 Khris Gavin of Dust For Life
Also appearing that day was Louisville native Peter Searcy. Searcy's latest hit, "Losing Light Fast," is a fresh blend of pop and folk rock, a modern rock variation on the singer/songwriter genre. His lyrics are sincere, and you can tell he is not in the bandwagon of trying to crank out cookie-cutter rock to sell records, or even sound like his former bands: Squirrel Bait, Big Wheel and Starbilly. He has a new album to come, so be looking for it.
On came Wheatus, the band I was most looking forward to seeing. They were everything I expected them to be - different. Brendan Brown's vocals are almost unbelievable, with an extremely wide vocal range. He commented on-stage that everyone thinks that it is a girl singing, when it's in fact him.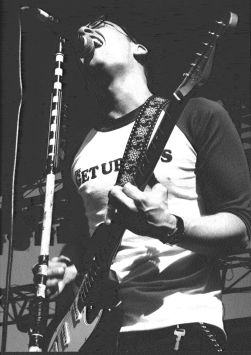 Bill From Ultimate Fakebook
The band pulled a cover of "Don't Let Your Babies Grow Up to be Cowboys," which left most of us scratching our heads. The crowd got a little, hmm, pushy during their set, especially the girls. (Here I've been spending all these years trying to perfect my Barry White voice when obviously I need to work on sounding like Mariah Carey.) Musically, the band carried themselves very well, with off-beat rhythms and a cool percussion section. They did not lose any power by not having an electric guitar. But I still had one question: "What the hell is Wheatus?" It turns out that it is just a funny nickname that was given to Brendan as a kid by his Dad. Ohhhh, okay, I feel better now.
Stroke 9 was probably the most mainstream band there. They did a great job but didn't have the same energy as some of the other bands. Stroke 9 has several radio hits, and they also gave the crowd something else to sing along to: Weezer's "My name is Jonas." I liked the full sound they achieved through having two guitars, much like the fullness heard from Dust For Life. Other than that, little else was memorable from their set .
Hmmmm… what can I say about the next band? I'll give you a hint: they were rather disturbing — and I loved every minute of it! Give up? Gee, you guys are so smart. You guessed correctly, it was all Disturbed that night. They overshadowed my expectations of them, both musically and through their stage presence. I love a good show, and props are plus at any concert. I think an on-stage electrocution, complete with blood squirting (via a windshield wiper pump) counts as an "A." The set was just as powerful as the special effects in the intro. The samples added a nice touch too, and it was also invigorating to hear some double bass drum beats with some good 'ol chunky riffs on "Stupified." The only negative comment I have is the usual: the licks and screaming became monotonous after a while. This just goes to show that any concert needs a good mixture of bands, no matter the talent level of any one band.
Lastly, there was P.O.D. I was not very impressed by their set in Cincy, and I was not any more impressed here. The hits "South Town" and "Rock the Party" are prime examples of the cookie-cutter trendy music I was talking about earlier. I think that people are becoming less and less responsive to this kind of music (in the rock world anyway) and looking more towards the indie scene or other genres. It was good to have a big name band on the bill, but I wish it had been someone not so trendy. The crowds' feelings were the same, as I spoke with many of them to make sure I was not alone. The plug was pulled on the band shortly after 11 p.m., due, I assume, to time constraints.
I didn't really care why.