Crank the Volume
America's Volume Dealer (Sanctuary Records)
Corrosion Of Conformity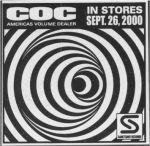 Corrosion of Conformity - America's Volume Dealer
COC. is back at last!
Actually, the band never really went away. They just made us wait a while they cooked up some more of their southern-groove metal.
With 1994's Deliverance and 1996's Wiseblood and songs such as "Clean My Wounds,"Albatross" and "King Of The Rotten," COC made their mark in heavy-metal. After much anticipation, America's Volume Dealer delivers the goods. COC stays true to their style, but don't expect this to be Deliverance II. Instead, the band has progressed in their sound.
Have they sold out? Nope, and don't worry – these fellas ain't going soft on us.
The dual guitars of Pepper Keenan and Woody Weatherman remain consistent, along with Mike Dean on bass and Reed Mullin on drums. This record is plenty heavy, only this time there is just a little more blues and southern rock added to the mix.
The CD opens with "Over Me" and the crunchy distortion of "Congratulations Song." The slower "Stare Too Long" will surprise some fans. Warren Haynes from Gov't Mule contributes slide guitar to this tune. The song's mellowness works. Then COC keeps it flowing with "Diablo Blvd.,"Zippo,"Take What You Want" and "Gittin' It On."13 Angels" is sludgy groove in the vein of "Redemption City" from Wiseblood. "Who's Got The Fire" is my pick of the bunch. The guitars, bass, drums – basically everything – is loud and in your face.
America's Volume Dealer should please long time-fans and gain new ones as well. The band sticks to its roots, but still manages to go forward and expand. COC isn't "new school metal" and they're not trying to be.
They just do their own thing. And they do it very well.