Sliding Across the Genres
Sultan of Slide (OMS Records)
Josh Graves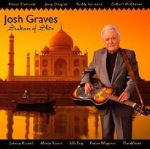 Josh Graves - Sultan Of Slide
In 1936 Josh Graves was 9 years old when he heard Cliff Carlisle playing Jimmie Rogers' tunes on a dobro. The exact date is lost to history, but 64 years later Graves is still making his own musical history. At the age of 73, he shows no sign of slowing down and remains young at heart. He jumps on the opening track of Sultan with old friends Buddy Emmons (steel guitar) and Vassar Clements (fiddle). The three of them set the tone for a thoroughly enjoyable CD. Delbert McClinton's saucy vocal and the spicy Cajun fiddle of Glenn Duncan keep things cooking with a new cover for the Johnny and Jack classic "Down South In New Orleans." Then Uncle Josh and Marty Stuart really stir things up with red-hot versions of "Great Big Woman" and "Step It Up and Go."
Graves surrounds himself with luminaries who go barnstorming through the blues, Cajun, country and bluegrass territory: Porter Wagoner ("Satisfied Mind"), Billy Troy ("Carolina Sunshine Girl"), Johnny Russell ("Someday I'll Sober Up"), Tom T. Hall ("Fireball Mail"), Jerry Douglas ("Evelina") and the Whites ("Come Walk With Me"). The Sultan of Slide clearly knows how to share his love of many kinds of music. As the liner notes say, this recording displays Graves's "incredible expression and diverse musical influences." Indeed, it does.
To learn more or obtain a copy of this CD contact www.omsrecords.com.