Cowboy Corner
Tim & Faith Heading To Louisville
I'm sure you've heard by now that one of the hottest shows in country music this year is heading to town this month. That's right, the current "First Couple of Country Music," Tim McGraw and Faith Hill, will bring their much talked about "Soul 2 Soul Tour" to Louisville's Freedom Hall on Wednesday, October 18. Let me tell you, this is a must-see show! I caught Tim and Faith's show in Indianapolis last month and it was truly magical. Faith wowed the crowd with her "Cover Girl" looks and her slick, pop-oriented delivery of recent tunes like "This Kiss," "The Secret Of Life," and "Let Me Let Go," as well as earlier numbers such as "Let's Go To Vegas," "Piece Of My Heart," and her debut #1 smash "Wild One." After a powerful 60-minute set, Faith's hubby Tim took to the stage with more traditional country style crowd-pleasers such as "I Like It, I Love It," "Seventeen," "Everywhere," "All I Want" and his smash ballad "Don't Take The Girl" during his butt-kicking 60-minute set. Unfortunately though, the only rendition of "Indian Outlaw" the crowd enjoyed was the record cut which was played just prior to Tim's emergence on stage.
Tim and Faith's two-hour performance, complete with state-of-the-art stage and light show, was magic enough, but the true sparks were about to fly as Tim left the stage and the sold-out crowd enjoyed a five-minute presentation of Tim and Faith's home videos, including daughters Gracie and Maggie. The evening came to an unforgettable peak as Tim began crooning "It's Your Love" and Faith sauntered onto the stage to relive the magic of their smash #1 debut duet. The couple continued to work the crowd into a frenzy for 30-minutes with five duets, including their most recent (and most sensual), "Let's Make Love." As the two prepared to leave the stage hand-in-hand after enjoying a kiss, the two reaffirmed their love for one another as they introduced one another to the then ecstatic crowd as Faith quipped, "Ladies and gentlemen, my husband, Mr. Tim McGraw," and Tim reciprocated with, "Ladies and gentlemen, my wife, Ms. Faith Hill."

Tim McGraw And Faith Hill In Indianapolis
Tickets are currently still available the "Soul 2 Soul Tour," but they are selling very quickly and are sure to sell out. This long-awaited tour is pulling in the millions and is in the running with the George Strait Music Festival and the Dixie Chicks' "Fly" Tour as the biggest-selling country concert this year. You can purchase tickets at any TicketMaster outlet, or by calling the Kentucky Fair & Exposition Center box office at (502) 361-3100.
Grand Ole Opry 75th Birthday
The legendary Grand Ole Opry, which is the longest-running live radio show, will celebrate its 75th birthday in a very big way this month. The celebration will take place October 13 - 14 and will include five Opry performances, backstage tours and even a Bill Monroe Bluegrass Celebration. The highlight of the weekend will take place at 5:30 p.m. CDT on Saturday, October 14, as Grand Ole Opry members and celebrities will enter the Opry House via a red carpet walkway through what is sure to be a mob of country music fans. Just a few of the stars scheduled to be on hand for this historic event include Garth Brooks, Little Jimmy Dickens, Diamond Rio, Vince Gill, Hal Ketchum, Alison Krauss, Loretta Lynn, Ronnie Milsap, Dolly Parton, Marty Stuart, Pam Tillis, Travis Tritt, Porter Wagoner, Trisha Yearwood and many more.
For ticket information, call the Grand Ole Opry at (615) 889-3060, or log on to the web at www.opry.com. If you are unable to attend, a one-hour celebration will air live on TNN at 8 p.m. EDT.
Country Baby Boom
Come next March, newlyweds Vince Gill and Amy Grant will be singing lullabies! That's right, Vince let the cat out of the bag last month that he and Amy are expecting their first child together. Vince and Amy were wed in a lavish ceremony outside of Nashville this past March. Vince has one child from his previous marriage to Janis Gill of the Sweethearts of the Rodeo, while Amy has three children from her previous marriage to singer/songwriter and former TNN Prime Time Country host Gary Chapman.
And while we're on the subject of babies, Vince is not the only country crooner expecting a child. Lonestar lead singer Richie McDonald and his wife Lori will welcome their third child next May. In addition to these impending births, there are a few new babies already born within the country music family. Songstress Linda Davis and her husband, songwriter Lang Scott, welcomed their second child, daughter Rylee Jean Scott, into the world on August 25. Rascal Flatts lead singer Gary Levox and his wife Tara became first-time parents the following day on August 26 when daughter Brittany Kay was born. Junior Bryant, fiddler for the group Ricochet, and his wife Trish welcomed their second child, 7 lb., 8 oz, 19 in. daughter Emma Grace on Labor Day, Sept. 4.
  Congratulations to all these new parents and parents-to-be!
CMA Awards Set for October 4
Country music fans won't want to miss CBS-Television's live broadcast of the 34th Annual Country Music Association Awards from Nashville's Grand Ole Opry House at 8 p.m. EDT October 4. Male Vocalist Nominee Vince Gill will once again act as host. Performances already scheduled for the show include Faith Hill's "There Will Come A Day," Alan Jackson's "www.memory," Toby Keith's "How Do You Like Me Now," Reba McEntire's "So Good Together," Tim McGraw's "Some Things Never Change," Jo Dee Messina's "Burn," Brad Paisley performing a medley of songs from his album Who Needs Pictures, Country Music Hall of Fame inductee Charley Pride, Kenny Rogers' "Buy Me A Rose," George Strait's "Don't Make Me Come Over There And Love You," and Lee Ann Womack and Sons of the Desert's "I Hope You Dance." And if you are wondering whether Shania Twain will be present or not, the answer is "Yes." Shania will present the Entertainer of the Year award, which she captured last year.
CCMA Winners
When the annual Canadian Country Music Association Awards were handed out last month, the country trio The Wilkinsons, which is comprised of father Steve, daughter Amanda, and son Tyler, led the pack with a total of four trophies, including Vocal Duo or Group of the Year, Chevy Fans' Choice Award, Album of the Year for their sophomore disc Here And Now, and Single of the Year for "Jimmy's Got A Girlfriend." Paul Brandt, who co-hosted the awards program with Terri Clark, was named Male Vocalist of the Year and his "That's The Truth" was named Video of the Year. The upset of the evening took place when Michelle Wright, best known for her hit "Take It Like A Man," was named Female Vocalist of the Year, an honor that fans were certain belonged to Shania Twain.
And the winners are: Chevy Fans' Choice Award: The Wilkinsons; Female Artist of the Year: Michelle Wright; Male Artist of the Year: Paul Brandt; Group or Duo of the Year: The Wilkinsons; Rising Star Award: Tara Lyn Hart; and Vocal/Instrumental Collaboration of the Year: Natalie MacMaster & Alison Krauss' "Get Me Through December."
Album of the Year: The Wilkinsons' Here And Now; Top Selling Album: Dixie Chicks' Fly; Single of the Year: The Wilkinsons' "Jimmy's Got A Girlfriend"; SOCAN Song of the Year: Montgomery Gentry's "Daddy Won't Sell The Farm"; and Video of the Year: Paul Brandt's "That's The Truth."
Congratulations to all the winners!
7th Annual Louise Mandrell Celebrity Shoot
I was on hand last month for the 7th Annual Louise Mandrell Celebrity Shoot at the Nashville Gun Club to support the Boy Scouts of America. Louise, who has her very own Louise Mandrell Theater in Pigeon Forge, Tennessee, was joined by the likes of big sis Barbara Mandrell, singers Reba McEntire, Linda Davis, Tanya Tucker, T. Graham Brown, Alecia Elliot, Grand Ole Opry stars Jeanne Pruett and Charlie Walker, actors Charles Napier, Frank Stallone, Joe Penny, and comedian T. Bubba Bechtol – over 70 participants in all. Over the seven years Louise has hosted this great event, she has helped raise over one million dollars to help the Boy Scouts.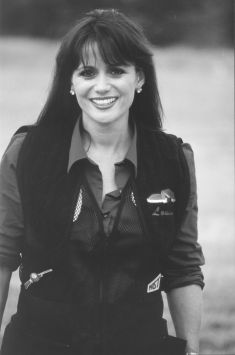 Louise Mandrell
As Louise Mandrell and I sat down to discuss this event, from the sparkle in her eyes, it was evident that she really believes in the Boy Scouts of America and what they stand for. Louise told me, "I'm just really proud of our youth and I don't think anyone, unless they have been a Scout, or work in Scouting, understands what it is to become an Eagle. I mean, that's huge!" When I asked Louise if she ever dreamed this event would grow to the size it has, she said, "No, it's a huge event--I guess I can dream pretty big. So, did I dream it could get this big, 'Yes.' Did I think it would get this big, 'No,'" Louise laughed. "This has been just wonderful! It's been good for the Boy Scouts and a lot of fun for the shooters." Louise went on to explain to me how she was recently honored by the Boy Scouts, saying, "This last year they gave me the Silver Buffalo Award, which is the highest award they give out, and I am still walking around standing a little taller."
Congratulations to Louise on another successful celebrity shoot and the Silver Buffalo Award! Keep up the good work!
LeAnn Rimes Confirms Illness
LeAnn Rimes has left a bad taste in the mouth of country fans in Louisville as she has cancelled her last two scheduled concerts here in the Derby City (a few years ago at the fair along with Bryan White, and this past July's Great Women of Country Concert at Papa John's Stadium with Reba McEntire, Martina McBride, and Trisha Yearwood), but I guess we had better cut the 18-year-old a little slack. LeAnn recently confirmed that she is suffering from the Epstein-Barr virus, which, she says "runs you down, you get fatigued." She recently went on to say, "It turns out I was working through the main part of it [the virus] when I should have been in bed." LeAnn is currently attempting to re-schedule the near-thirty dates she was forced to cancel this summer and she is in the studio recording a new album. In the meantime, you can catch LeAnn in the movie Coyote Ugly, both as a singer and an actress.
Country On The Tube
The Dixie Chicks will "fly" to the small screen sometime next month with their debut network special. Natalie, Emily and Martie shot their August 24 and 25 "Fly" concerts at the MCI Center in Washington, D.C. for a concert special to air on NBC-Television. Fans can not only expect great music, but also a "short comedic film starring the Dixie Chicks." If you can't wait until next month to get a much-needed dose of the Chicks, tune in to CBS-Television's 60 Minutes II on October 10 as Dan Rather catches up with the girls for an in-depth interview.
Fans of Mrs. Tim McGraw will be happy to know that Faith Hill is also slated to have her very own network special in November. Although Faith will supposedly be joined by "top musical stars," information on hubby Tim McGraw's inclusion in the special has not yet been released (although how stupid would it be for him not to be included as they make up one of the most talked about couples in not only country music, but the entire entertainment industry these days). No air-date has been released yet, but it will probably be somewhere around Thanksgiving on CBS-Television.
Be sure to check back next month for more details on both the Dixie Chicks' and Faith's specials!
Well, that's it for yet another month. Don't forget to tune in to the annual Country Music Association Awards on CBS-Television at 8 p.m. EDT on October 4. Always remember: Keep your boots shined up and your hat on straight, 'cause country music is comin' your way.