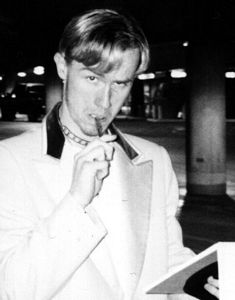 "Live at Mom's"
This month, I am inviting everyone to curl up on the couch with a big bowl of popcorn and enjoy America's number one baby sitter- the television.
That's right, the Maxwells (of Mom's Music) have come up with the latest, greatest form of local band exposure through the medium of television, in a show appropriately named "Live at Mom's." The first show aired September 21 and will continue its 13-week season on Thursday nights at 8 p.m. The premiere episode included Heidi Howe, Butch Rice and Kathleen Hoye. Some of the other locals that have already been filmed include Flaw, Dharmachine, Digby, Monty Fisto, Dewey Kincade and danny flanigan. El Roostars and Rural Recovery will have also set foot on the Mom's stage by the time this is in print.
"Hey man, what can I do for a good time on Friday nights without spending a lot of money?"
Oh, well, it's funny you should mention that! "Live at Mom's" is recorded on Friday nights from 7 – 9 p.m. at Mom's Jeffersonville store at 1710 E. 10thSt. Doors open at 6:30 p.m., and the taping is FREE. It will not only give you the opportunity to get involved in the Louisville music scene but will allow you to see some of your favorite bands for free. You might even learn something about how television works if you pay attention. So who's coming in October you ask? The lineup thus far is Planet, Room for Emotion, Kimmet and Doug and possibly Tim Krekel, Emmanuel Nice and the Crazy Brass Smackers.
The TV show doesn't just stop with live performances. Band interviews are on the menu as well. The band's music range can be as vast as the light spectrum, as long as it is ORIGINAL. Even though the show is pre-recorded, the music you see on TV is very "live." No false advertising here.
As far as future plans go, a compilation CD is already in the works. It will feature one song from each featured artist, for a total of about nine acts. Groovy Musicwill be picking up the release, and hopefully draw some attention to these lucky few. I believe that A & R guys are going to take notice of this project very soon, and anyone involved in it now while it is on the ground floor is going to benefit from it most. For these first 13 weeks, much time is going to be spent diligently working on the content of the show, as well as the production. The next season will kick off in January of next year.
Some of the talent behind the scenes that are responsible for making this thing happen are Steve Ulrich, Mark Craycraft and of course, Marvin and Mark Maxwell. Emmy award-winner Ulrich is the director of the show and has worked with such major television productions as ESPN and NASCAR. Craycraft is the producer of "Live at Mom's" and worked with Dick Clark for the past four years on various projects. Marvin Maxwell is the show's executive producer and owner of Mom's music and has long been involved with the local scene. . If you are interested in performing on "Live at Mom's" in the future, please send your demo tape (or video) to: "Live at Mom's," 1710 E. 10thSt., Jeffersonville, IN 47130 Attn.: Producer
The show will share a time-slot with "Mid City Mix," the former public access Louisville music show that is making the switch to broadcast. "Mid City Mix," produced by LMN editor Paul Moffett, has a somewhat different focus, primarily on smaller acts and styles of music not usually found on music television. The show is taped at the Comedy Caravan and the next taping is Sunday, October 8, from 2 – 6 p.m, lineup to be announced.
The shows air alternately on WYCS-TV 24, Thursday nights at 8 p.m. Move over "MTV Unplugged." "Live at Mom's" will air on October 5 and 19 of this month, while "Mid City Mix" will be shown on October 12 with Sabrosa Red (plus a 'flashback' from the Java Men show from January 1999) and October 26, most likely to be with danny flanigan.
That's all I have on the shows for right now. I will try to keep you plugged in on what is going on across the bridge in upcoming issues as well. Everyone should check out the show on Channel 24 (on-air broadcast and Louisville Insight) and go see it in person! What these guys are putting together is truly a great thing for our community and an excellent opportunity for Louisville acts to get exposed.
Any local businesses that would like to support Louisville music by running commercials on the show should page me at (502) 392-7384 for rates. It's very affordable.
Insert Commercial Message here.
Onto more shameless self-promotion / plugging. Hallopalooza 2000, a show I am promoting, is Saturday, October 28 . Doors will open at 6 p.m.; music will start shortly thereafter. Each band will play about an hour set, and the talent this year includes (in this order): Captain Amoeba, Sen, Sabrosa Red, Inidle, Flaw and Aqua Jones. The genres of music range from blues to alternative to metal. EVERYONE must come in costume, and, yes, that includes the bands! Prizes will be awarded that night for best costumes. Tickets are $10, and the performing bands will be selling them in advance. You can also order them from me, just send your check or money order for ten dollars per ticket to: Hallopalooza, 4710 Aledo Ct., Louisville, KY 40229.
All ticket requests must be received by October 21 to ensure delivery on time for the show. The show will be at the Fern Creek Community Center on Bardstown Rd., directly in front of Fern Creek High School, between BP gas station and the F.C Fire Department. I hope to see everyone there!
Thanks to our esteemed editor for allowing me to indulge in this self-interested promotion.
If you have a band that is interested in being in an upcoming issue of Louisville Rock Lowdown, email me at JJKSLACKER@cs.comor page me at 392-7384. My cell phone and digital camera were stolen this weekend, so don't bother leaving me a voice-mail on my non-existent account. Hopefully, I will have it straightened out by next issue. Until then, rock on!