I've Got A Mind To Ramble
BSI Has Dissolved
Sad news comes from the
Blues Society of Indiana. Our sister organization is calling it quits. The summer BSI Issue of Blues Indy has the cover story from their president, Cindy Fowler. Their nemesis was their bingo operation, which was used to raise funds to pay off past debts. Due to circumstances beyond their control, the Indiana Department of Revenue Charitable Gaming Commission found some irregularities and the BSI Board had no alternative but to dissolve. There is talk of starting another organization. Its name and officers have yet to be determined. With the continuing interest in the blues in Indiana and the legacy of Indianapolis blues with Harvey Look, Yank Rachell, Shirley Griffith, Scrapper Blackwell and Leroy Carr, it will be just a matter of time before another blues society rises.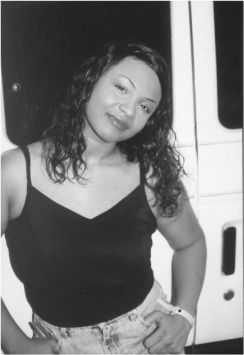 Rosie Ledet
Mary Ann Goes Public
Louisville's first lady of song, Mary Ann Fisher, was selected to be in a future show of "Kentucky Life." This new edition of the popular road show will travel along U.S. 60 across Kentucky. They stopped in Louisville on August 29 to tape Mary Ann at Stevie Ray's. The show's host, Dave Shuffett, did an interview in the Voodoo Garden. Fisher has an interesting life to tell and it should be published someday. The lights were moved inside later for taping Mary Ann doing songs with her band. Peter Rhee led the group with his electrified golden violin. The Accused Blues Band (Mike Lynch, Reed Davis and Gene Wickliffe), the house band for the popular Tuesday night blues jams, backed her up. A friend from New York, Ron Wolfe, was there to add a nice touch on keyboards. Ron is a freelance jazz pianist, songwriter and music teacher. He has written a song for Fisher called "Pain In the City," which is a blues ballad with a happy ending.
After a few dry runs on the Ray Charles classic "Drowned In My Own Tears," it was show time. Mary Ann followed with a very touching version of Billie Holiday's "God Bless The Child" and then her brief set was closed out with a rocking "Everyday I Have the Blues." Some of the musicians who showed up for the jam, including Susannah Ley (Susann Forrest) got a special treat that night. Watch for the airing of this show on KET Public Television sometime in March 2001. Mary Ann is the only music-oriented program in the 24-part series, unless you include Wilburn "Tip" Tipton, the singing barber in Mr. Sterling.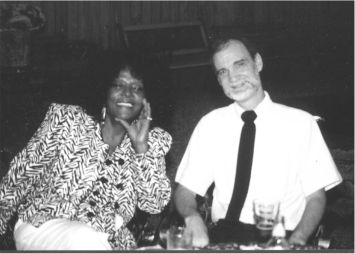 Tanita Gaines with Ron Wolfe
Mack Attack
Blues to the Point presented its 6th Annual Festival on September 8 and 9. This regional blues event, located on the bank of the Ohio River in Carrolton, is one of my favorites. It hasn't grown up into a major festival (yet). I hope it never does, for it still has the intimacy of a small-town block party. The festival is well-organized, thanks to the original inspiration of Jarrett Boyd. The food vendors get better each year and when you bring in beer, the officials look the other way. When I arrived on Saturday, Tinsley Ellis was finishing up his set with his stinging guitar work. Rosie Ledet and the Zydeco Playboys got the crowd charged up with their infectious backbeat shuffle rhythms. Actually, the Playboys are family, with Ledet's husband, Morris, on bass, her father-in-law Lanice on rubboards and her fourteen-year-old nephew, Corey, playing drums. The only "outsider" is their guitarist Arnold. When Rosie starts squeezing her big red Dino Baffelli accordion and bats her eyes at you, then she captures your heart. Her singing range is limited but her mournful pleas cry out for that Louisiana soul. Rosie sang several tunes from her three CDs on Maison de Soul, including "I'm Gonna Take Care of Your Dog" and "Why You Wanta Hurt a Girl Like Me." The highlight of the evening was the roadhouse legend himself, Lonnie Mack. This is Lonnie's turf, for he has played and worked the southern Indiana, Ohio and Northern Kentucky areas all his life. Lonnie was there for the first festival in '95 and was back again this year. He opened his show with several hard-driving,. vibrato-laden songs, including his trademark "Memphis." Then the stage was cleared and it was just Lonnie doing "Oreo Cookie Blues." His longtime bassist Bucky joined him for a wonderful duet of "Tough on Me, Tough on You." Bucky's deep, resonant voice really anchored that song.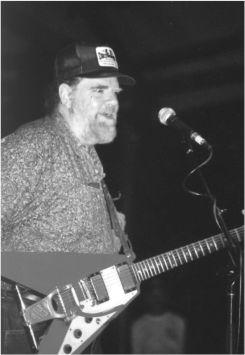 Lonnie Mack
Another old friend, Roger from Rising Sun, Indiana, joined Lonnie on banjo and fiddle on "I'm Goin' Down This Road Feeling Bad" and "Orange Blossom Special." This acoustic interlude was a nice break from Mack's usual super-charged style. It concluded with a solo "What Am I" by Johnny Neel on keyboards. Neel has replaced Mack's longtime piano player, Dumpy Rice, who now lives in Maine. Neel himself is an incendiary mix of Ray Charles and Stevie Wonder and played with the Allman Brothers and Government Mule. The show came to a close with Tinsley Ellis and Lonnie's son Harry joining the rest of the band for a finale of "Cincinnati Jail." Unfortunately, I had run out of film but Lonnie's wife Carol, asked me to take some pictures with her camera. I hope I get some copies. When I noticed that Lonnie's son was playing a Signature Flying V Gibson like his dad, Carol said Lonnie has thirteen of these instruments, but he still prefers his original 1958 model.