Fat Lotta Wisdom
Fat Lotta Good (Independent)
Serpent Wisdom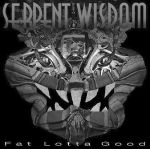 Serpent Wisdom - Fat Lotta Good
In two words, what does Louisville have in common with David Byrne and Neil Young, combining excellent musicianship, joy of experimentation and a singer who evokes a hybrid of those two?
The answer is known collectively as Serpent Wisdom, the former trio (Bassist Danny Kiely has since joined) of Jak Son Renfro, Ken Lucchese and Earbie Johnson have crafted, performed and recorded an hour's worth of original music and original lyrics for this record. It's rife with catchy melodies and beats your body can dance to, and intelligent, insightful lyrics your head can revel in.
Renfro is clearly erudite and does not spend much time in the shallow end of the lyrics pool ("I'm twisted out of shape / All tangled up in patio voodoo / There's a jihad in my head / I can't win if I don't lose") and has a sense of humor ("He don't take no bath / 'Til he smell real bad / Leave milk in the fridge / 'Til it turn to cheese / Without woman"). The combination of his emotional and sometimes idiosyncratic singing with Ken Lucchese's outstanding guitar work and Johnson's steady percussive beats is the sound of three extremely talented performers complementing each other.
The songs tell tales of protagonists in a variety of situations and emotions. We hear about the "Outsider" who feels like an uncertain stranger in familiar surroundings; another who wants his mate "like Jesus wanted Magdalene;" another who frightens a soulmate into deserting him; and yet another who reassures a partner that she is "made in God's likeness / don't you know?"
If this record has a shortcoming it is that Serpent Wisdom does not sound like a full band. That isn't necessarily a bad thing, but if you're accustomed to a couple of guitars, thumping bass and pounding drums, or even horns and/or keyboards, then this record may take a little getting used to. On the other hand, it may knock you out on first listen. Regardless, it is well worth your time to allow yourself to be seduced by the poetic and passionate sounds of Fat Lotta Good from Serpent Wisdom.