Melodic Storytelling
Outbound (Columbia/ Sony)
Bela Fleck and the Flecktones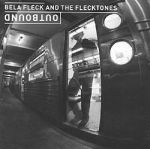 Bela Fleck & the Flecktones - Outbound
If you are already a fan of this mostly instrumental ensemble, you will no doubt enjoy their most recent recording Outbound. The core of the band remains Bela Fleck on banjos and steel guitar, Victor Lemonte "I'm going to tear this bass apart" Wooten on bass, Victor's brother Future Man on synth-axe, drumitar and other percussive/sampling devices, and Jeff Coffin, a new member on sax.
The band weaves complex-yet-accessible soundscapes on Outbound without even breaking a sweat. And the addition of Coffin's sax playing raises the sonic ante, especially when they really start jamming. The Flecktones slip from smooth jazz styles to complex jams that twist and turn modulating key and time signature effortlessly. Outbound also has a more diverse sound than previous recordings and a long list of guest musicians who help fill out this lush production.
My only problem with Outbound is the addition of lyrics. I feel that when you take a band known for its instrumentals and start putting lyrics to those instrumentals simply to improve the marketability of the CD, you get the distinct propensity for musical Cheez Whiz.
The same is true for "Out Bound", despite the beauty this collection of music. The obviously overdubbed lyrics potentially de-mystify the Flecktones. Rita Sahari's throat singing on the beautiful "Shuba Yatra" is an exception. The texture of Shawn Colvin's voice works well also, but what was Bela thinking with the rapper? Luckily, they keep these distractions to a minimum and the jams to a maximum. Outbound also scores big with the lush strings of "Love Sponge String Quartet" and ethnic and sampled percussion. However, the key to the Flecktones sound remains the beauty of their melodic storytelling, virtuoso performances and many wacky changes. Other highlights include "Hall of Mirrors," a hauntingly sublime piece with guest notables Adrian Belew on guitar and John Medeski on B-3 organ.
Overall, this is a fine recording and effectively raises the bar for the future of Bela Fleck and the Flecktones.
Billy Bartley is lead vocalist and songwriter for Louisville's slackshop. You can catch them this month at the Public Radio Partnership's "Cash & Clash" benefit on October 15 at Stage Door Johnnie's and at Joey G's in Madison, Indiana on October 20.