The Sons of Metcalfe County Rise Again!
Songs From The Grass String Ranch (Audium)
The Kentucky Headhunters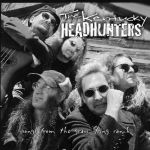 The Kentucky Headhunters - Songs From The Grass String Ranch
Can it be the guys in The Kentucky Headhunters are entering their thirty-second year of existence as a creative unit? It just seems like yesterday that country radio introduced the masses to their brand of Southern rock, Metcalfe County style. Songs From The Grass String Ranch finds them reunited with vocalist Doug Phelps, whose pipes provided the punch during the commercial breakthrough days of the early Nineties.
Thank goodness the misguided contemporary country feel of their last album is a distant memory. Things are rockin' once again with the decidedly "Skynnerdian" influence of the title cut conveniently placed as track one. This raunched-out ditty chronicles the simple joys of the family farm, as it is when your best friends drop by for an improvised party, and would probably remind Hank Williams, Jr., of what he used to do a decade and a half ago.
Phelps turns in a strong performance on "Back To The Sun," in which the song's narrator longs for his deceased father's return from a tragic death. But other surprises abound, like the zydeco influenced "Jessico," which probably contains the most Cajun-spun warmth you are likely to hear coming out of south-central Kentucky. Equally enticing is the Grateful Dead-meets-Barefoot Jerry charm of "Dry-Land Fish." Drummer Fred Young provides the goofy vocalization that makes this one stand out. (and in case you didn't know, a dry-land fish is a mushroom) Also, "Louisiana Coco" could be filed under one of the strangest country cuts, with its infectious 12-string guitar riff and Fred's brother Richard doing his best ZZ Top vocal/croak.
One thing that really stands out on Grass String Ranch is that the Headhunters have not forgotten how, throughout history, good country music has always contained a healthy dose of fun in the mix. The most refreshing thing is that despite having to sell CDs in order to justify making another one, these guys have forgone any delusions of crossing over, unlike many of their Music City contemporaries.
It is amazing how all the digital technology in the world can't help anyone make a good record. When it gets down to it, less is best and The Kentucky Headhunters understand this, and we Kentuckians should commend them for it.