Catch a Ride
ride the clean fuel (Independent)
Dharmachine
Dharmachine can best be described as a band with an unusual blend of spacey trip-hop influenced by modern rock. Their sound is a hybrid of multi-layered effects driven by electronic and poetic rhythms. Their latest album ride the clean fuel can be included within the ambient, emotional and electronic rock categories. It is ambient because it is based on timbre, texture and deliberately shifting structures. The intense vocals and screeching guitar defines the recording's emotional content. Included in the total mix are electronic overtones that help construct their distinctive sound.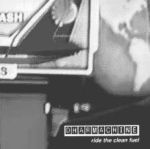 Dharmachine - ride the clean fuel
ride the clean fuel follows their debut album Bang!, which had a wide range of material with some diversity. ride is more focused and has a more dynamic effect. It adds elements of rock and has an ever-present bass during the loopy melodies and ambient overtones.
Two obvious characteristics are the recording's activity and the intensity. The pace of the songs ranges from melodramatic ("dinosaurs") to an all out blitzkrieg of guitars and electronic euphony ("sister rue"). Other songs change from a pop rhythm into electronic overdubs and distorted guitar. Like Radiohead and Bjork, Dharmachine abandoned conventional arrangements by bending and twisting music into a layered sound experience. They share the sentiments of bands like Sonic Youth that tried to destroy rock-song form. However, they veer away from that direction by not seeking pure experimental dissonance with tension overkill.
As a whole, the album displays a wide range of different energy levels. There are soft, mellow songs with hazy configurations that come to life with a rhythmic pulse as tenacious vocals and guitars are added to hypnotic drums. The song "edgy" is comprised of activity and intensity and, overall, describes the entire album: intensity moving in the same direction with explosive electronic sounds to create a work of coherence.