Cowboy Corner
The Gals Lead CMA Nominations
When nominations for the 34th Annual Country Music Association Awards were announced recently, the gals led the pack. With all of her recent success in the country field, as well as the pop and fashion/glamour fields, it was no surprise when covergirl Faith Hill received a whopping seven nominations, including Entertainer of the Year, Female Vocalist of the Year, Album of the Year for Breathe,  Song, Single, and Music Video of the Year for "Breathe," and Vocal Event of the Year with hubby Tim McGraw with "Let's Make Love." Traditionalist songstress Lee Ann Womack made a huge comeback this year with her smash hit "I Hope You Dance," which helped her earn six nominations, including Female Vocalist of the Year, Album of the Year for I Hope You Dance, and Song, Single, Music Video, and Vocal Event of the Year (along with Sons of the Desert) for "I Hope You Dance."
Hot newcomer Brad Paisley is right up there with Faith and Lee Ann with a healthy six nominations himself. This past year has been an incredible year for Brad thanks in huge part for his smash hit "He Didn't Have To Be," which helped him earn nominations in the following categories: Male Vocalist of the Year, Horizon Award, Album of the Year for Who Needs Pictures, and Song, Single, and Music Video of the Year for "He Didn't Have To Be." The Dixie Chicks and Alan Jackson followed closely behind with five nods each.
Natalie Mains of the Dixie Chciks
And the nominees are: Entertainer of the Year: Dixie Chicks, Faith Hill, Alan Jackson, Tim McGraw, and George Strait; Female Vocalist of the Year: Faith Hill, Martina McBride, Jo Dee Messina, Lee Ann Womack, and Trisha Yearwood; and Male Vocalist of the Year: Vince Gill, Alan Jackson, Tim McGraw, Brad Paisley, and George Strait.
Vocal Duo of the Year: Bellamy Brothers, Brooks & Dunn, Montgomery Gentry, The Kinleys, and The Warren Brothers; Vocal Group of the Year: Alabama, Asleep At The Wheel, Diamond Rio, Dixie Chicks, and Lonestar; Horizon Award: Sara Evans, Montgomery Gentry, Brad Paisley, SHeDAISY, and Chely Wright; and Album of the Year: Faith Hill's Breathe, Dixie Chicks' Fly, Lee Ann Womack's I Hope You Dance, Alan Jackson's Under The Influence, and Brad Paisley's Who Needs Pictures.
Song of the Year: Lonestar's "Amazed," Faith Hill's "Breathe," Brad Paisley's "He Didn't Have To Be," Lee Ann Womack's "I Hope You Dance," and George Strait & Alan Jackson's "Murder On Music Row"; and Single of the Year: Faith Hill's "Breathe," Kenny Rogers' "Buy Me A Rose," Brad Paisley's "He Didn't Have To Be," Toby Keith's "How Do You Like Me Now?," and Lee Ann Womack's "I Hope You Dance."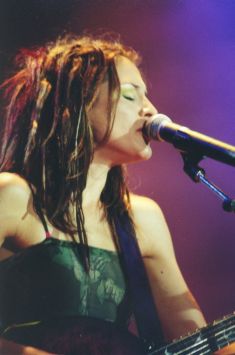 Emily Robinson of the Dixie Chicks
Vocal Event of the Year: George Strait & Alan Jackson's "Murder On Music Row," Asleep At The Wheel & Dixie Chicks' "Roly Poly," Clint & Lisa Hartman Black's "When I Said I Do," Faith Hill & Tim McGraw's "Let's Make Love," and Lee Ann Womack & Sons of the Desert's "I Hope You Dance"; Music Video of the Year: Faith Hill's "Breathe," Dixie Chicks' "Goodbye Earl," Brad Paisley's "He Didn't Have To Be," Toby Keith's "How Do You Like Me Now?," and Lee Ann Womack's "I Hope You Dance"; and Musician of the Year: Paul Franklin, Dann Huff, Brent Mason, Hargus "Pig" Robbins, and Brent Rowan.
Congratulations to all of the nominees! Country crooner Vince Gill will once again host this year's Country Music Association awards program at the Grand Ole Opry House. The show will air live on CBS-Television on Oct. 4.
CCMA Awards Go LIVE!
For the first-time ever, Americans will have the opportunity to watch the Canadian Country Music Association Awards live come Sept. 11 on The Nashville Network (TNN). Terri Clark and Paul Brandt will host the annual event in Canada's Edmonton's Skyreach Centre. International superstar Shania Twain and newcomer Tara Lyn Hart lead the list of CCMA nominees with six nods each. Family trio The Wilkinsons received four nominations and are scheduled to perform on the show. Other artists scheduled to perform include Michelle Wright, Tara Lyn Hart, and Julian Austin.
JMM Lands Another Hit
Nicholasville, Kentucky boy John Michael Montgomery is no stranger to chart success with songs like "I Swear" and "Sold (The Grundy County Auction Incident)," and it looks like he has yet another smash hit on his hands. His tune "The Little Girl," which features the angelic harmony of Alison Krauss, leaked out to radio a little earlier than scheduled on a radio compilation CD and it has been burning up the airwaves and the radio station request lines. There has been such a huge demand for the song that Atlantic Records has bumped the release of John Michael's new album, titled Brand New Me, up from Oct. 3 to Sept. 26. If the song sounds a little familiar, then you've probably received this story via e-mail at one time. Songwriter Harley Allen says he first read the story on e-mail and wrote the song in a mere 10 minutes. This song is destined to go far, tugging at your heartstrings all the way!
Latest Judd News
There is plenty of shocking news on the Judd front these days! First of all, Ashland, Ky. native mama Naomi Judd sent shockwaves throughout the country music industry on Aug. 14 when she filed for divorce. She and husband Larry Strickland, a former backup singer for Elvis Presley, were married during a highly publicized Cinderella-type fairy tale wedding 11 years ago, and now Naomi is accusing Larry of adultery and inappropriate marital conduct. Larry has managed Naomi in her non-musical adventures, managed The Judds' recent "Power To Change" tour, and has even managed step-daughter Wynonna's career for the last four years. It is still uncertain how this will affect Larry's management roles. Naomi's publicist has released the following statement: "As you might expect, this is a deeply painful and unsettling time for Naomi. We hope her desire for privacy in this matter can be respected."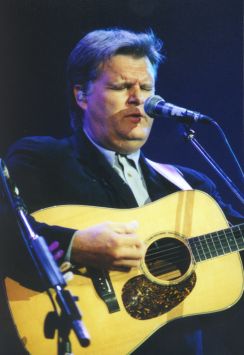 Ricky Skaggs at the Fair
Although Naomi claimed that her ex-husband, Michael Ciminella, is the father of daughter and singing partner Wynonna in her best-selling autobiography Love Can Build A Bridge, it wasn't exactly true. Several years ago Wynonna learned that the true identity of her father is Charles Jordan. According to a spokesperson, Wynonna and her biological father never met and Wynonna learned recently that Jordan, who lived in Louisa, Ky. near the West Virginia border, passed away on Aug. 10. The Lawrence Co., Ky. coroner says that Jordan's cause of death is still under investigation and his body was reportedly cremated.
Weekend Getaway: Opryland U.S.A.
If you've been looking for a close weekend getaway, then has Opryland U.S.A. in Nashville, Tenn. got plenty for you. If you've never experienced everything Gaylord Entertainment has to offer, then you are in for a real treat. First of all, you must make reservations at the incredibly breath-taking Opryland Hotel. With its blend of colonial Williamsburg and Southern plantation style architectures, you'll feel like you're in the Garden of Eden as you stroll through nearly nine acres of indoor gardens complete with a river and numerous cascading waterfalls.
While you're in Nashville, there is plenty of fun Gaylord has to offer. Naturally, any country fan won't want to miss a Friday or Saturday night performance of the historic Grand Ole Opry with its unique blend of hot new country and all the classics. If you like to eat and you like swing music, then you'll want to cruise the Cumberland River on the General Jackson Showboat and enjoy a three-course prime rib dinner along with a rousing "Swingin' On The River" show. If you are a fan of country music nostalgia, then head to downtown Nashville to tour the legendary Ryman Auditorium, the original home of the Grand Ole Opry. And while you're downtown, you may want to swing by the Wildhorse Saloon for some country fun.
If you would like to get an overview of the entire city of Nashville, then Grand Ole Opry Tours is the tour you want to take, offering a variety of tours throughout the Nashville area that highlight several historic and entertainment attractions. Several fans of Opryland themepark are still upset that the park closed a few years back, but if you like to shop, then you'll forgive the powers that be for on the location of the former themepark is a brand new 1.2 million square foot mega-mall Opry Mills that has something to offer every member of the family (I promise), even the hard-to-please dear old dad. Not only does Opry Mills include extensive shopping opportunities, but it includes plenty of good eats with restaurants such as Alabama Grill, Rainforest Café, and Gibson Bluegrass Showcase Café which includes Gibson's bluegrass instrument factory inside the restaurant. Opry Mills features live music at most any time of the day and even features a 20 screen movie theater and IMAX theater.
Head down to Nashville for a great time experiencing everything Gaylord Entertainment has to offer. You won't want to return home!
Farm Aid Invites Presidents
Farm Aid founder and president Willie Nelson is gearing up for yet another charity concert to benefit the American farmer. This year's event will take place on Sept. 17 in Bristow, Va. and will include the likes of co-founders John Mellencamp and Neil Young, as well as Sawyer Brown, Travis Tritt, Crosby, Stills, Nash & Young, Shannon Curfman, and Barenaked Ladies. Willie has extended invitations to members of Congress and presidential candidates George W. Bush, Al Gore, Pat Buchanan, and Ralph Nader to meet with American farmers during this 15th Farm Aid benefit concert. Willie recently said, "…we need members of Congress and the future president to hear from family farmers about how we can work together to ensure that our food continues to be produced in America by our family farmers."
Kentucky State Fair News
The Kentucky State Fair has come and gone, but I'm sure several lasting memories were made. Country music's hottest trio, the Dixie Chicks kicked off the fair with a four-star performance during their premiere headlining "Fly" tour, which left everyone in attendance on a musical high. During their show, lead singing Chick Natalie Maines announced that, "The youngest chick is about to hatch." Yes, just a few days prior to the Chicks' fair show, Natalie and her husband, actor Adrian Pasdar, announced that they are expecting their first child in April 2001. When the Chicks flew into town, they brought Kentucky country boy Ricky Skaggs with them for some of the finest picking around!
Brooks & Dunn made their annual appearance at the state fair on Saturday, Aug. 19, this year bringing one of the hottest groups of the year with them, Lonestar. The Oak Ridge Boys made their annual appearance on Aug. 20 (this being around the 20th consecutive year they have played the fair), riding high on the recent announcement that the group will be inducted into The Gospel Music Hall of Fame on Oct. 30. The Tues., Aug. 22 newcomer country show included the likes of Clay Davidson, Chad Brock, and Nicholasville, Kentucky boys Montgomery Gentry. Fans were offered a special treat during this show as Eddie and Troy welcomed the legendary Charlie Daniels to join them on "All Night Long" to film their brand new video. Stay tuned to CMT during the weeks to come to see if you are included in this video.
This year's fair also included a healthy portion of classic country musicians who are still going strong. Ronnie Milsap rolled into town and offered up a heaping helping of #1 hits from his brand new CD which features 40 chart-toppers. Kenny Rogers pleased fairgoers with all of his classics, as well as brand new hits such as "The Greatest" and his recent #1 hit "Buy Me A Rose." Pam Tillis was pumped as she opened for Kenny Rogers as she was preparing to become a member of the Grand Ole Opry the following night, Saturday, Aug. 26. Closing out the fair was "Meet In The Middle" group Diamond Rio and Kentucky's favorite soulful country singer, Ashland, Ky. native Wynonna.
Well, that's it for yet another month. Always remember: "Keep your boots shined up and your hat on straight, 'cause country music is comin' your way."