MUSIC . . . MEMORIES . . .MAGIC
BENEATH KENTUCKY STARS
KENTUCKY MUSIC WEEKEND'S 25TH ANNIVERSARY
Beneath Kentucky stars
There's magic in the night,
So many have left their mark
While standing in my light . . .
And these memories shall not fade away.
As the last echo, of the finale from the National City Bank Kentucky Music Weekend's 25th anniversary faded, magic was still felt. It enveloped Iroquois Park's Amphitheater in a time warp on July 27-30, and, before the free folk music and artistic celebration's first notes, mystical vibes were there.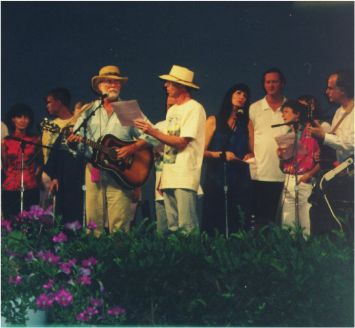 Alan Rhody, right, holds the handwritten lyrics to "Beneath Kentucky Stars" for Bill Staines, left;
Nancy Johnson Barker started KMW in 1976 and she was honored for her quarter century of vision (and much hard work.) at a pre-music reception on Thursday. . Musicians, friends and local officials gathered for a joyous party that included canvas-size photos from previous years. One of Dick "Richard" Albin and Anne MacFie - the only constant 25-year performers - brought several smiles, and smiles were everywhere.
For this silver anniversary, the fest's usual run was expanded to three days and four nights and short sets were the norm, allowing many past favorites to participate. The air was saturated with mandolin sounds, dulcimers, guitars, fiddles, banjos, harmonicas, autoharps and more.
As usual, Fred Meyer's hurdy-gurdy tunes opened KMW and later Arlo Guthrie easily stood out in a very strong lineup; thrilling the capacity crowd with classics, including a rambling thirty- minute version of "Alice's Restaurant." He was swamped for autographs and graciously obliged.
Bill Staines returned Friday night, after a long absence, and showed why he's revered in folk circles. Multi-talented Greg Jowaisas is a beloved KMW regular; he played Friday night; and during the day managed a daytime stage and called Friday's street dance. Lexington's Reel World String Band was enthusiastically welcomed back, displaying humor and musical accomplishment during their performance. Fest founder Johnson's Kentucky Standard Band had very tight, beautiful harmonies and the reunion of Paul Reisler and Sam Rizzetta, two founders of the dulcimer-based band Trapezoid, was a wonderful treat. Stunning vocals were added to their mix by Reisler's partner, Diana Bardwell.
Strong threats of rain moved Saturday night's show to nearby Iroquois High School's auditorium, where a standing-room-only crowd endured sweaty conditions to enjoy hot music. Albin and MacFie continued their unbroken performance record, and recent favorites Small Potatoes thoroughly entertained, though handicapped by Jaquie Mannings' broken thumb. The Juggernaut Jug Band's pickin' can be overshadowed by their comedy but they brought rave reviews from a classical musician friend.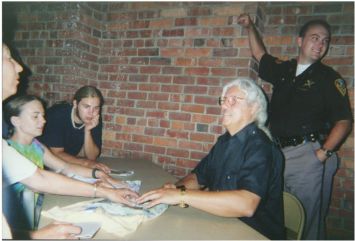 Arlo Guthrie signed autographs for fans.
Madcat & Kane's Peter "Madcat" Ruth's harmonica wailed out the door and down Taylor Blvd., creating more steam inside the auditorium. David Schnaufer later retained his title as "The Dulcimer Professor." Jean Ritchie is the highlight (in current slang, "da bomb.") anywhere she sings and the hall hushed as she walked onstage, where she drank deeply from her well of songs and childhood memories of Appalachia. Nationally known Irish singer Maura O'Connell is a tremendous talent but seemed out of place. Her sidemen were skilled but too electric for the program; her vocal stylings too loud; while attempts at humor and movement (dance?) didn't work. Perhaps the amphitheater's larger stage would have helped.
Sunday night's show returned to the park, as emotional waves washed through artist and audience, for this was KMW's last time on the sixty-year-old stage - the amphitheater is scheduled for demolition and two years of reconstruction. Popular Louisvillian John Gage was followed by a first-time duet from MacFie and John McCormick, whose rich baritone voice was first heard here on an open stage - he's been a favorite ever since. KMW sound wiz Jack Twombley led Beyond The Pale, bringing sounds of Scotland and Ireland.
In Sunday morning's wee hours, hometown son Alan Rhody and others penned "Beneath Kentucky Stars," a poignant farewell to the amphitheater. (See excerpt at top of review.) The stage became covered with performers and volunteers (including tireless stage manager Dave Self.) engaging fans in one last "hurrah," and before the last chorus was sung, audience "memories" were read - some funny, some tender - as the stage cast hummed. Paul Elble was in the crowd as he'd been at the venue's first production on July 4, 1938. Nancy assured all that KMW would continue at the park and that more memories would be made, while the night sky waited until the stage emptied to deliver a steady rainfall - it was magic!