Louisville Rock Lowdown
Sabrosa Red
Sabrosa Red lives up to their "tasty" name in every way, shape, and form. (If you are wondering about the quotation marks, I was told that the word "sabrosa" means "tasty" in Spanish.) The band has only been together for only six months, yet they are playing gigs at the rate of 2-3 a week! It only took them a couple of months together before they landed their first gig. Their sound is a jazzy waterfall of lounge music, powered by an edge of aggression hidden somewhere beneath the surface. It is great drinking music, lemme' tell ya'!
Let's meet the band, shall we?
Chris Armstrong (bass/vocals) has been well acquainted with the professional music scene since he was just a lad in Virginia (Dad plays bluegrass professionally). He has been involved in projects that span the musical palette like a rainbow of genres. Though the band has no front man, Chris handles much of the behind the scenes work. Tavis Conley (drums/vocals) is a Louisville native who has focused most of his musical career on jazz, also since early childhood. He also has roots in the classic rock scene with local bands Bucket as well as a Greatful Dead cover band- Born Cross-Eyed. Manuel Grimaldi (keyboards/vocals) is the most classically trained musician in the band. Working as a Shakespearean actor in Lexington, playing Mozart onstage as a first gig and playing with Sabrosa Red are just a few notches in his belt. Tim Ragan (guitar/vocals) is also very jazz oriented (you can see where this is leading now, can't you?) but enjoys experimenting both on-stage and off to see what kind of sounds he can create, thus opening infinite doors of possibilities.
The group has played a few places outside of Louisville, such as EKU and Bloomington. However this is the new avenue they hope to take in the near future. Locally they have played many bars, and they sometimes play with the Trustees of Modern Chemistry. Clifton's, the Longshot, Headliner's, Air Devil's Inn and the Hideaway are just a few of the hippie-friendly venues that the band frequents. They have a following now of 70-100 people at the Longshot every Wednesday, and the band speaks highly of not only the crowd, as well as the venue. Go check them out, and always stay updated on local shows at www.louisvillemusicnews.com.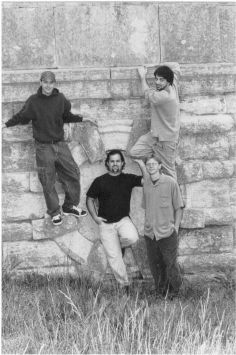 Sabrosa Red: from left, Chirs Armstrong, Tim Ragan, Travis Conley and Manuel Grimaldi
Though every member comes from a slightly different background, the band's main strength lies in improvisation. They have twenty-three originals, and they play twelve or so covers (which are obscure enough to sound like originals to the untrained ear) but the band could play all night. The show is never quite the same, and the set list is as unpredictable to the crowd as it is to the band! Anywhere from one to six songs may just molt together like liquid metal without a moment's notice or thought. Sometimes it just happens.
The band pulls some things off quite well, despite their absence of a horn section. Jazz leads found in the covers they do, by artists such as Miles Davis, are handled by Tim on guitar instead of the traditional trumpet or sax part. Solos and features are passed around like a… uh hum… are shared by the group equally.
Insert unpaid endorsement here:
The band has a few favorite products on the market that they use, so if you want to sound just like them when you grow up- try these! For bass, go with Nemesis gear. Guitar enthusiasts should check out the Snarling Dogs Ring Modulator for some sick, space-like tones. Tim and Chris love toys that get cool effects, and they say that the weird tones really get the crowd into their show. I could not think of a better example than Beck.
What leaves enough room in the infrastructure for these experimental vibes is the improvisational element to the music already mentioned. Practices and shows alike are only outlined, not written in stone. It may take one hundred different run-throughs of the same tune one hundred different ways to find the one that is right. And even then, it may vary from show to show. Is this disorganization or pure musical genius? I will let you decide after you hear them.
Meanwhile, you can pick up a CD of any live performance the band does for $5 via e-mail to csabros@netzero.net or snail mail at: Chris Armstrong, 2902 Palmetto Circle, Box V16, Louisville, KY 40299. This way, if you think you saw the band play at a local bar, but you were too drunk to know for sure, you can find out later with the live CD! Just tell them what you want, and they will take care of ya'.
The band will possibly be on tour in the spring with ten bands for a 4-month period. They are also working on a web site and going through material to take into the studio for a release. Instead of trying to come up with enough material to record an album, they are trying to cut out material and just take the best stuff in for a studio recording. It should be a great project.
Insert my shameless plug here:
You will have your chance to see Sabrosa Red live at my "Hallopalooza" show on Saturday, October 28 at the Fern Creek Community Center. The center is directly in front of Fern Creek High School on Bardstown Rd., between the fire department and the BP gas station. The show will get underway at approximately 7 p.m. with my new blues/rock band. Captain Amoeba. You may have caught us at Twice Told Monday night, August 14 under the name Gimp. The order and bill is subject to change, but Sabrosa Red has confirmed this date to me, along with Flaw and a few other local heavies. Sabrosa will probably play second or third. Admission is $10, and tickets will be sold in advance. Be sure to buy yours early, as tickets are limited. Many prizes will be given away for best costumes worn that night, and the bands will be dressed up, too. Food will be available and the lineup is great. Stay tuned to Louisville Music News for details! The show will be a good blend of psychedelic rock, metal, blues, and more, so be there!
If you are in a local band and are interested in being in my column, Louisville Rock Lowdown; contact me at (502) 262-8728 and leave me a voice-mail or e-mail me at JJKSLACKER@cs.com. I also want to apologize to anyone who has tried to reach me lately and has been unsuccessful. I have been covered up in work and my phone has been acting up and erasing messages that I didn't want it to. If you have not received a call back from me, leave me another message and I will get back to you ASAP. Other than that, look for flyers and advertisements on Hallopalooza and keep Louisville music alive. Rock on!