September CD Reviews
Back and Bringin' It On Big
Instrumental Peoples Music (Ramcat Sound Productions)
Splatch
Our everyday discourse frequently becomes infested with little throwaway phrases, those handy syntactical morsels that we sop up from TV or songs or the subcultures and plop into conversations to sound hip, connected, and just to fill verbal space. What would the 1980s have been without "Where's the beef" and "You Look Mahhhvelous"? (probably a decent decade, despite Miami Vice and David Lee Roth solo albums). In this twilight between the last century and the next, "bring it on" (or its shorthanded version "bring it") is the handy phrase of the moment. With its origins in in-your-face pickup playground basketball games, "bring it on" has moved into the realm of conversational acceptability (ATTORNEY: "Your honor, we will attempt to show that my client could not have been at the home where the murder was committed." JUDGE: "Yeah? Bring it on, legalboy.") It connotes an intense challenge. The gauntlet is at your feet, sissyboy. Do somethin' about it.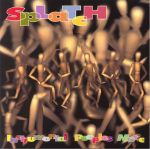 Louisville's Splatch, the stew of funk, jazz and world beat sounds, has brought it on, and in a titanic way, too. Instrumental Peoples Music is the long-waited follow-up to 1997's wildly successful, self-titled surprise. After rotating their personnel in the three years since, Splatch has locked itself in as a sextet that makes a condensed sound with a punch that could crumble a wall of cinder block. Trumpeter Tony McDaniel, his bassist brother Pat and drummer Sam Gray are still the kernel members of the band. Gone is Pete Petersen's thunderstorm of a keyboard, but Gregory Acker replaces it on woodwinds and percussion, John Paul Wright on congas and other percussion, and guitarist Gary Crawford (who also had a small part in the debut recording). With Instrumental Peoples Music from the new lineup, Splatch has outdone themselves. It is a clean-sounding tenacious work with compelling acid funk hooks, crazy solos, rhythms that can make even the clay-footed wanna boogie. They're back in your face and bringing it on loud. 
They waste no time blasting into the first track "Mr. Buttons," with Pat's quick six-note bass run, percussion from John Paul Wright and Greg Acker, and an arpeggio trill from Tony's trumpet. Things don't slow for awhile, not until after the reggae roots of "Cheri Faux Face" or the bouncy funk of "Lil' taste," featuring a low-keyed solo from Tony on muted trumpet, mirroring his influence from Miles Davis. Acker then takes the band into a deeper exploration of world-beat sounds on the M'Bira finger piano in "M'Bira Song," which segues into "Zaire." Following they breezy light funk of Sam Gray's "Fra Mauro Heights," Splatch slams into a dark, acid-metal guitar groove with "Swurve." It is the band's most astonishing selection on the recording, with its ability to switch from the groove into simple, gentle tonal segments. You must crank up the volume to believe it.
After "What Time Is It," the one track where the band gets closest to regular ol' jazz with Acker's free-form soprano sax opening, and the flute-heavy "Four Minus One," Splatch signs off with "D-parture (woik dat bass)," with Pat McDaniel's smoldering layers of bass over a simple repeated rhythm and dark-toned chords from a keyboard. It's the soundtrack you wish you had playing behind your life when you cruise the city at night.
It may not be fair to single out one member of Splatch who cuts through all of Instrumental Peoples Music to make it memorable. Each member is dedicated to the Splatch sound: clean, tight, and in more pockets than spare change. But if there must be a star of this show, let it be guitarist Gary Crawford. He out-Voxes Peter Frampton during his screaming solo in "Lil' taste." His guitar snarls and wails 'nads-out in "Swurve" as if he's forcing some demon through new barriers of pain. His part in Instrumental Peoples Music will doubtlessly bring him acclaim as this city's boldest guitarist.
Splatch's 1997 debut served as the introduction to a distinctive new band in Louisville. It was loud and defiant toward the city's music establishment, especially those involved in jazz. That debut and Instrumental Peoples Music prove the men of Splatch can play jazz in any flavor you like, except boring. You may or may not like the way they put it in your face. But it's going to stay there. Instrumental Peoples Music will make sure of that.
Do somethin' about it.
What Hath Dave Wrought?
White Ladder (ATO Records)
David Gray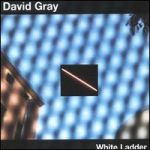 This may be going out on a limb, but thank God for Dave Matthews. I'm not a fan of his. But were it not for his huge, somewhat mystifying success, he would not have been able to start his own record label, ATO (According to Our) Records and make David Gray's White Ladder its first release. Seems Mr. Matthews is a big fan of Gray, so at least we know he has impeccable taste.
Gray released three previous albums between 1993 and 1996, all very nice, but not the career tour de force that is White Ladder. Recorded in his London flat, White Ladder is a mature, fully realized collection of exceptional songs, full of beauty, atmosphere and passion, and, thankfully, short on hipster irony. It's the perfect vehicle for Gray's voice, and it's on my short list for best album of this year.
Gray has a knack for writing about human emotion in simple ways that ring true with the listener, yet avoid cloying cliché. "Please Forgive Me" perfectly captures that dopey exhilaration of early romance, the loss for words, the "lightning running through my veins." "Sail Away" conveys the desperate fear of losing love, while "Babylon" deals with how dramatically our perception of love, and life, can change.
And the scarily beautiful "My Oh My" tells of confusion, deadened feelings and loss of confidence, the kind of overwhelming worries with which we sometimes lie awake at night, sleepless. Plus he even manages to pull off a brilliant take on an old Soft Cell song, "Say Hello, Wave Goodbye."
White Ladder has created quite a stir in England and Ireland, and has been making inroads on the AAA radio format here in the US. Gray is coming to Louisville in September.
Thank you, Dave Matthews. If there's any justice in the world, your client David Gray will have the kind of success you've somehow managed to have
Guest reviewer Bryan Hurst is rhythm guitarist and lead vocalist for Louisville's Bryan Hurst and the Lolligaggers. Their 1999 debut CD was Waiting for Favors. He says he's taking a breather from his own career to be the producer for Heidi Howe's next CD project.
Music For Your Next Quarter-Bounce Party
Music Concrete (Sundried Records)
The Prophets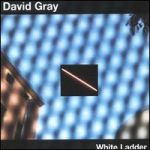 In the promotional materials for Music Concrete, Jeffrey Lee Puckett of the Courier-Journal, calls Louisville's Prophets "music for smart people who drink too much." I will agree that Music Concrete, the sophomore release from The Prophets, is drinking music, especially for this town. This is garage rock, pure and simple: raw, unsophisticated guitar/bass/drums that switch between touches of alt-country and the sort of all-out rawk-n-roll Louisvillians love to down shots by.
Lyrically, the band is a conundrum. Shards of thoughts and half-formed images whiz by at a dizzying rate. When you finally puzzle out one complete idea, the band has long since left you and is well into another enigmatic phrase. Occasionally I found myself wondering if the band was truly trying to bring about its points in an artful, poetic way or just trying to prove themselves wiser than their listeners.
While Music Concrete will no doubt be a popular, well-received disc in this town (and the band deserves kudos for tapping into the current modern-rock scene with a well-produced, nicely created product), it seems to be painting itself into a corner with a sound that is a little too one-dimensional. When you break the music down, its elements are simplistic. While turning up the distortion on the guitars and growling out a haunting vocal imitation of Creed's Scott Stapp – no doubt confirming this band's status as one of Louisville's most popular acts – it leaves one wondering what the band will do for an encore. After all, even the smartest people among us eventually have to sober up.
Nothing False About It
False Cathedrals (Revelation Records)
Elliott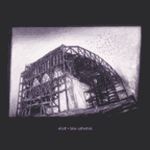 I have long been a fan of Elliott and the way their music crashes and falls around you like a sudden electrical storm in the middle of winter. In my recent review of If They Do, their last release, my only criticism was that the recording was too short. I guess either someone actually does read my reviews (or perhaps I'm still suffering from those delusions of grandeur my shrink is always warning me about) because False Cathedrals  is double the size of If They Do and takes the band to a whole new level of sonic glory.
False Cathedrals is a sweeping, orchestral dream, lush with piano and heartbreak. It starts on a deceptively mellow, quiet note and moves into layer upon layer of noise, reminding me in some respects of Bob Mould's pieces from Workbook and the thick, fuzzy wall of sound from Sonic Youth. Think of Phil Spector on LSD.
The most surprising and best-used element of this CD is the piano, which can gently soothe one minute, and disturb the next. Soaring above it all is the voice of Chris Higdon, sounding as seductively bittersweet as a fallen angel.
Probably my favorite thing about Elliott is they take me back to my early days in college, resting against my bed with one candle lit while I pored over the lyric sheets to some album I was currently in love with. This is not a simple band, and they don't let their listeners get away with much. Their lyrics are more often than not free-verse poetry, and require some thought and meditation on all the big stuff: life, truth, love, religion, death, despair and corruption.
It's easy to get disillusioned as a reviewer, listening to album after album of whatever seems to be selling the best on the radio that month. Elliott flies in the face of that, offering truly experimental rock that pulls you in and refuses to let you go. False Cathedrals is by far the band's best effort to date, and only adds to their status as one of the best emo-core bands in the country.
Bring Out The Big Guns
Big Mon (Skaggs Family Records)
Ricky Skaggs, The Dixie Chicks, Charlie Daniels, John Fogerty, Bruce Hornsby and many others.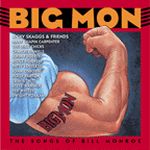 This blockbuster is an all-star tribute featuring the songs that Bill Monroe (the "Big Mon") either wrote or recorded. For anyone who has been living in a cave for the last two-thirds of this century, Monroe's illustrious career earned him a place in the Country Music Hall of Fame, The International Bluegrass Hall of Honor, and The Rock and Roll Hall of Fame. This project is a collective tip of the musical hat honoring the memory of Monroe. Some of the biggest names in music are involved in this homage. Think about this: the entertainers consists of ten Grammy Winners, six members of the Grand Old Opry, a member of the Rock and Roll Hall of Fame, and eleven platinum-album sellers! As the press release says, "Big Guns Salute Big Mon." That's an understatement.
In the strictest sense, this is not a Bluegrass recording. It is, however, ample evidence that Monroe's music is loved and respected by persons who cannot be categorized as hard-core 'grassers. Each track is a reverent reflection of the artists' deep admiration for the man from Rosine, Kentucky.
Bruce Hornsby kicks things off with a rousing rendition of "Darlin' Corey." Perhaps the only other Bluegrass piano player in the world is also on this CD: Buck White lays down a solid Bluegrass feel on "Used To Be." Steve Wariner punches the recording into overdrive with an authoritative version of "Heavy Traffic Ahead." Patty Loveless' heartfelt homage "Close By" is a definite highlight and Rob Ickes' Dobro on the track is awesome. "Blue Moon of Kentucky" begins with the original 1946 Monroe recording and, through the magic of digital technology, the cut is catapulted into hyper-space with John Fogerty as pilot. The two tracks that come closest to real Bluegrass are "Walk Softly on This Heart," from Ricky Skaggs and the Dixie Chicks, and "My Little Georgia Rose," from Travis Tritt. The title cut is an energetic instrumental that will make your jaw drop. It's from a group informally known as "The Red Hot Chili Pickers" consisting of Stuart Duncan, Jason Carter, and Bobby Hicks (all on fiddle), J. D. Crowe, Bela Fleck, Jim Mills and Rob McCoury (banjos), Ricky Skaggs, Ronnie McCoury, Sam Bush and Roland White (mandolins) and Bryan Sutton on guitar.
An insert booklet contains nine photos of Monroe and countless quips and stories guaranteed to make you smile. My favorite picture is of the Bluegrass Boys in ill-fitting baseball uniforms. The caption reads, "Two great American institutions, Baseball and Bluegrass. In the old days when the Bluegrass Boys came to town, they'd challenge the best local team to a game. When Mr. Monroe got up to bat. . .out of the park!"
That's the best way to describe this tribute.
To find our more about Big Mon, visit www.skaggsfamilyrecords.com.
Why the Late 1970s Were Cool
Meet The Frantics (Organic Records)
The Frantics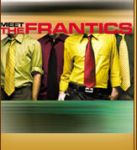 The late Seventies were the heyday of power pop, with groups like The Knack and Cheap Trick giving rock welcome relief from the booty-numbing drivel of disco. If anything, these groups, along with lesser artists like The Shoes and Brahm Tchaikovsky, served notice that if your music didn't have good chord progressions and catchy, melodic hooks, then all you were left with was a lot of overly homogenized, multi-tracked window dressing.
Having said that, then how do the four members of The Frantics, who probably don't remember much of the late Seventies, and list such influences as Stryper, Led Zeppelin, and the mid-Eighties hair/metal bands as major influences, manage to produce such sweet-as-candy melodic power pop? Maybe it's in the water three of our four Frantics drank while cutting their musical teeth in Madisonville, KY. Or maybe like fellow Gen-X'ers Weezer, these guys realize that cool music has little to do with the presence of a parental caution sticker on your CD. Songs like "What's Up With Your Homey?" and "Everybody," both of which expose mean-spirited backstabbing and the liberating epiphany of faith through non-conformity, respectively manage to convey more honesty than any profanity-laced tirade Insane Clown Posse or any other Caucasian rapper could muster.
Probably the most universal theme contained here is in "Kids of Summer," which humorously tells of a bored employee who'd rather be anywhere but at work. Well, they may be humorous. It's rather hard to be totally sure, with the venom contained in lyrics like, "Gotta wear that stupid painted grin / When I just want to jump out of my skin." The band also pays homage to the vocal stylings of Cheap Trick's Robin Zander with Chris Shandrow's delivery on "A Little Bit Good," which exhibits more tension-filled bombast than the law should allow.
While we're discussing late-Seventies retro influences, audiophiles should take note: The sound of this disc is impeccable, with Jade Hanson's Nashville-based production providing a florid range of highs and lows one usually doesn't get with the CD format. Rock recordings usually don't give you this kind of listening experience, so enjoy The Frantics and their brand of pop candy.
Europe Has a Marilyn Manson?
Anamatronic
Kovenant
By Eddy Metal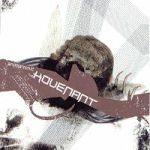 This Norwegian three-piece is making waves with their third outing on Nuclear Blast Records, Animatronic. I think it's one of the better recent releases, and I just can't seem to stop playing it.
They've been called "the European Marylyn Manson," but that does Kovenant an injustice. Try to imagine a darker, more evil version of Manson, but with crushing guitars and symphonic overtones. The blending of techno samples, keyboards, cool vocal effects, haunting female voices and powerful guitar riffs make Animatronic a pleasure.
Kovenant guitarist Psy Coma describes their music as "Progressive Space Metal," but he also states that Animatronic is a bit more Generation X sounding than their second CD, Nexus Polaris. With songs like "Jihad," "Mirrors Paradise" and "The Human Abstract," you can easily tell that these guys are serious. Vocalist/bassist Lex Icon also notes "We want to make music of the future, not of the past," referring to the Scandinavian Black Metal scene.
If this CD has any faults, it would have to be the sometimes-silly vocals, which are reminiscent of Popeye the Sailor - and, occasionally, King Diamond - but overall, the music will make you overlook that one small annoyance. The songwriting is are good, the songs infectious, the production is excellent, so if you are into Gothic metal with a touch of techno-groove, give Animatronic a try, you won't be sorry.