What Hath Dave Wrought?
White Ladder (ATO Records)
David Gray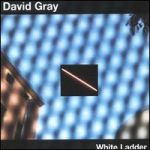 This may be going out on a limb, but thank God for Dave Matthews. I'm not a fan of his. But were it not for his huge, somewhat mystifying success, he would not have been able to start his own record label, ATO (According to Our) Records and make David Gray's White Ladder its first release. Seems Mr. Matthews is a big fan of Gray, so at least we know he has impeccable taste.
Gray released three previous albums between 1993 and 1996, all very nice, but not the career tour de force that is White Ladder. Recorded in his London flat, White Ladder is a mature, fully realized collection of exceptional songs, full of beauty, atmosphere and passion, and, thankfully, short on hipster irony. It's the perfect vehicle for Gray's voice, and it's on my short list for best album of this year.
Gray has a knack for writing about human emotion in simple ways that ring true with the listener, yet avoid cloying cliché. "Please Forgive Me" perfectly captures that dopey exhilaration of early romance, the loss for words, the "lightning running through my veins." "Sail Away" conveys the desperate fear of losing love, while "Babylon" deals with how dramatically our perception of love, and life, can change.
And the scarily beautiful "My Oh My" tells of confusion, deadened feelings and loss of confidence, the kind of overwhelming worries with which we sometimes lie awake at night, sleepless. Plus he even manages to pull off a brilliant take on an old Soft Cell song, "Say Hello, Wave Goodbye."
White Ladder has created quite a stir in England and Ireland, and has been making inroads on the AAA radio format here in the US. Gray is coming to Louisville in September.
Thank you, Dave Matthews. If there's any justice in the world, your client David Gray will have the kind of success you've somehow managed to have
Guest reviewer Bryan Hurst is rhythm guitarist and lead vocalist for Louisville's Bryan Hurst and the Lolligaggers. Their 1999 debut CD was Waiting for Favors. He says he's taking a breather from his own career to be the producer for Heidi Howe's next CD project.