Europe Has a Marilyn Manson?
Anamatronic
Kovenant
By Eddy Metal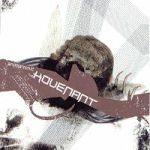 This Norwegian three-piece is making waves with their third outing on Nuclear Blast Records, Animatronic. I think it's one of the better recent releases, and I just can't seem to stop playing it.
They've been called "the European Marylyn Manson," but that does Kovenant an injustice. Try to imagine a darker, more evil version of Manson, but with crushing guitars and symphonic overtones. The blending of techno samples, keyboards, cool vocal effects, haunting female voices and powerful guitar riffs make Animatronic a pleasure.
Kovenant guitarist Psy Coma describes their music as "Progressive Space Metal," but he also states that Animatronic is a bit more Generation X sounding than their second CD, Nexus Polaris. With songs like "Jihad," "Mirrors Paradise" and "The Human Abstract," you can easily tell that these guys are serious. Vocalist/bassist Lex Icon also notes "We want to make music of the future, not of the past," referring to the Scandinavian Black Metal scene.
If this CD has any faults, it would have to be the sometimes-silly vocals, which are reminiscent of Popeye the Sailor - and, occasionally, King Diamond - but overall, the music will make you overlook that one small annoyance. The songwriting is are good, the songs infectious, the production is excellent, so if you are into Gothic metal with a touch of techno-groove, give Animatronic a try, you won't be sorry.