Bring Out The Big Guns
Big Mon (Skaggs Family Records)
Ricky Skaggs, The Dixie Chicks, Charlie Daniels, John Fogerty, Bruce Hornsby and many others.
By Bob Mitchell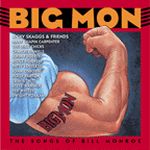 This blockbuster is an all-star tribute featuring the songs that Bill Monroe (the "Big Mon") either wrote or recorded. For anyone who has been living in a cave for the last two-thirds of this century, Monroe's illustrious career earned him a place in the Country Music Hall of Fame, The International Bluegrass Hall of Honor, and The Rock and Roll Hall of Fame. This project is a collective tip of the musical hat honoring the memory of Monroe. Some of the biggest names in music are involved in this homage. Think about this: the entertainers consists of ten Grammy Winners, six members of the Grand Old Opry, a member of the Rock and Roll Hall of Fame, and eleven platinum-album sellers! As the press release says, "Big Guns Salute Big Mon." That's an understatement.
In the strictest sense, this is not a Bluegrass recording. It is, however, ample evidence that Monroe's music is loved and respected by persons who cannot be categorized as hard-core 'grassers. Each track is a reverent reflection of the artists' deep admiration for the man from Rosine, Kentucky.
Bruce Hornsby kicks things off with a rousing rendition of "Darlin' Corey." Perhaps the only other Bluegrass piano player in the world is also on this CD: Buck White lays down a solid Bluegrass feel on "Used To Be." Steve Wariner punches the recording into overdrive with an authoritative version of "Heavy Traffic Ahead." Patty Loveless' heartfelt homage "Close By" is a definite highlight and Rob Ickes' Dobro on the track is awesome. "Blue Moon of Kentucky" begins with the original 1946 Monroe recording and, through the magic of digital technology, the cut is catapulted into hyper-space with John Fogerty as pilot. The two tracks that come closest to real Bluegrass are "Walk Softly on This Heart," from Ricky Skaggs and the Dixie Chicks, and "My Little Georgia Rose," from Travis Tritt. The title cut is an energetic instrumental that will make your jaw drop. It's from a group informally known as "The Red Hot Chili Pickers" consisting of Stuart Duncan, Jason Carter, and Bobby Hicks (all on fiddle), J. D. Crowe, Bela Fleck, Jim Mills and Rob McCoury (banjos), Ricky Skaggs, Ronnie McCoury, Sam Bush and Roland White (mandolins) and Bryan Sutton on guitar.
An insert booklet contains nine photos of Monroe and countless quips and stories guaranteed to make you smile. My favorite picture is of the Bluegrass Boys in ill-fitting baseball uniforms. The caption reads, "Two great American institutions, Baseball and Bluegrass. In the old days when the Bluegrass Boys came to town, they'd challenge the best local team to a game. When Mr. Monroe got up to bat. . .out of the park!"
That's the best way to describe this tribute.
To find our more about Big Mon, visit www.skaggsfamilyrecords.com.