A Perfect Circle and Snake River Conspiracy
By Jason Koerner
Now this is music. A Perfect Circle, along with the female-fronted frenzy of Snake River Conspiracy, hit the Gardens March 16 for a great night of music, just in time for St. Patrick's Day partying!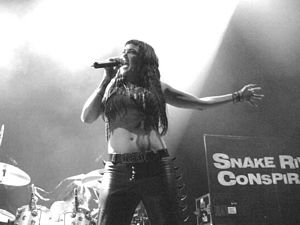 The show kicked off around 7:30 or so, with Snake River Conspiracy and things just exploded. I honestly had some lesser expectations of the group and was pleasantly surprised to see that their bite was as big as their bark (or hiss, I dunno). The sound was Garbage vs. Hole in an all-out steel cage deathmatch, no disqualification, but every now and then, something very different came out. Something... original! I think that over time, the group will have enough opportunity to explore this sound and use it to their advantage while breaking through to the world of media-driven rock and roll. The entrance was nice, mainly due to my obsession with women in hoods and long robes, (oops, that was my out-loud voice again, wasn't it?) but the high-energy performance matched that of any top performer I've seen. It is refreshing to have another terrific female vocalist in the world of alternative rock.
A "momentary" - in excess of 30 minutes - delay occurred after the SRC set, due to an improperly secured barricade up front. The mob of fans all pushing to be one inch closer than the next guy to the stage created some difficulty when it came to safety. Several people were taken to first aid stations after being crushed between the barricades near center stage. Police and event staff security worked together to get the crowd to "take two steps back" to relieve some of the pressure on the gates so they could be fixed. This effort was fairly useless and the music did not begin until after the crew reinforced the "Berlin Wall" with pieces of wood. However, these later proved to be worthless against the weight of the audience and their advances forward.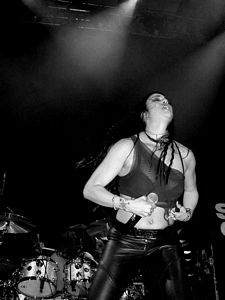 Photo By Photo by Jason Koerner
So approximately 30-45 minutes late, A Perfect Circle took the stage. The music and performance, however, were unaffected. Paz Lenchantin even had "Louisville!" written on her bass, which showed their enthusiasm about playing the Gardens. The band got off to a mellow start and almost immediately seized every audience member's attention. When vocalist Maynard James Keenan hit the stage, the solemnity left the building, and the captivating stage presence took on a different overtone.
The somber ferociousness of Keenan's voice was enough to send chills down my spine. The intensity the entire band carried throughout their set would have been difficult to maintain for some groups when "the barricade issue" reappeared shortly after the start of their set. Keenan then became the negotiator with the crowd, and he was an excellent sport about the whole thing. He kept a sense of humor about the situation by telling jokes and being laid back about the whole thing, but I also picked up a little sarcasm in his comments, much like in his interviews. The show was almost stopped early because of these same difficulties but continued when the barricades were finally sufficiently reinforced.
Photo By Photo by Jason Koerner
"Three Libras" and "Judith" were the big hits of the night; "Judith" being the song I liked best. It was the most powerful tune all night and is an excellent concert spectacle. "Three Libras" lacked the studio elements it needed to due itself justice. "The Hollow" is another song that fans have grown to love recently. It's a song with much emphasis on vocal harmonies by Billy Howertel and Keenan and it worked quite well live, something you don't get at every concert. "Piñata" was the word of the day, and every time it was said, the crowd had to scream, "Love that Colonel's chicken!" or something to that effect. It must be nice to have the power of a rock star.
On the down side, the after-show meet-and-greet was a joke. We waited for a long time just to get picked over like fruit at a super market; only the prettiest girls were selected to go backstage to meet the band... or whoever. Meanwhile, those of us without large breasts and short skirts waited longer for the "2nd draft."
After an hour had come and gone, I left. (Note to self: Cross-dress at next show I attend.)
The Jason Kurse
As usual, there was an issue going on at the `Will Call' booth, where something of mine is missing; this time, it was a photo pass. My new friend Cindy tracked it down for me, and all was well. She and Ben have been my saviors when it comes to mix-ups, and I just wanted to thank them for their help.