Bluegrass Beat
I was just thinking ... seems to me April should be spelled "spring," or the other way around. Anyhow, April certainly means spring, or to me it does. It just sort of feels like, OK, we can breathe a little easier now, make plans, probably about the worst we might expect is rain and, as the Porter Wagoner song said, "The World Needs A Washing." I suppose by now you realize I am glad spring and April are here. Spring could easily be called Mother Nature's daughter, all fresh, young and innocent.
Ups and downs ...
Randall Hylton
March had its ups and downs of various sorts. As of the time I am writing this, our good friend and very popular picker with folks here and all over has experienced those ups and downs. "The Greatest Solo Act Since Charles Lindbergh," Randall Hylton, has battled and dealt with serious health problems. Eddie and Martha Adcock provided, as much as possible, a running account of Randall's ills and gains. (Martha, I and all of the folks I have been able to share the information with via e-mail and my show, really appreciate your interest and help. Thank you.)
The first note I received concerning Randall (March 8) read in part, "After feeling rather ill for some time, our buddy Randall Hylton (picker-singer-songwriter extraordinaire) has just found out that he must have heart surgery immediately to replace a faulty valve."
The next note, March 12, read in part, "This is the latest we have on Randall. I talked to Randall's wife, Pat, Saturday, and she says he has not had surgery yet, and probably won't until sometime this next week, because they are having to fill him full of antibiotics first, to reduce the infection around that leaky heart valve. She says he feels a tiny bit better from the medicine, but of course he remains in Intensive Care."
March 13: "Randall has had a stroke while in Intensive Care. His condition is now critical. If you're the praying sort, please do that now."
March14: (This is the last report I had before writing the column and the most encouraging to date.) "We just heard from Randall's wife, Pat, who took the time to call. She says Randall is doing better. A neurologist has tested him and believes he should be able to recover from his stroke. He is already getting therapy. He has called his wife and his mother on the telephone! Pat says he's `hanging in there.'
"She expects he'll be moved from Skyline Medical Center in Madison to St. Thomas Hospital in Nashville, probably tomorrow, where he may also be in Intensive Care. His condition is presently listed as `fair.' Although there is still a bit of bleeding in the brain, they want to proceed with heart surgery to fix the leaky valve and the blocked artery soon, possibly as early as Friday, or possibly next week. It is good to know that one of the top surgeons in the world for this kind of surgery will be doing the work; he has done more of this type of surgery than anyone else. The surgery does pose a risk of another stroke, of course, so please keep him in your thoughts and prayers. It will be a bit of a haul for him, and for Pat and for their son Blake, too."
[Editor's Note: Berk received the following e-mail from Martha Adcock after this column had already been received in our office.]
March 19: "Dear Friends, I have some terrible, sad and shocking news to relate, that of the sudden passing of our good buddy, old friend, fellow guitar picker Randall Hylton. This morning a brain aneurysm took him from us. We know nothing of final arrangements at present but will inform you as we find out."
Thank you, everyone who has related good thoughts and wishes and prayers via e-mails and calls. Stay with it, folks; we need the Randall Hyltons around for a long time to come.
Benny Martin
The following came by e-mail from another friend:
"March 14, 2001, John Hartford called to inform me that Benny Martin had passed from this life at about 8 p.m. March 13, 2001."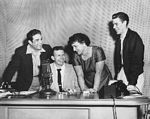 I had known Benny Martin, been acquainted with him for a number of years, especially back when I was a country DJ, and most recently a visit or two at IBMA.
I remember seeing Benny one time, and after the show realizing what a smooth fiddler he was. I remember that I noticed during that show, watching and listening, I did not detect the changing of the direction of the bow. Benny was a character, no denying that, but he was a master fiddle player. Benny Martin figured out the "how to" and obtained and played an eight-string fiddle. Someone, a Nashville musician, remarked that "when he plays that, it sounds like a whole stage full of fiddles." Benny Martin, "Little Darling," "Big Tige," to use an expression I've heard you use a number of times, "Science ain't never knowed" how much you will be missed.
I sent the word about Benny to my English friend, with whom I have corresponded all about our country music for 45-plus years. He is very knowledgeable on traditional country. I thought his response sort of summed things up in a way: "Thanks for the news. It looks like there is a better show upstairs than down now."
When I did the Mr. DJ USA show, WSM, we could request three Opry stars for guests. Among my choices, Chet Atkins and Martha Carson could not make it that night. So WSM lined up Del Wood, wonderful lady and piano player ("Down Yonder"); Justin Tubb, son of the legendary ET; and Benny Martin. It was great. Those three are gone now and a little of country music went with them, as it did with many others. And that's part of the reason we don't have too much left.
What we do have...
Let's see what we do have, and coming our way:
• Music Ranch USA: April 1, a special taping session for comic Jimmy Jack and warm-up with Dick Branson; April 7, Beth Harris & Austin Beyers; April 13, Rancheros; April 14, Gospel Show with guest Heaven Sent band; April 20, Rancheros; April 21, Paul Penny; and April 28, Nathan Jackson & Candice Lynn.
• On to Shepherdsville Music Place for a Show of Shows: THURSDAY, April 5, The Lewis Family and Jim & Jesse; April 13, Kentucky Blue; April 20, Blue River Band; and to finish the season in a big way on April 27, winners of IBMA Song of the Year 2000 for "Murder On Music Row," Larry Cordle & Lonesome Standard Time.
More good news ...
Received an updated schedule from Polly Lewis the other day with a note that said, "Pop is doing good. His appetite is excellent. He has regained a lot of his weight he lost. The only thing, he has to walk on a walker. He wants to walk on his own." (Thanks, Polly.) And there you have it, the latest scoop on Pop 93 Lewis.
Our dear friend Wade Mainer has a birthday this month, 92. (Dear friend, it is a sincere wish for you, and may God bless you with many more. From all of your fans here and all over.)
Wishful thinking ...
I really wish I could refer to some of the above as April Fool, but that is not to be. Keep Randall in your thoughts and prayers. Contact me if you wish to send him a much appreciated card and I will give you his address or you can get it here: Randall Hylton, PO Box 24533, Nashville, TN 37202.
[See Editor's Note above.]
Till next time ...
Enough, enough. Keep in touch and keep listening, Sunday Bluegrass, WFPK 91.9 FM, 8-11 p.m. You can contact me by phone during the show at 814-WFPK, e-mail me at wfpk.org, or try my e-mail: cgberkb@bbtel.com.