I've Got A Mind To Ramble
Do Rhee Mi . . .
Repertory theater is not the normal venue for Peter Rhee, who usually plays amplified violin with Blue Swing Shooz. But Rhee has landed a part in "Description Beggared: Or the Allegory of Whiteness," one of the Humana Festival's New American Plays, which is staged in the Bingham Theatre at Actors. Rhee said he was first contacted by music director Michael Roth from San Diego for an audition three months ago. The role required a few speaking lines, singing and playing several instruments as a musician in a bad jazz band. Rhee plays trombone, guitar and his swinging golden violin, from which he throws out a few Stephane Grappelli riffs, but most of the music is strictly charted.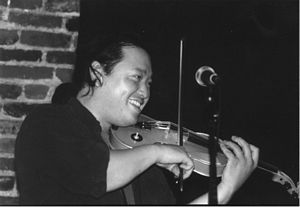 Photo By Photo by Keith Clements
Dick Sisto is also plays vibes in the jazz ensemble, and the rest of the group is filled out by apprentices at Actors. This combination comedy, musical and metaphysical drama was written by Mac Wellman and centers around the eccentric Ring family, who gather together for a family portrait. The motley attired jazz band purveys their transcendental music in sharp contrast to the pristine whiteness found throughout the entire production. :Allegory of Whiteness" had its world premiere on march 13 and will run have ten performances through April1.
Blues Cruise 2001
By my count, this will be the 7th Blues Cruise the Kentuckiana Blues Society will launch. We are set to embark in two yellow school buses provided by Kelley's Bus Service from the parking lot of Mid City Mall (Baxter Avenue side) promptly at 5:30 p.m., Saturday, May 19. We will arrive at Stevie Ray's Blues Bar for some outstanding barbeque provided by Vince Staten's. (Staten's restaurant is at 9219 Hwy. 42 in Prospect and offers beef, pork and chicken BBQ,plus lots of different sauces on the table to sample.) MR2 Blue will be the opening band at SRV's, starting at 7:30 p.m.
Then it will be over to Goodlowe's at 2133 W. Market to hear P.S. Willie. I'm not familiar with this five-piece band but you might have heard them at Air Devils Inn, Maier's Tavern and at Fort Knox. If it is a pleasant evening, we can move out onto the patio out back.
The last leg of our blues odyssey will be to Churchill's Blues Bar & Grill at 3105 Taylor Blvd. This friendly south side Mecca for the blues will have Lamont Gillispie and 100 Proof Blues, who have been the house band each weekend since day one. There will a 12:30 a.m. and a 1:30 a.m. bus to take cruisers back to the Mid City Mall.
The cost for the cruise is the same as it was last year - $20 for KBS members and $25 for non-members. We will be raffling off Tee shirts and CDs between ports of call. If you are not a KBS member, this is a great reason to join now and save $5. Get your reservations in early by sending a check, payable to the Kentuckiana Blues society, to the address in the KBS ad below.
N. O. Blues Summit
If you had to select some musicians for a New Orleans Blues Summit, who would you pick? There are so many great ones that are long gone, but I would match Snook Eaglin on guitar with Dr. John (Mac Rebennack) on piano. Ken Clay, the Director of Programming at the Kentucky Center for the Arts, assembled a little more obscure but nonetheless interesting group of musicians for the combined Midnite Ramble and Lonesome Pine Performance on March 9. The program included Henry Butler on piano, John Carey on harp and guitarist Chris Thomas King playing together for the first time.
After an awkward trading of musical intros, with each musician doing a song familiar to him, they seemed to gel late into the first set. Butler's rollicking piano and deep baritone voice carried the show, especially in the second set. His large, outstretched fingers danced over the keyboard, recreating the sounds of Professor Longhair with his own version of "Tipitina" and "Got My Eyes On You." At times, it was hard to determine where he was headed with some of his bizarre, funky and ever classical introductions, until he got in stride with a familiar Crescent City chord. His charged up "Voodoo Man," with it's complex backbeat rhythms, was far superior to the version on his Vu DU Menz CD that was recently released on Alligator. "Orleans Inspiration" was an intriguing burgoo of spicy riffs and rhythms that captured the essence of the city. "Let `Em Roll" was a barrelhouse rocker that got the near-capacity crowd clapping and singing the chorus behind him.
Carey and Thomas played and sang more traditional blues from the Delta and Chicago. Thomas' slow ballad of a musician's life on the road and the strains it puts on his lady was beautifully portrayed in "C'est La Vie." I wasn't quite ready for this 21st Century version of "Crossroads," however, which had a contemporary hip-hop twist. Carey's smoky vocals and harp were featured on "They Call Me The Doctor," a rompin' shakedown and "John Law Burned Down the Liquor Store."
You can hear Thomas in the movie "Oh Brother, Where Art Thou?", currently showing at the Baxter Theater.
The summit was finally reached at the end of the show with a collage of Butler's "Put On Your Red Dress," Thomas' "Every Day I Have the Blues" and Carey's "Rock Me Baby," capped off with all three and the audience singing "Hi De Ho" for a grand finale.
Let's bring more blues back to the Lonesome Pine Specials; maybe next year we could have a North Mississippi Blues Summit.