Interview with Marcelo Dias from Soulfly
By Jason Koerner
The sound/light check for the Soulfly/Pantera show was in progress when I arrived about around four p.m. to interview Marcelo Dias, bass player for Soulfly. Fortunately, his duties for that procedure were finished.
LMN: How long have you been part of Soulfly?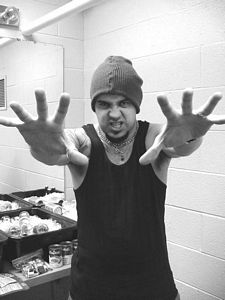 Photo By Photo by Jason Koerner
MD: I've been with Soulfly since 1997. Max and I started in Phoenix (he lived in Brazil until '96), and I worked as a guitar tech. and light coordinator from `86 to `97 with Sepultura."
He also took his bass on the road while working with Sepultura, he said.
LMN: What led to your choice of bass guitar?
MD: It was when I saw my first Slayer video. I saw him tearing it up, hair flying around...
LMN: Who influenced your bass playing?
MD: Geezer Butler (Black Sabbath), Iron Maiden - I grew up listening to those guys. I learned to play by ear by listening to records at home over and over until I got it right...
The conversation then shifted to a long-winded spiel about the greatness of Les Claypool from Primus.
Les Claypool, I got maybe two or three songs down, and every thing after that, I'm like `I give up!'... He is a master of what he does.
LMN: What kind of rig do you use?
MD: ESP custom made bass, bass line pickups (very important), Ampeg head- 4 pros, split signal: clean/ dirty FX, compressor, pre-amp, G force bass, Crown CE 4000, Ampeg 8x10 cabs, 1200 from 800 watts, and more...
Fortunately for his neighbors in Phoenix, the band practices about 20 minutes away from home.
LMN: What were your reasons for leaving your former band, "The Mist?"
MD: Well, I couldn't afford to live in Mist. We would tour like once a month, maybe every two weeks. I wrote most of the music, and I really liked it. I was making more money working for Sepultura than I was in my own band.
LMN: How do you feel about the lack of radio play and support from MTV?
MD: It's just f*****g mainstream, man. They just wanna' play those - how do you call them, I lost the term - Bubble Gum Stars. That's all they play. They just look for the money. I'm a fan who has a brain; I want to hear something original. I want to listen to new music, not something that is over-done. That's all you hear on MTV and radio stations. The same whiny, crying ... I'm like, 'Get the f**k out of here!' Basically, I never expect anything from television, because they never give a s**t about us. It really doesn't make any difference for me.
LMN: How is the new album doing?
MDL: It's been out for about four or five months now. It's been doing pretty good. The first record has sold about 400,000 - 450,000 now; it's getting closer to gold. The new album has sold 300,000 already. Every show we do, we play it like it's the last gig ever. We play with so much energy and just want to give everything to every show. Kids have just been talking about it everywhere.
LMN: When recording this album, did you feel that you had more freedom to explore your own ideas?
MD: I got way more input on the second record... it was just hard to create something on the first record, because you just put in this position, that you have to create and you are in this big band... on The second record, it was so much easier.
(Three different guys were on the latter of the two records, and Max had almost all of ideas on first one...)
LMN: Is the tour going well so far?
MD: Hell yeah, man. Every night it's been f*****g awesome. We've been on the road for about three weeks and I would say about 70-80% of the concerts have been sold out. For heavy music, I think we have been doing a great job.
LMN: Kitty was originally scheduled for the date in Louisville, so how did you get on the tour?
MD: They (Pantera) made the offer, basically. They needed a band to go on tour with them, and we were one of their options. We also had the option with Kitty, but we told them we were looking for something else. I don't mind opening for Pantera, I respect Pantera; but Kitty, I consider them a joke band, I'm sorry.
LMN: Fans seem very pleased that you are here, do you feel you have achieved success through the same means as Pantera and other underground bands?
MD: Soulfly is an arena band. Max, his whole career, never needed radio.
The Soulfly formula for success: 1) Play every gig like it is your last. 2) Word of mouth exposure will follow when audiences see the live show, 3) they will go and buy the record.
LMN: My band used to cover "Eye for an Eye," I hope you don't mind! What do you think about cover bands?
MD: I take that as a compliment. I think covers are sort of a tribute to bands you like. I did that myself. We just love music.
(He named Slayer, Metallica, etc...)
LMN: Who came up with the name "Soulfly" and why?
MD: That was between Max and Chino from the Deftones. Max helped write and sing on the song "Head Up" with the Deftones. He screams "Soul-fly" in the song, and it was basically created from that. We were looking for a name and already had twenty or thirty ideas, the band decided that was the one. Soulfly, Soulfly... that's it. That was in 1997. We had everything done, but no name. At the last minute, we're like... "Soulfly."