Louisville Rock Lowdown
"Element H"
Last month we left off with a cheap shot at TLC's bankruptcy and some lessons to be learned about local rock. This month we are wrapping up this topic for now and moving right along to some good news in the scene. Due to the amount of email I have received lately about the column topics, I have been pushed for space; so now without further adieu, I bring you Element H. They're not on the Periodic Table, and they sure as hell ain't hydrogen, but their music is comparable to a hydrogen bomb. Here they are, element by element.
Element H is "Hybrid Rock" created by Teague Ridge on bass/ backup vocals, Chuck Wills on lead vocals, "Critter" on guitar, and Rahul Borkar on guitar/ backup vocals. With the help of manager Max Maxwell, the group recently acquired former Days of the New drummer Adam Turgeon to replace Josh Clark. He played on six tracks of the triple platinum debut album and is now devoting his talent to Element H. The guys are glad to have him onboard.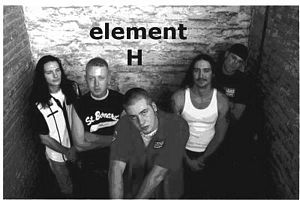 The band has a hardcore sound with intense vocal patterns backed by licks that stay crunchy in milk. They have played such venues as Headliner's Music Hall (opening for national act, Diffuser), Phoenix Hill Tavern (with such local giants as Supafuzz), the former punk-palace Pandemonium, Maple Inn, Louisville Pizza Company and the BRYCC House (see my cover story last issue to learn more about this venue). Oh, and of course... their basement.
I watched their video performance from "Live at Mom's" (a TV show you can catch every Thursday night on WYCS Channel 24) and saw "elements" of Godsmack and Disturbed immediately. This band has a wide range of sounds and a great deal of potential. I particularly liked the enthusiasm of the band and was impressed by certain riffs and hooks. Be on the lookout for this band in the near future, because they are determined to make some waves in the music scene both locally and on a large scale. You can learn more about them from their web site at www.elementh.com and you can email them at elementhmail@aol.com
You can call and request the group on the WLRS Kentucky Fried Radio Hour (502-571-1051) where they have been played and asked to do a live performance of a song on the air. The group has also been accepted in Billboard's Broadband talent.com. The group is making plans to visit music conferences across the country in search of a prospective record deal. Element H is currently working on writing songs for their first album to be released sometime this spring or summer. Good luck to them in their efforts.
Wanna' catch the band live? Here a few dates they have in April; and be sure periodically check their web site for more updated information and other cool stuff... who knows- you could be the "Fan O the Month!"
On April 6, you can see the band live at the BRYCC house on Bardstown Rd. (just north of Grinstead Dr.) If you don't know anything about the BRYCC house, you need to read my cover story from the march issue on it. If you know everything there is to know about the BRYCC house, you need to read my article too!
*the following day, April 7 (from 6-10pm) element h will be rocking the Delta Tau Delta house on U of K's campus in Lexington... can we say "animal house"?
Check out this band!
OK, we have to move on to some news and also finish up the discussion on the difficulties of being in an original local band. Here are some comments from Todd Groemling, a seemingly disgruntled music lover who is currently "bandless."
Please keep in mind that everything I say is in the spirit of wanting to help bands, not to put anybody down.
Now...There are 2 reasons why people in the Kentuckiana area do NOT go out to see bands.
I offer Reason # 2 first because it's not as obvious as Reason #1.
Reason #2:
So many top recording acts and `2nd tier' acts on major and large indie labels do not even stop here, so people aren't in the habit of even thinking, `hey, I wanna' see a band.' So having mostly big(ger) name bands come to town conditions people into believing 1) it costs a lot to see a band, 2) only those bands are worth seeing, and 3) any band having a low cover charge isn't worth their time. People don't even realize they've been conditioned by this sad reality. But if people don't get a healthy number of chances to see prominent bands, they just don't get in the habit of even thinking about going to see any bands.
Reason #1: Most people are unfamiliar with most local bands.
Musicians and non-musicians may interpret this fact as a lack of a sense of adventure by local area residents, but grumbling about it won't negate the truth: People like what they know.
Bands expecting people to go see them when people don't know who they are is like picking a name out of the phone book, calling him/her up, and asking him/her out on a date, then expecting #1, the person will say yes, #2, the person is worth your time and vice versa. It's just too much of a crapshoot, not to mention unrealistic.
But are bands stuck with no way to get (more) people out to their shows? No!
Here's my solution: Bands have to take it upon themselves to have web sites where they post snippets (in MP3 format) of some of their tunes available to be downloaded or streamed. This way, no person looking for something to do can say, "I didn't go see a particular band because I didn't know what to expect."
Bands also need to promote this free 'service' on their flyers. Bands also have to realize that people may listen to these MP3 song snippets and NOT like what they hear. So unless the songs get `better'.
I also think clubs owe something to current and prospective patrons and bands. All local clubs should 1) have web sites and 2) post on their sites snippets of songs by bands with upcoming performances.
I believe, however, that clubs and promoters aren't going to be lining up to do this. Bands, then, have to take the lead. If enough bands do this, then hopefully a few clubs will get a clue and offer to post on their sites MP3 files of upcoming bands...as long as the bands provide the MP3 files.
Thank you,
Todd Groemling
Bandless singer-songwriter
PS Most bands just believe that all they have to do is play music. For die hard music lovers, that may be enough, but to attract a wider audience, maybe more bands should adopt the mindset that they should be showmen/entertainers, not just musicians or live, human juke boxes.
Thanks, Todd. Good cover bands do seem to be the major players in the scene, at least when it comes to earning money to play. It is a wise decision for business owners to give their customers what they want to hear, and likewise for the bands to give their "employers" the same. Sad but true.
I think that email sums up what we have been trying to get at recently, and that is the musician's point of view on what is wrong with the scene and the lack of support. In a nutshell, we have decided: 1) There is a very high demand for cover bands, due to businesses wanting to stay in business. 2) There is some amount of discrimination and favoritism amongst different groups in the scene that needs to be eliminated. 3) Original bands need to learn how to push themselves and promote their music as best as possible, instead of just expecting success. I think we can leave this subject alone for a while now. Thanks to all those who submitted comments to me.
Your New Homework Is "Ways To Promote Your Band"
Send me your suggestions that you would like to share with others on your promotion methods. If you don't want to give away your secret recipe of 11 herbs and spices, then don't bother; but I do not think there is any harm in passing on advice to your fellow brothers and sisters in the music scene.
I thought I would pass this along to you. It is a clip of an email I received that had tons of names on the mailing list, sent by locals, downSIDE. Bulk emails are great for promoting your events and information efficiently.
Come cyber with us ((downSIDE)) . . .
Help kick off our first Live Chat Sessions at our own www.LouisvilleKore.com
10-10:30PM, Wednesday February 7th
A sphincter says WHAT?
Something as quick and simple as this can serve as that boost you need to get the word out about your group. Speaking of bands that utilize the Net to boost their name, Sabrosa Red has been hard at work pushing not only their music, but their new product, Sabrosa Red Ale. Cumberland Brews has stepped up to the plate and made one of their dreams come true with the beer. It will be for sale (on tap) at the 4/20 Festival, and was released a few weeks ago at Cumberland Brewery with live music to support it. So what is the "4/20 Festival," you ask? It is a three-day camping/music festival to benefit NORML (National Organization for the Reform of Marijuana Laws) It will be held in Knoxville, TN on April 20, 21, and 22. A 3-day camping permit, some of the nation's best music (fifteen bands playing all day and all night) and the comfort of knowing you are supporting one the nation's most important movements ... all for just $25! For information and tickets, email Chris Armstrong at csabros@netzero.net, or stop in Grateful Threads on Bardstown Rd. and they will take care of you. Sabrosa Red will be performing on Saturday night, and they may even have their new CD they just completed recording with them, so take some extra cash! Congratulations to those guys and good luck at the show. I will be covering it in a later issue, so keep your eyes open for the story if you can't make it down to Knoxville yourself.
You know the drill, send me your stuff to JJKSLACKER@cs.com or leave me a voice mail at (502) 262-8728. Rock on Louisville!