Pantera At Louisville Gardens
By Laura Spalding
Pantera, the self-proclaimed Kings Of Metal, took over this town on March 2 with a blistering show at the Gardens, though not before a series of would-be kings paraded their stuff. Nothingface, a Washington, DC band new to the metal scene opened the show. They did a good job warming up what could have been an intimidating crowd, as Pantera fans expect the best.
Next up were classic death metal rockers Morbid Angel who enticed the crowd with menacing growls of heaviness. Third was Soulfly, led by former Sepultura front man Max Cavalera. Most of the crowd was familiar with the band and was very enthusiastic about their intense set.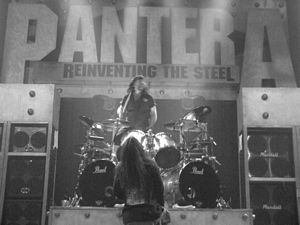 Photo By Photo by Jason Koerner
Soulfly's latest CD, Primitive, has more of a tribal, earthy sound than Sepultura did, which is gaining them a slew of new fans on this tour. They may give Pantera a little competition on this tour, but don't think they will out do the Kings any time soon.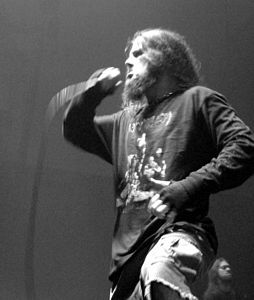 Photo By Photo by Jason Koerner
Finally, Pantera attacked the stage with a massive wall of Ampeg and Randall speaker stacks in front of the large Reinventing The Steel logo. The band seemed to have renewed passion, much more than in their Ozzfest performance last year.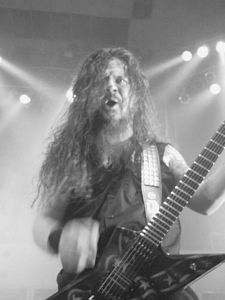 Photo By Photo by Jason Koerner
Phil Anselmo is the ultimate metal front man. You know he means what he says and he sincerely supports the cause of keeping metal alive and well. He bonded with the crowd throughout the night, encouraging them to go ballistic in the pit and to "bang your heads like it's 1985." He also let them know "This sh? t don't happen every night, so enjoy it while you can."
The fans obeyed his every word, whipping the pit into a frenzy during "A New Level," Goda?n Electric," "Becoming," "Walk," "Suicide Note," Revolution Is My Name" and the classic "Cowboys From Hell." When it was all over, the fans were exhausted and charged up at the same time - classic Pantera live show results.
Pantera is absolutely the King Of Metal - and they've earned that title. I don't see them losing it any time soon.