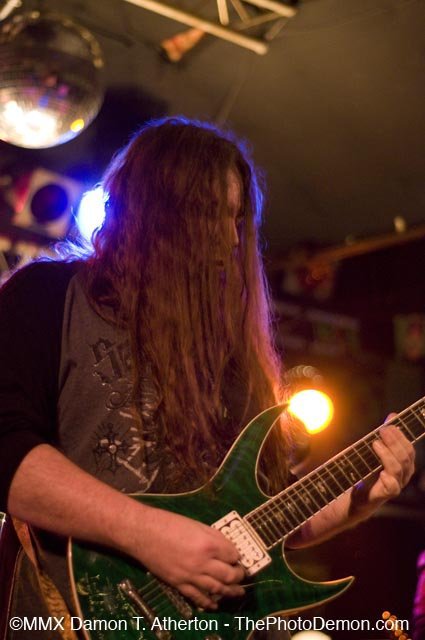 News From the Pit
Greetings, my demented brethren.
Alas, here we are again, diving into the chaotic world known as the Louisville music scene, a never-ending cycle of emerging, talented new bands and veteran bands breaking up.
That's the way it is in our scene, and will always be, but lately I've noticed the loss ratio is off the hook! Several good bands have disbanded or gone on to bigger things, and it kinda has hurt the scene a bit.
Headlining bands aren't so easy to come by these days, and with bands such as Aquajones, E-flat and Suckerpunch not playing out, it makes it a bit rough on the less popular bands.
So what we need to do is to support the newer bands, ones that you haven't heard of, because they could very well be the next big thing!
So there it is: support ALL the scene, not just the radio-friendly Louisville bands, but the heavier ones as well.
Maybe we'll get lucky and get one of the local brutal bands signed to a label that supports the true metal cause.
The Metal Grapevine:
Faceplant To Return In December
That's right freaks, the guys have settled their differences. Same band, same members. Faceplant plans on returning in December.
An All New E-Flat?
Rod Mack and DJ Rhino have reformed E-Flat with all new members. Things are going well for them and they should be ready to play out in a few months. The music is rumored to be not as heavy as before.
Incursion Guitarist In Bad Accident
The guitarist for Incursion502 was involved in a horrible automobile/train accident and has sustained serious injuries. He is expected to fully recover, but it won't be for awhile.
Kenny is a nice guy and very talented guitarist lets all hope for a speedy recovery.
We should be thankful he survived.
Be sure to attend his benefit show at Tekworld on December 23.
The Artists Formerly Known as Suckerpunch:
The band formerly known as Suckerpunch have changed their name to After The Fall, a change that came after picking up the former singer of Kavehill.
They are debuting at the Phoenix Hill on December 7. Also debuting a new singer that night at the PHT is 13th Level.
Upcoming Shows
Crunchzone
Friday, December 1 - Nemesis - 9 p.m.
Friday, December 21 - Delta 9 Theory, The Revenants and T.B.A  9 p.m.
Saturday, December 22 - benefit show for Kenny of Incursion502. Adrenalintake, Faceplant, False, Shuv and  T.B.A  8 p.m.
Saturday, December 29 - Luther, Glasspack, Mire and Panure  9 p.m.
Extreme Scene Teen Club
Sunday December 2 - Open Night,  5 p.m.
Friday, December 7 - Sadsack, Subliminal Brown, Soulscrape and Severed Soul. 7 p.m.
Friday, December 14 - The Lost, Tornacade, 7 Days After and Downside. 7 p.m.
Phoenix Hill Tavern
The "Original Rock Showcase Series, on the first Friday of every month in the roof garden.
Friday, December 7 - "Night Of The Wicked," featuring My Own Victim, 13th Level, After The Fall (formerly Suckerpunch) and Adrenalintake. 8 p.m.
Friday, January 4 - Cooler, Screaming Through December, Vinal and Absence Of Faith. 9 p.m.
Friday, February 1 - Factor 9, Element H, The Lost and Dent (Indianapolis.) 9 p.m.
Tekworld (most shows start at 7 p.m.)
Friday, December 7 - Primer 55, False, Sen and The Revenants.
Friday, December 14 - Intak, Flatlyne and Blyss
Saturday, December 15 - Metalfest. My Own Victim, Factor 9, MSD, Point Of Anger, Kallus, Incursion502, Element H, Luther, Faceplant, False and Execrate. 6 p.m.
Friday, December 28 - Execrate, False and Incursion502
Outtatownerz
Saturday, December 22 - My Own Victim at the Jungle in Marengo Indiana. Special guests are Evil Engine # 9 and Kallus.
Saturday, December 22 - Intak at Festiva in Indianapolis (Indy Metal Fest)
Saturday, January 12 - Dent and 13th Level at the Emerson Theatre in Indianapolis.
Props Of The Month:
This month props goes out to Tekworld, a place that has supported the scene bigtime! And they don't hog all the cash as some venues do (you know who you are).
So to you Jennifer and everyone at Tekworld, you've done a great job, thank you.
Another honorable mention is to Courtland Rose of the Phoenix hill, a decent honorable man who opened the doors of the Phoenix Hill to the Louisville original music scene.
Well, that's it for me this month freaks, be sure to show some love to our killer music scene, and I'll see you all at Metalfest, you can buy me beers!