Celtic Music at O'Shea's Traditional Irish Pub
Good and wise publicans Tommy O'Shea and Larry Zimmerman know how to run an Irish pub. Support for this proposition is found in their frequent Celtic music shows recently revived at the Baxter Avenue hot spot. Highland Reign from Indianapolis has had two successful shows recently and our own Ten Pen Bit is slated for a monthly gig. Shows generally run from 9-ish to 2 a.m. when they happen. In fact, TPB will be warming up the place just one month before the mighty St. Patrick's celebration. Sparing you the calculation, that would be February 17. The fine selection of beers, ales and stouts is well housed in a cozy atmosphere made all more so by some of Kentucky's top Celtic musicians.
The Guinness Toast with Beyond the Pale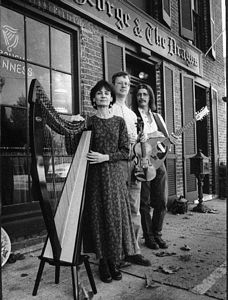 For many, Guinness is only about setting records; for others, it's "the pint of plain." Both will be in store at The Irish Rover on Friday, February 23. Thousands upon thousands of revelers will give a "health," "slainte," "cheers," "prost," you name it, en masse and "The Rover" will be your chance to be a part of it. And why not? Beyond the Pale, a great Celtic band based in Frankfort, will perform for all assembled and a splendid time is guaranteed for all. For more information call Siobhan or Michael Reidy at (502) 899-3544.
St. Patrick's Festivities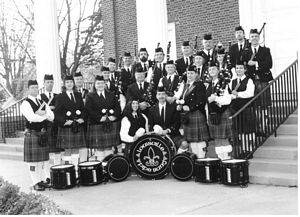 Plans are well underway for a big-as-Texas (the Top 2001 simile) celebration (some say distortion) of the feast of the "Apostle of Ireland." Look at Christmas. Is it any wonder? I say stop pissing on your shoes and enjoy it! Louisville will have its parties and parades, pub bashes and clearance sales! As the 17th falls on a Saturday, there should be a bumper crop that will make the tobacco subsidies look like penny-ante hoarding. Foremost is the "Hooley in the Highlands" parade marching down Baxter Avenue. O'Shea's, The Rover and Molly Malone's are all promising major productions. The major event to start off the "high holy days" will be the Louisville Pipe Band concerts on March 10 and 11. Last year's show sold out and too many disappointed people had to be turned away. The remedy this year is to have TWO shows - Saturday night and Sunday afternoon. Irish step dancing and Scottish highland dancing as well as Celtic folk music will be featured again this year.
Jez Lowe a Big Hit
After playing at the Kennedy Center and a major auditorium in Tulsa immediately beforehand, one would think that Jez Lowe and his band The Bad Pennies might be the worse for wear and sleep through their relatively minor performance in Louisville. Not so, say the hundred-plus crowd who tucked themselves into The Rudyard Kipling last month. A master songwriter and charismatic performer, Jez Lowe enthralled his River City audience with his tales from the blustery east coast of northern England. If you missed the show, you can still order his new double live CD "Live at the Davy Lamp" by contacting www.jezlowe.com or www.tantobie.com or send $23 (US) per set by check payable to: S. Smyser, Tantobie Records, PO Box 891, Azusa, CA 91702-0891. Jez will be doing a solo gig this September 29 & 30 at the Cincinnati Celtic Festival.
Ten Penny Bit Online
You can now have access to Ten Penny Bit's music via the internet on mp3.com for a free sampling as well as information and samples of Celtic radio stations, purchase sources, etc.