Dolly Parton: The Voice of a Mountain Angel
By Michael W. Stout
International superstar and Country Music Hall of Famer Dolly Parton has enjoyed an illustrious career as a country music singer and songwriter since she packed up her guitar and a stack of songs and left the Smoky Mountains for Nashville the day after her high school graduation in 1964. She landed her first big break in the music business when she replaced Norma Jean as the featured girl singer on Grand Ole Opry star Porter Wagoner's syndicated television program in the late 1960's, and as they say, the rest is history. During the past three decades, this country gal has taken her career down a number of paths, including an occasional foray into pop music, several appearances on the big screen in box office smashes such as "9 To 5," and even owning her very own theme park, Dollywood, in Pigeon Forge, Tenn. But despite the multiple facets of her career, Dolly has never betrayed her heritage, always returning to her mountain roots.
In 1999, Dolly took her career down yet another path - Bluegrass. Her debut Bluegrass album, titled The Grass Is Blue on Blue Eye/Sugar Hill Records, has been a huge success, garnering critical acclaim and earning Dolly Grammy nominations for Best Bluegrass Album and Best Country Female Vocal (for "Travelin' Prayer") and the title of Album of the Year at the International Bluegrass Music Association Awards held in Louisville, Ky. in October, 2000. When asked about her IBMA award during a recent exclusive interview with Louisville Music News, Dolly said, "When you record an album, you never know what kind of things might come from it. I was very, very proud and very, very honored. It was a great, great thrill to win the "Bluegrass Album of the Year" at the IBMA."
This latest award may be Dolly's first in the Bluegrass industry, but she is far from being a stranger when it comes to recognition from the music industry, having been honored with numerous accolades including Grammy Awards and Country Music Association trophies (including the coveted Entertainer of the Year), to name just a few. Bluegrass is a genre of music that Dolly has only occasionally dabbled in throughout the years, but she says, "It's not like I came in the back door with this music - I have been singing it on the front porch all of my life."
When all is said and done, The Grass Is Blue only mildly differs from early Dolly albums such as My Tennessee Mountain Home, Coat of Many Colors and My Blue Ridge Mountain Boy. Dolly says, "I think [these albums] are very similar in emotion and the feel and being true to my own roots and background the way that I sing a song from the heart." She takes great pride in the success of this album, but humbly says, "It's a great honor for me mostly to be accepted into the Bluegrass community. Winning the Album of the Year meant more to me than even winning a Grammy, because it was really from the Bluegrass community...knowing that they had accepted me, and even put me in the category of Female Vocalist."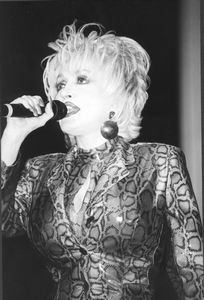 The follow-up to Dolly's debut Bluegrass release hit store shelves in January 2001, featuring Dolly's angelic voice in its purest mountain form. Titled Little Sparrow, Dolly describes this new offering as having "several Bluegrass songs and some Bluegrass-flavored songs ["Seven Bridges Road"], but it also continues on with some more traditional things. It has several new things that I've written ["Marry Me," "Mountain Angel," "Bluer Pastures," as well as the title track], and some things that have a mountain sound ["A Tender Lie"], not just Bluegrass. I've also incorporated some Irish/mountain/Appalachian sounds on it." With help from a number of the most talented Bluegrass pickers, Dolly even successfully transforms Cole Porter's "I Get A Kick Out Of You," the Amazing Rhythm Aces' "Beautiful Lie," and Collective Soul's "Shine" into Bluegrass/mountain numbers on this album.
"I am very proud of [Little Sparrow]. I think it is totally true to my own soul and my own talent as a songwriter," says Dolly. Two of the numerous highlights on this recording are brand new renditions of classic Dolly Parton-penned tunes: "My Blue Tears" and "Down From Dover." "As a songwriter, you always have certain songs you write that you never give up on, believing that they are better than the way they come across at the time. `My Blue Tears,' which I've recorded a few times, I have also included on this new album, only because I felt it fit and I've always loved that song. It really seemed to fit well with the Irish kind of stuff that we were doing."
As for "Down From Dover," Dolly has masterfully resurrected this tale of a pregnant teen desperately awaiting the return of her unborn baby's father, who has fled to Dover, before finally realizing that "dying was [the baby's] way of telling me he isn't coming down from Dover." Originally recorded in 1970, this once highly controversial song has been transformed into an emotional Irish/mountain ballad with a great surprise for devoted fans.
Dolly says, "'Down From Dover' has always been a favorite and was way ahead of its time. When I recorded it, they wouldn't even play it on the radio, or even suggest that they might. I had wanted to put it out as a single, but the radio stations at that time back then said absolutely not. But now we've come a long way, baby, and I'm hoping people will like it. There's a new verse in it. Well, actually it's an old verse that I had to take out back when I recorded it. Porter thought the song was way too long, and it was. But I did put the verse back in, about finding a place to stay out on the farm taking care of an old lady. The true fans might get a kick out [of] hearing something a little different in that, but it was in the original song."
Dolly Parton is one of the hardest working entertainers in the business, thriving on fulfilling new dreams in her career, Little Sparrow being her latest, and one of her finest examples. She says, "I wake up in a different world every day. I'll always be chasing after dreams, and when I catch them, hopefully I'll know what to do with them."
She recently divulged a few of her numerous dreams to Louisville Music News. When it comes to acting, she says, "I would love to do something with Gene Hackman - I think he is spectacular. I would also love to do something with Al Pacino." Musically speaking she says, "I would love to do a duet album with George Jones." And if you have wondered if a new Porter Wagoner & Dolly Parton duet album will ever surface, Dolly says, "I'd love to do a Porter/Dolly duet again. Some day I do hope that will come about. I will always love Porter and be grateful for the chance he gave me."
Regardless of what dream this country girl from a share-cropping family of twelve kids growing up at the foothills of the Smoky Mountains might conjure up next, Dolly assures her fans, "I'm having a great time right now in my life with my music and with my life in general. Thanks to everybody for hanging in there with me. Stay tuned!"