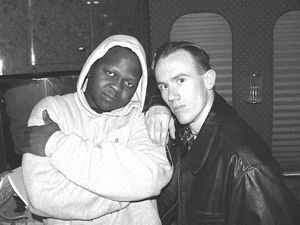 Twiztid & Mastamind at Headliners
"Do you wanna' go on the bus?"
"Yeah, right, we can't do that," said my paranoid counterpart, as we approached Headliners, weaving in and out of a parking lot filled with cars tattooed with Insane Clown Posse stickers.
"We can try..."
What my friend and I did not expect was the courtesy that was shown to us by the band Twiztid. What we encountered was enough inspiration to send me to my soapbox, with which I am so familiar. But first, the show...
Mastamind went on too early for me to see but if his live show is anything like his CD THEMINDZI, I missed one hell of a performance. I spoke to him that night, and he keyed me in about his group and the tour, not to mention dropping that CD on me.
A native of the Detroit suburbs, he's been at it for ten years, describing himself as "gangsta' wicket." You may know him from previous albums with NATAS (five albums to be exact) with Esham and TNT. In December of '99, he teamed up with TVT, a national distributor, and started working on his solo career. THEMINDZI, recorded at Castle Grayskull in Novi, Michigan, is the first product of this effort, with the next project set for release in October 2001. Mastamind laughed, "the wicket s**t will never die." Watch for more from Mastamind down the line.
Shuvel took the liberty of bringing the walls down before Twiztid played. They shook things up and served as a perfect opening act for the band. The crowd seemed to be in a trance it Shuvel played, and I found myself really focused on their set. They had good stage presence and gave a killer performance. The style is in the same genre as Twiztid, but they are more guitar-oriented: a heavier, groovier, more innovative version of bands you are used to hearing. I really dug them.
Back to Twiztid and the bus...
The name of their first effort, MOSTTASTELESS, combined with Freek Show, yields a perfect pair of adjectives to describe the feel of the band's performances. The stage setup is adorned with a 3-dimensional version of a giant devil with angel wings looming over the stage, complimented by "ax dancers." Yes, live dancers, wearing masks, dancing to the show with axes. Very cool. Rob Zombie would be proud. I was surprised at the number of people in the crowd that were singing along to every song. It is an extremely intense live show, and it is only for the Juggalos.
Then we got on the bus and managed an impromptu interview as well.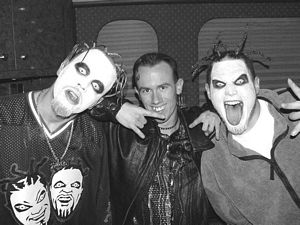 Jamie Madrox and "Monoxide" are the combined forces that comprise the "hip-core" sensation Twiztid. Their music is a mix of hard-core rock and hard-core rap and leaves audiences across the country energized and feeling good about being bad. Ahhhh... how confusing it can be to leave a concert with the subconscious urge to worship Satan and pull a drive-by all in the same night! (Just kidding... it's not subconscious.) The end result is versatile underground rap.
The reference to ICP stickers earlier was not arbitrary. The group has had very close ties with the Wicked Clowns since they met four-and-a-half years ago. Madrox and Monoxide toured in another band with ICP before their most recent notoriety. If you have seen the movie "Big Money Hustlers," then you have seen them onscreen with ICP. It came out about two years ago and went straight to video. Keep your eyes open for "Big Money Hustlers." Their documentary is also in stores now, entitled "Inside the Freek Show." It will even be released on DVD soon, for all you people living in the technological age.
The two grew up in Detroit, Michigan (where they also met opening act Mastamind) and officially came together under the current name in 1998. Freek Show, the record being promoted on this tour, has already sold over 100,000 copies since its Halloween debut, despite getting no radio or MTV airplay.
"Our music is only for the Juggalos," said Jamie Madrox. The underground circuit has been good so far to Twiztid. Before the release of Freek Show, their only tour merchandise was a red T-shirt that simply said "Twiztid." They describe their music as not like the "love ballads" bands N'Sync or Limp Bizkit (Madrox referred to LB front man Fred Durst as "Fred Biscuit.")