Bluegrass Beat
Jingle Bells, Jingle Bells, Jingle all the way to Spring!
Tell you the truth, we can't jingle fast enough for that to happen to suit me. Somebody asked me if it was cold enough for me; It was cold enough for me last July. But the Jingle Bell bit. Yeah, Christmas is past and so has New Year's by now and I'm still going on with Jingle Bells. I know we only hear that tune around Christmas, but think about it for a minute. There is no mention of Christmas, or the holidays in the song. It's a winter song, just like Winter Wonderland. So Jingle Bells, Jingle Bells, etc. and so much for that.
I do hope your holidays were complete and especially good. Lots of good things under the tree, in your stockings and especially in your family. And now there is so much to look forward to. Time to get down to the business of bluegrass music and all of the things that go with it.
If you saw last month's column, I was telling about a book. A book titled A People And Their Music, authored by John Rice Irwin. I promised more when I had finished the book and I accomplished that. I found many interesting and informative passages about many of the top stars. There are stories and things we "know" about many of our favorite stars of country music. Some of our beliefs are correct and then some of them are, well, just a bit off center. Maybe you've "heard" this; did Raymond Fairchild really carry a gun on stage at the Grand Ole Opry? See what Raymond has to say. The roots are found here and exposed. It's the roots that give and sustain the life of a living thing.
John Rice has gotten into some of the deepest roots that are still attached when he gives us an insight into what made legends like Earl Scruggs, Grandpa Jones, Beecher Kirby known to the world as Bashful Brother Oswald, Raymond Fairchild and Jimmy Driftwood. He reveals a very common thread that runs through the story of each of the early pioneers. Each was nurtured in the hard times that produced the determination to succeed. The seeds planted in the farms and mountains that flourished and produced a hardy crop. Many got help when help was needed to show their abilities to the world. Where did more of that help come from than most of us realize?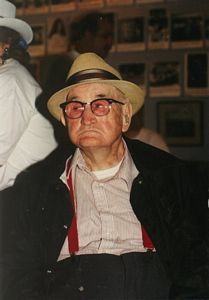 Photo By Photo by Berk Bryant
Read about Cas Walker and learn how many young, aspiring music makers passed through his radio and TV shows, including the likes of Dolly Parton, Chet Atkins, Carl Smith and, well, there is quite an impressive list. There is also an enlightening part about the importance of the vehicle we take so much for granted without the realization that just maybe without it, most of this would not have been written, because it may not have happened as it did. That vehicle is radio.
All Hank Williams
I expect by the time you read this, many of you will have heard my New Year's day show, the all-Hank Williams show. I don't script a show, but for this one I did put down some thoughts I wanted to be sure to pass on and not forget any of it. Having seen a copy of beforehand, a number of friends have encouraged me to include it in this column for those who may have missed the show or would like to review my comments. My thanks to them and you for that support and encouragement. The comments follow:
Some thoughts concerning Hank Williams. Much has been said, written and expressed in one form or another about Hank Williams. Hank quite obviously had his personal problems which manifested themselves in various ways, perhaps most notably in his drinking habits. These are as well-known as his much-publicized wife troubles and associated problems and present one picture of the man, this very human man, Hank Williams.
There is another picture of this man, the one of a legendary song writer, singer and charismatic performer engulfed in his music. By all standards, Hank was not a great singer. This goes virtually unnoticed, being overshadowed by his ability to deliver a song with unmistakably deep sincerity, reaching into the heart and soul of the singer and extending it right into the heart and soul of the listener. There is more, even behind this.
I am inclined to believe that Hank Williams, the man, the singer, the writer of heart-wrenching life stories in songs, was in constant self-conflict, a conflict that somewhere in the soul of this legend has roots that reach deep in religious beliefs and desires of the man. Otherwise, how could he be so eloquently simple in composing such powerful messages in song, especially those of a religious nature? Then in performance, he moved an audience very much like himself, in such a powerful manner. The spirit is willing, but the flesh is weak. The songs, the singer, the writer, the performer was expressing that desire to overcome the weakness, crying out for help. His sins were front page and forgiven by the multitude of fans. Many who did not approve of his lifestyle, closed their eyes, set it aside to embrace the talent and, just perhaps with many, to embrace this reflection of a more personal nature.
There is no dispute, no doubt, Hiram "Hank" Williams, was, is and will remain one of the greatest of all time in this very human business of music. Forty-eight years ago, the singer and writer of songs to which every ear, every life, every heart and soul could relate, Hank Williams' life slipped silently away in the back seat of an automobile on New Year's day 1953, transporting him to his next appearance. An appearance no agent had booked. There is today a multitude of loyal fans, many, many who were not born at the time of his death, but who now recognize and know his name, his songs, his music.
Combine all of this and it is just a part of what this program is all about today.
I hope you heard this show.
Station Inn
The spirit really shown bright and clear at Station Inn in Nashville last month. Eddy and Martha Adcock headed up, hosted and really got the spirit in high gear by holding an event, with the help of Station Inn and many Nashville bluegrass musicians, to benefit the homeless. Here is an excerpt from their latest email news letter:
"Well, the Benefit for the Homeless was an unqualified success! On Sunday, December 10, the Station Inn was filled with a crowd enjoying great music for a very worthwhile cause. That evening, folks generously gave nearly $1,100 and donated many items as well to be distributed by Room In The Inn, a local shelter system for homeless men, women and families. We want to thank everyone who gave their support by attending!"
Extra-special thanks go to all the musicians who performed that evening: The Nashville Mandolin Trio, Leroy Troy and his group, Chris Jones and the Night Drivers, Josh Graves and group, Sally Jones and the Sidewinders, Tim Graves and Cherokee, Pam Gadd and the Long Road and Dale & Don Wayne Reno who finished up the evening with their 'alt-bg' bunch. And Eddie & Martha played too, of course.
Congratulations to Martha & Eddy for keeping the true season spirit alive and well. Kudos.
 Bluegrass in Winter
Quick notes on the local picking scene: at West Point, Music Ranch USA will be back in swing with Legacy of Marty Robbins on January 13 starring Paul Penny of Louisville. Shepherdsville will be back in action after a holiday break, with their usual start-the-New-Year-off-right show with Dr. Ralph Stanley & The Clinch Mountain Boys on January 5. Next come IIIRD Tyme Out on January 12, Mountain Heart the 19th and Dave Evans & Riverbend on the 26th. Larry Sparks & Lonesome Ramblers will be there on February 2.
Y'all may not get to read all of this `cause some of it may have been cut before it got there. No question this time either. Just listen to Sunday Bluegrass, WFPK, 91.9FM, 8-11 PM. Keep in touch and
Y'all take care, keep warm and come back now, you hear.