I've Got A Mind To Ramble
Rocky Adcock's Story
The Kentuckiana Blues Society has presented the Sylvester Weaver Award to twelve distinguished people since 1989. This year, the honor went to Rocky Adcock at our annual KBS Birthday Bash at Stevie Ray's on November 19.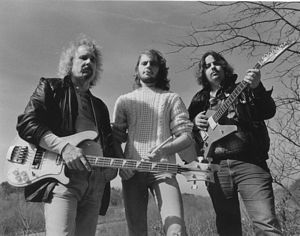 Rocky had always wanted to play in a rock and roll band ever since he was a kid. His first paying gig, for all of $5, was in 1961 when he was fifteen. It was a garage band that prided itself in doing "different" music. Rocky was playing rhythm guitar at that time but switched to bass in 1963 when he joined the Aztecs through another musician, Tom Johnson.
From 1964 to 1967, Rocky followed Johnson through three other bands: the Epics. The Mystics and the Bob Thorpe Quartet. They played bars, taverns and sock hops as a racially mixed band to racially mixed audiences. While with the Aztecs, Rocky opened for Ike & Tina Turner and played black venues like the Club Cherry in Lebanon.
The decade of the Seventies was a period of woodshedding for Rocky, with only sporadic activity in music. He occasionally played bass with Jim Smoak, doing country and bluegrass, plus he listened to alternative music. He was also raising two children and working at U of L in their Department of Surgery from 1975 to 1985.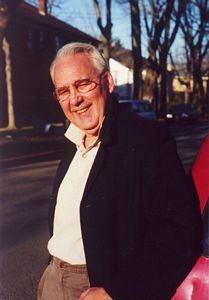 Photo By Photo by Keith Clements
Rocky's long association with Winston Hardy began in 1984 after Winston had returned from his sojourn to San Francisco, even though they had first met during their days at Fern Creek Junior High. Adcock followed Winston's first band, The Pharaohs, mainly to see the lead guitarist, Huey Twyman, whom they called "Lightning." Hardy, who had called himself Johnny Rio before then, left a lasting impression on Rocky with his ego-maniacal showmanship.
When Rocky joined the band, it had just changed from the 26th Street Tavern Original Blues Band to the Winston Hardy Original Blues Band. Hardy had wanted a bona fide blues band that included veteran black musicians like Marshall Anderson and Foree Wells to perform before the local white blues fans. The band opened for Robert Jr. Lockwood at the Center for the Performing Arts as well as opening for Red Rodney at the Water Tower Jazz Festival.
There was a falling out with some of the members of the 26th Street group just before Rocky came on board. At that time, there was a resurgence in the blues with the "Bluesday Tuesdays" jams at the Rudyard Kipling. Other clubs like Tewligans, the Cherokee Blues Bar (Blue Bird), Seville, Dutch's, Maier's, Yogi's, Pap's Place (Marmaduke's), Butchertown Pub, Uncle Pleasants and Fat Cats were booking blues bands. Rocky referred to Fat Cats as the "Cosmic Corner" at Speed and Bardstown Road, for that was where musicians met and things happened from 1983 to 1986.
Curtis Marlatt got Fat Cats co-owner Paula White to book him and later his band. Soon other bands followed. Rocky was looking after Henry Woodruff and the Noisemakers then and got Henry his first gig away from the Pleasure Inn at Fat Cats. Many types of alternative jazz and blues were performed at the "Hall of Foam" during that golden era.
In1987, there was an ego tug between Winston and Rocky over philosophical differences as to where each was going individually. So the Rocky Amaretto Blues Band, a power trio with Andy Brauner on guitar and Chris Cahall on drums, was born. They stayed together for two years, recording "Bad Milk Blues" on the Louisville Blues Compilation album. The term "Bad Milk" came from a remark by Ray Charles during a TV commercial, where he reached into a refrigerator for a bottle of milk and said, "Phew, that milk is bad." Rocky mentioned it to his friend Tom Flood, who came up with the title for the song. Tom Cosdon (Cosmo) also recorded the song.
The "Amaretto" came from Rocky's girlfriend at the time, Rosie Brown, who noticed Rocky drinking Amaretto on the rocks. The band broke up when Chris wanted to get married and so Rocky - and Andy, for a while - returned to Winston's band. Rocky performed with Winston until his death in 1999.
Rocky has a lot of stories he could - and will - tell about Winston. He noted that Winston was not a drinker but would consume pitchers of beer while on stage, in keeping with his persona. Hardy was a pot smoker and once, when they were driving together through Appalachia to Delaware, Rocky began hallucinating that he was going down a long tunnel with a light at the end. It was from inhaling secondary smoke from Winston's joints.
Rocky has held several administrative positions associated with music. After he left U of L, he took some time off to travel around the south, then return to Louisville to work at the Musician's Union. In August 1988, the Kentuckiana blues Society was formed and Rocky was elected as the first president. We had our early meetings at this office and the first newsletters were printed there. When Roger Wolford, an attorney and blues lover, joined the society, he and Rocky arranged for the incorporation of the KBS. This was another exciting time for the blues, with Scott Mullins hosting the Saturday Night Blues Party as well as producing and recording the Louisville Blues Compilation album. The first Garvin Gate Blues Festival was held in 1988, as were the early KBS fundraisers and concerts. Rocky was there during these groundbreaking events, giving good advice.
We will continue with Rocky's story next month.