Louisville Rock Lowdown
Waterfront Summer Jam
It was last Thursday, June 14th that WLRS and Mayor Dave Armstrong brought the Summer Jam to Waterfront Park, next to Joe's Crabshack. The lineup included (in this order) local heavies Factor IX, Cutleaf, Bryan Fox, Outspoken, and National act Dust for Life. The turnout, in my opinion was surprisingly low despite the efforts put forth by the city, Quantum Marketing, and Blue Chip Broadcasting. The concert was great, and anyone who was not there missed an awesome show.
I spoke with Todd Kelly, Promotions Director for Blue Chip, and he was very excited about the concert series. However, our conversation shifted rather quickly from the event itself to an unsettling issue occurring at the concert. Someone, I do not care to speculate or assume, was passing out little yellow flyers bashing WLRS that said something to effect of `Today's Christian Radio' and included one of the Disk Jockeys' home phone number. Kelly was baffled at how the number got out and what the motives were for the rudeness.
If I could just interject a comment of my own opinion here (like I never do that) and say that whoever did that is extremely childish and inconsiderate. There is a difference between stating an opinion about something and invading someone's privacy. Boundaries should be clear when it comes to such issues.
Moving right along...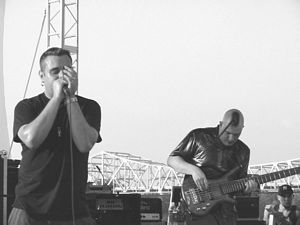 Photo By Photo by Jason Koerner
Factor IX kicked things off with a bang; their heavy-hitting music penetrated the ears of a few captivated early birds. The set was going well, but it was cut short (by 12 minutes, said the band) at an unknown reason to me. The band still managed to win the affection of the crowd, though it seemed their tastes were slighter more mainstream than the boys from 9. A little wake-up call in the intro slot to a concert never hurt anybody!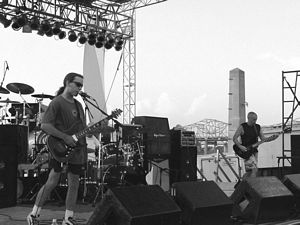 Photo By Photo by Jason Koerner
Cutleaf came on next, and changed my expectations of them throughout their set. I was unsure of my feelings about them during the first song or two, but steadily they grew on me. The vocalist has a great singing voice, but for some reason, I could not put my finger on who they reminded me of. I will have to go and give them a second look. On July 7th they will be at Union Station with Quarter Bounce and A.K.Alias for a 21 and over show at 9:30 ($5 at the door.) July 21st, you can catch them at the Crunch Zone. Perseverance and 9th Level will also be playing; the show starts at 8:30 and is $6 at the door (21 and over.) Lastly for this month, Saturday July 28th they will be at Willow Lake Tavern with Sucker Punch. This show will cost you $5 at the door. This is a 21 and over show also, but I may actually see some of you at this one, since I turn the ripe old age of 21 on July 23rd. (Send me presents!!)
Photo By Photo by Jason Koerner
Bryan Fox played third, and probably had the biggest crowd thus far through the show. Fox's bass player left the band since my last story on the group, but the change in lineup had little effect on the performance I witnessed. People in the audience seemed to be very attracted to both his mainstream appeal and intensity of the band. Bryan seems very dedicated to what he is doing, and it shows through his music and live performance. You can continue to hear his single "Yes" in full rotation on WLRS.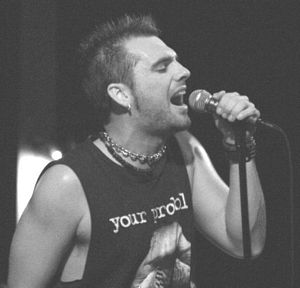 Photo By Photo by Jason Koerner
Outspoken followed Fox, and gave me my first look at the members in this combination. I ran into Frank (formally the bassist of Whatever Will) and also recognized a guitarist from the latter band. I felt like I had seen all of the guys onstage in some form or another in the past, but the new combination was quite impressive. The band was just signed, and hopefully they will read this and send me some details about their deal for a possible upcoming story.
I left right after Outspoken, due to my obligations at UPS at night, but I saw Dust for Life at their appearance at LRS Fest. The guys are very talented and get into the fans. I can only assume that they put on a good show as well.
As far as the series goes in general, it is extremely nice to see the Mayor getting involved in the music scene we have here. Hats off to Mr. Armstrong. There is so much talent in this city that typically goes unnoticed, but I can see a recent trend of people taking notice. Radio stations are getting more involved with the local bands and giving them air time, shows are doing well at many of the venues around town, and there is more interaction from local government than before. But I have a beef with the turnout Thursday. It just seemed like there should have been a lot more people there for a great concert. Any suggestions from you of what the factors were in the sluggish arrival of the crowd? Some possibilities I heard that day from audience members included the recent shootings at similar outdoor events. What needs to be implemented to ensure that we are given the opportunity to continue doing events such as this here in Louisville? The support has to be there form all ends, including us. I think this concert series is a great thing, and I am glad that something is being done by the city, in cooperation with those in the music business, to create an environment that is enjoyable for all ages.
Send me your thoughts and other assorted items to JJKSLACKER@cs.com or leave me a voice mail at (502) 262-8728. Keep rocking Louisville!