I've Got A Mind To Ramble
Buskin' On Bardstown
If anyone was cruisin' down Bardstown Road near the Mid City Mall on Derby Eve, you would have noticed two musicians performing to anyone who would listen. Many people were waiting at the stoplight, some are waiting for a table at Ramsi's Café and others were just strolling by. A long extension cord ran out of the Cigarette Outlet, providing power for an old tube amp perched precariously on a brick wall. Converting that juice into some down-home blues were Pen Bogert and Fred Murphy. Their backgrounds are worlds apart, but that evening, they joined forces to entertain and make a little money.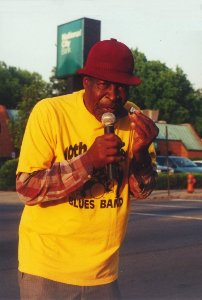 Photo By Photo by Keith Clements
Fred Murphy is the oldest living bluesman in Louisville who continues to perform. He was born on a farm in Carterwood, TN., near Memphis in 1921. He started playing a small kettle drum with his tow uncles in a fife and drum band called the Broadneck Band. They would form a procession going from house to house summoning the neighbors to the pig roasts on the weekends. Later he learned to play harmonica from his brother, William Henry Murphy. They formed a band called Piggy's Blues Band and played around Memphis, including gigs at the farm of the governor of Tennessee, John Wiley. Murphy frequently played on the streets of Memphis and blew his harp with Riley King before King became known as Blues Boy (B.B.) King. Fred claims he is a cousin of B.B. on his father's side.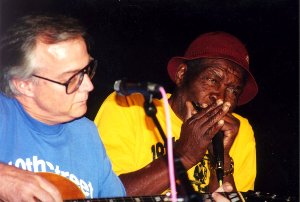 Photo By Photo by Keith Clements
Later, he teamed up with a blind guitarist in Brownsville, TN named John Alley. One of Fred's songs that they recorded goes "I'm goin' to Brownsville, take that right hand road and I ain't gonna stop walkin' `til I get to sweet mama's." With a little coaxing, Fred still sings that song today.
Tragedy came into Fred's life when his wife was hit by a train and died when she was six months pregnant. Since Fred lived by those tracks, he had to leave. He was tired of driving a tractor on his father's farm. After World War II, he came north to Louisville where his uncle, Harley Broadneck, lived. One of the first people Fred met was Henry Woodruff, who took Fred into his house. They teamed up with Henry on guitar. The first time they played in public in someone's yard, they got busted by the police, but then they got a steady gig at the Sunset Bar. They added a few more musicians, including B. B. Bill as another guitarist, Gill on sax and Paige as drummer and called themselves the Upsetters and later the Sunset Royals.
The band played several bars including the Belgian. Cliff Butler, a local band leader and promoter, get them gigs all around Kentucky, including places in Lebanon Junction and Bowling Green and as far away was Youngstown, Ohio. When Jimmy Fingers started having music at the 26th Street Tavern, nobody came until Fred and Paige started playing there and then they packed the back room. The 26th Street Blues Band was born with Willie Duke, who's now a preacher, on guitar and Bootie on keyboards. The 26th Street Tavern was Louisville's blues Mecca I the West End during the '70s, '80s and into the '90s.
Fred felt he was eased out when Joe Wells started fronting the house band. During the '90s, the 10th Street Blues Band was formed, with Fred leading a group of veteran musicians that included James Watkins on bass, Mack Albrock, sax, "Dud" on guitar and Sonny Sitgraves drumming. Their home base on the weekends was the Re Devils Motorcycle Club at 10th and Dumesnil.
Murphy was recognized by the Kentuckiana Blues Society when I had the honor to present him with the Sylvester Weaver Award during the 1995 Garvin Gate Blues Festival. Fred is like the Energizer® Bunny, as he continues to bounce back from his various health problems, even at 80 years of age. He lives alone since the death of his wife of 21 years, Ruthie Mae Archer. His single status is ironic, since his signature songs is "I Ain't Goin' To Spend Another Night by Myself."
He gets a modest pension for his thirty years with the sanitation department as a tipper. Fred's pride and joy these days is his backyard garden, where he carefully tends to his vegetables.
A week after Derby, Murphy and Bogert moved off the streets and into the old Kentucky Theater on May 12 to open the fourth edition of the "born again" Homefront show. These performances are similar to the original ones that were held in the Stuart Robinson Auditorium at 6th and Magnolia and later at the 1st Unitarian Church on York St. John Gage is back as the host of these two one-hour program tapings, set to air on public radio later this year.
Even though the setting had changed, Pen and Fred were playing like they were out on the street again, with that Memphis style of blues that goes back fifty years. Bogert is one of the best interpreters of traditional blues, using a wide variety of picking and slide techniques, with a little ragtime thrown in. He is able to keep up with Fred's unpredictable ways by using his newly acquired vintage '67 Gibson guitar to surround Fred's harp with beautiful chords.
To show the contrasting style of the blues, the Walnut Street Blues Band followed Pen and Fred on the show with their polished, contemporary urban sound. Artie Wells, Michael Wells' wife, keeps getting better and better with her vocals. Her singing can both soothe and scintillate. This band is long overdue to do a studio recording. Perhaps we'll see one soon.