Peace, Love, and Legalization
It was music and marijuana as far as the eye could see.
The 420 Freedom Festival took root in the little town of Sweetwater, some 45 miles south of Knoxville, TN. The event was held in support of the legalization of marijuana in the US, an issue that has been highly (no pun intended) controversial for quite some time. With the recent introduction of medicinal marijuana, supporters have new ammunition to fire at anti-drug advocates.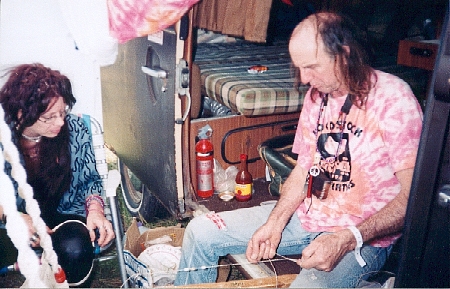 Photo By Jason Koerner
Louisville boys Sabrosa Red played the festival and showed their support of the cause. This is a great band that I featured in my column several months ago, and like fine wine, they have improved with age. The group played to a large crowd of "neo-Hippies" and provided the soundtrack to inebriation. I have seen the band several times, and this was definitely the element I had always pictured them playing in. They were right at home, and their music reflected that.
The band shamelessly promoted themselves all day long before their 10 p.m.-1 a.m. spot onstage by selling their 4 track CD, Free Beer, recorded live at Headliners. Since it is illegal to give away beer, you had to buy a CD for three dollars to receive your Sabrosa Red Ale (made here in Louisville by Cumberland Brews). Some people had ten CDs in hand before the day was over to pass out to their friends back home (Great marketing plan!). You can email Chris Armstrong at csabros@netzero.net or call Tim Ragan at (502) 495-2199for more info on the band's activities here in town. Check them out at mp3.com/sabrosa red. Congrats to them on a good gig for a good cause!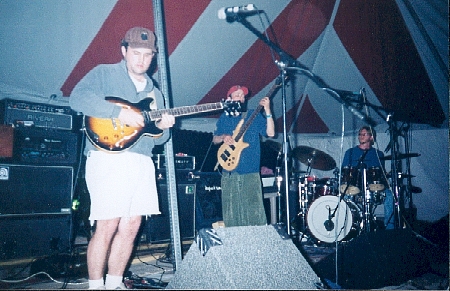 Photo By Jason Koerner
There was a multitude of musicians making their statements this weekend; one of them was Teddy Woodford. His disk features the single, "I'm Not a Criminal" (Musicat Productions), recorded with Johnny Neel (keys), Mike Webber (bass), Kenny Malone (drums), along with Teddy on vocals and guitar. The tune can be heard at mp3.com/teddy woodford and the hemptations. You can email him at musicatprod@hotmail.com or reach him at (615) 573-1249. The CD can be picked up at www.imnotacriminal.com, so go check it out. While I was there, Teddy was being videotaped for a documentary on legalization. Hopefully, my boss will not be watching if it airs on TV anytime soon! You can see Teddy yourself in Paducah, KY (if you are not going to the Derby) May 5-6. For more info on this event call Cher at (270) 362-9849 or e-mail her at bitchcrafts@webtv.net, and don't forget to check out the Space Odyssey site at www.2001thespaceodyssey.com.
Another cool band was Red Shag Bula. This band had the gonads and the know-how to cover Michael Jackson's "Billie Jean" when someone requested a Jackson song following the end of their set (I am only assuming they were not serious.) They took the challenge and pulled it off well! The rest of their set included covers from most of the bands you would expect at a pot rally - The Grateful Dead, Phish, Allman Bros. Band, etc. Keyboard player Don Merrick also plays with the Chitara Rhythm Section, so check them out next time they are nearby; you will be thankful you did.
I do not have much information about this band, but I can tell you that is worth your time to research them if you are a bass player. The Knoxville band Groovestone had some white boy soul. Traces of Flea, Victor Wooten and Les Claypool can be heard with a close listen. I am not saying he is as good or better than the icons of bass, but he draws from them in a positive way - not just ripping them off. Very funky. The band's web site is http://briefcase.yahoo.com/groovestone2000. They will have their CD mass-produced in the near future, so all you smokers who like it funky, this is a must.
I met some really terrific people this weekend. I scooped up some cool clothing (You have to check out Gen-Why clothing, the shirts are hilarious! Email them at genwhy420@hotmail.com), a hemp necklace, some CDs and even a free candy bar from someone fundraising for music in public schools. But the point is that everyone was nice! If marijuana were legal, things might well run so much smoother as a society because the folks would be in a good mood. Think about how hard it is to put up with your spouse or coworkers when they are in a bad mood. Now picture the whole country laughing and eating Doritos. Impose control similar to those on alcohol, legalize this stuff and get it over with. Peace, bro!