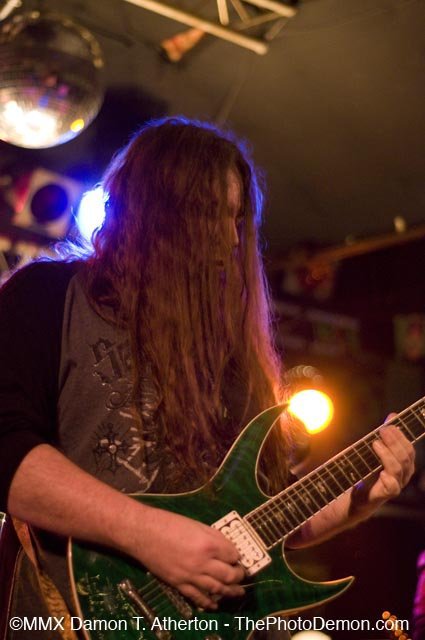 News From the Pit
Greetings to all in the Louisville Underground, I'm filling in for Laura Spalding this month, who's taking a month off for a well-deserved vacation.
Springtime is here, thank goodness and with Spring comes a variety of new bands to the Louisville scene, ready to prove themselves. Here's my (partial) list of more-or-less new groups. Go see some or all of them and let's all have one killer summer of loud original music!
Tha Rukas - a hip hop/metal band in the style of Limp Bizkit, complete with DJ, scratching and samples galore, the band has already developed a good following.
Kavehill - a six-month-old, four-piece groove metal band with some rap elements, a very tight band, good songwriting and a terrific vocalist.
Outspoken - managed by Scott Frazier, who also manages Flaw. I don't know much about this band, other than that they kinda sound like Tool. I've yet to hear it myself, so I'll reserve judgment until then. Nonetheless, there's a definite buzz around town about them.
The 13th Level - a seven-month-old, five-piece power / groove / thrash band with influences from Slayer, Fear Factory, Corrosion, Testament, Black Sabbath, Trouble and Pantera. Can't rave too much, `cause it's my band. End of commercial plug for me.
Leaves - if Black Sabbath and Pink Floyd ever formed a band , this would be the result. Leaves is a psychedelic ride to Moshville, with solid vocals and cool guitar effects. They're sometimes mellow, which some listeners might not like, but it usually builds up to a good heavy riff that will kick your rear. They sound like nothing else in town; I like it.
Make sure you get out and go see these new bands in action. Report back . . .
In Underground News.....
Engrind, the hardcore groove machine, is back and I, for one, am glad to hear it. I saw them at Headliners in late March and they sounded excellent, even breaking out some new tunes - some very heavy stuff. Dave Wathen of Factor 9 will be filling in on drums. Keep an eye out for these guys; I predict they'll be tearing it up soon.
Southern Kentucky's Luther has replaced longtime wild man guitarist Tommy Yates with newcomer Greg England. Talk about hard shoes to fill, sheeesh! But Greg pulls it off well.
Upcoming Club Shows
B.R.Y.C.C. HOUSE
Louisville Metal Series (Death Metal Fest)
Saturday, May 12. - 6 p.m. $6 All ages. Blood Coven, Deadlimbsleep, dDominus, Obscurum, Abominant and Abscise.
Tekworld
I must admit, I love to play Tekworld. The kids are great and they definitely appreciate good music. And besides that, the owners are good people who treat bands right. So make sure you make it out to these following shows at TEKWORLD.
Friday May 4, Point of Anger, Perseverance, Sen and Blyss
Friday May 12, One with Misery, Silent Agony, Engrind and 13th Level
Friday, May 18, Plan of Man, Guardrail, Screaming Thru December and E-flat
Saturday, May 19, Crazy Brass Smackers, 451, Pimslap, Sound of Blue and Punching Bags.
Friday, May 25, Switcht, False, Sound of Blue and Incursion502
Saturday, May 26, Suckerpunch, Kavehill and Blyss
Friday June 1, MSD, Incursion502, Vendetta and One with misery
Tekworld shows are all ages and start at 7 p.m. sharp, so be early!
The Phoenix Hill Tavern
The Original Rock Showcase Series
I'd like to give props to Aqua Jones, Factor 9, Luther and Sen for the great show they put on April 6 at the Hill. great job, guys! Of course, I booked them, so I liked `em in the first place. And for the next bunch of shows, here's the line-up, without commercial interruptions
On Friday May 11 at the Hill, it's Voodoo Machine, Suckerpunch, Cooler and Lifetap at 9 p.m. It's all-ages.
Friday, June 1 at the Hill, it's Twist, the return of Engrind, Tornacade (formerly Contortion) and Cutleaf.
Friday, July 6 at the Hill, it'll be Tha Rukas, Outspoken, 13th Level and Kavehill
Bands that would like to play the Phoenix Hill should contact me at eddymetal1@aol.com
The Crunch Zone
Last month I announced that I'd be doing the booking at the Crunch Zone. Unfortunately, things have not panned out as I had expected. Hopefully these problems can be solved in the immediate future.
Well, that's it for me, all you twisted underground folk. You may hear from me again, but before I leave, I ask one small request: please come out to all these shows and show support for the original music scene. These bands are playing their hearts out for you, so show them you appreciate it. We have a great scene, but now it's time we kick it in high gear and show the nation that Louisville truly rocks!