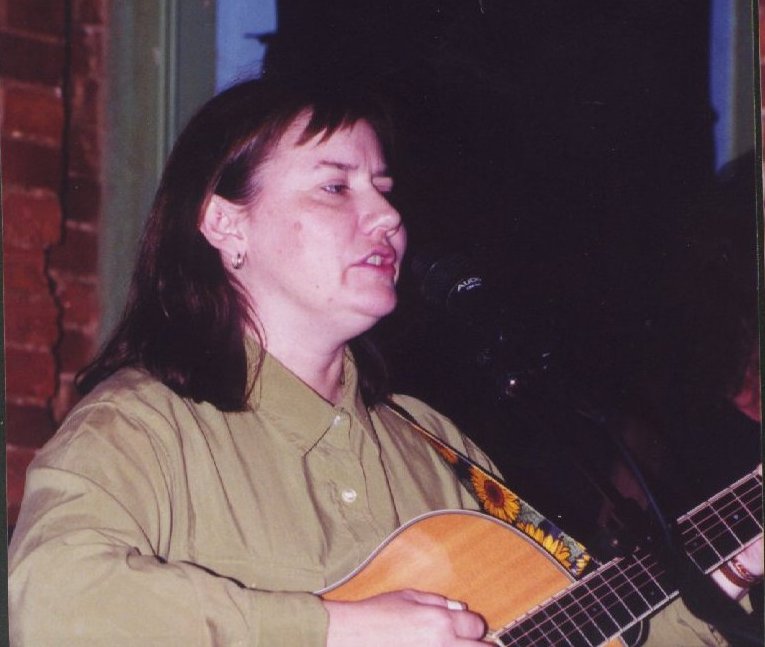 Photo By Photo by Paul Moffett
Wandering Strange with Kate Campbell
By Paul Moffett
Kate Campbell grew up as a daughter of a Baptist minister, which can be heard in the choice of material on her most recent album, Wandering Strange. It was also reinforced at the end of her show at the Rudyard on April 5, when, following an obligatory encore, she bowed to the audience, laid down her guitar, stepped off the stage and walked to the outer lobby of the Rudyard, where she took up a position in front of the door and shook hands with her fans as they left.
I did not hear any of them mutter "Good sermon, preacher" as they passed, however, so perhaps the move did not quite rise to the general consciousness as excessively churchy.
Not that it would have mattered. Campbell's fans, particularly in Louisville, are her friends, judging from her interactions with them. Of course, one might well suppose that any fan of Kate Campbell is a friend, as she also exudes that all-encompassing warmth of a good Baptist preacher from the stage.
Then there is her singing. And her songs, both of which are first-class Southern in their accent and content. She opened, curiously, with a Gordon Lightfoot (hardly a Southerner) tune, "The House You Live In," from Wandering Strange, giving it such a Baptist hymnbook treatment as to make one believe it was an old Baptist tune. From there it became a trip backward through time and her earlier albums, skipping lightly through Rosaryville ("My Catholic album"), Visions of Plenty, Moonpie Dreams and Songs from the Levee.
The musical journey through Campbell's memories of the South over the past half-century was like a Pantone newsreel, mixing flashes of brilliant color and sound with the occasional black-and-white file reel. There were the continuing adventures of Missy the hairdresser who "always smoked Pall Malls and drank Tabs and had the worst hairdo in town"; the paean to the freedom that came from owning a Galaxie 500; vignettes about the "world in miniature," "Jesus and Tomates" and "Rock City and Ruby Falls" and the spasms of the Civil Rights movement. And, of course, the Baptist hymns.
Campbell writes in the grand tradition of Carson McCullers, Eudora Welty and Bailey White, the observant and observing Southern woman writer, only she does it in the more difficult and restricted form of folk song, with its twin demands for brevity and instant comprehension. The good news is that she has managed five albums worth so far and shows no signs of slowing down or running out of material. That means we can look forward to many more stories with the Campbell voice.
She was accompanied quite competently by Don Porterfield on bass and vocals. Porterfield had only joined her a month or so earlier and allowed as to how he was suffering a bit from a cold; nevertheless, his supporting efforts were just right and only enough to add color and depth to Campbell's performance.