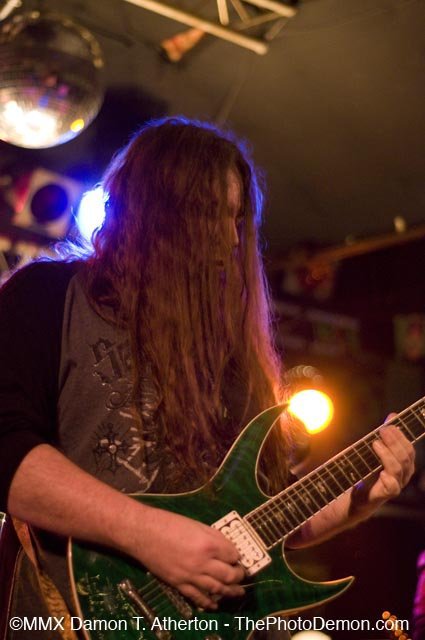 News From the Pit
What up, freaks!
First off, I'd like to thank everyone who participated in putting on all these benefit shows of lately. It seems that almost every venue put on a disaster benefit show. You've all done a great job; the bands for playing for free, the fans for giving money even though you aren't rich, and the club owners for supporting the cause, I salute you bigtime! It makes me proud that we can prove that even though we are the wild bunch we still care and can still make a difference.
Secondly, I'd like to talk about a few cowardly people who have posted anonymous rude messages on the Louisville music websites for awhile now.
These people leave rude, insensitive and downright mean messages directed at certain people and bands, anonymously of course. Usually these types of people are just jealous of the bands or of the persons they attack, and the only way for them to vent is in this cheesy fashion. They wish that they could do what the person or band does and can't, so they spew hatred, ignorance and negativity, anonymously.
I have one request to these immature people. If you are going to insult someone or a specific band, give the person or band a chance to defend themselves. What you do is beyond cowardly. If you want to insult someone, leave your real name.
Quite a few people are upset about the idiots that permiate these websites, and I mean to act upon it. Its time something was done to control these cowards.
In a way, these people are the terrorists, delivering strikes and then dissappearing into the shadows of anonymity. This is truly pathetic.
We have an excellent music scene, but these vermin are trying to tear it apart piece by piece. Lets not let them succeed.
The Metal Grapevine:
AquaJones Breaks Up: The very popular louisville rap/rock band has officially broken up. I have no idea why, but the scene will miss them. As a promoter, I must say they were a pleasure to work with, very professional.
Outspoken Begins Preproduction: Outspoken will begin preproduction of their record in the first week of November at Mo'ms Music theatre in Indiana.
Rick Parashar, the guy responsible for helping out Pearl Jam, Alice in Chains, and Nickelback, will be in town for 2 weeks for the task. Then they head out to Seattle to record the record at london bridge studio. The band is looking for a possible spring release.
Kavehill's Singer Quits: As of press time, the vocalist of Kavehill had left the band and joined Suckerpunch, whose singer recently quit also. Kavehill was a young up-and-coming band that had gained a good following in a short time, so quite a few people are baffled.
New Band Alert: Flatlyne, a new four-piece band featuring former members of E-flat, 13th level, killcycle and Unrule are now ready to play out. I haven't heard them yet, but I it's reported that they are melodic and not as heavy as alot of the bands in louisville. Which isn't a bad thing. I know these guys, and they are talented. Go check them out soon!
Dump Gang Returns: Thats right, Louisville's weirdest, and nuttiest band ever, is back! A short history: they formed in '93 or '94 and played out quite a bit back in those days. It was a period when there was only a few original metal bands around.
Bands like Crawlspace (My Own Victim before they changed their name), Inhuman, Drunk Monkey, Shapeless Matrix, Mindstorm, Shattered Reality, Dump Gang and Luther used to have some hellacious shows.
Anyways, Dump Gang have always impressed me, because they are very talented musicians and can write very catchy hooks.
To describe them, one would have to say that Primus, Pink Floyd and Queen would have to be a big influence on them. On the other hand, the music can be pretty heavy too, in a Mr Bungle sort of way. It's weird heavy stuff, original sounding. And in this day and age, that is rare. Go see them soon!
13th Level Ready To Play Out: After two months of jamming with a brand new singer, 13th Level, the band that I am in, is about ready to play out. We are now booking shows for November and December. The music is aggressive hardcore thrash with some melodic vocals at times. For booking: Eddymetal1@aol.com or Gmbass13@aol.com End of commericial.
Upcoming Shows:
Brycc House:
Saturday, November 3 - Abscise, Epoch of Unlight, Disarray and Abominant . 6 p.m., $6 all ages.
Saturday, November 10 - Let it Burn, Blue Collar Revenge Theory, Abscise, 451, Abeyance and Kodan Armada. 6 p.m., $6, all ages.
Extreme Scene Teen Club: All shows start at 7 p.m.
Friday, November 2 - Caustic and T.B.A
Saturday, November 3 - Evil Engine # 9, Pulse 8 and Intak
Friday, November 10 - My Own Victim, One With Misery, Flatlyne and Cell 13
Saturday, November 17 - Nemesis, Downside, Silent Station and Shuvel
Headliners:
Thursday, November 1 - Outspoken and Flaw 9 p.m.
Phoenix Hill Tavern: The Original Rock Showcase Series
Friday, November 2 - Outspoken, Antigriffith from Memphis (Featuring former Drunk Monkey vocalist Scott Miles), the Subteens (from Memphis Tn) and Throttle 9 p.m.
Friday December 7 - "Night Of The Wicked" My Own Victim, "the new" Suckerpunch, 13th Level (with new vocalist), Adrenalintake and False. Early show 7:30 p.m. sharp
Tekworld: All shows start at 7:30 p.m.
Friday, November 2 - Tha Rukus, Tornacade, One with Misery and The Pukes of Hazzard.
Saturday, November 3 - False, Incursion502, My Own Victim, Kallus and Execrate.
Friday, November 9 - My Own Victim, Luther, Soul Scrape and Blyss.
Saturday, November 10 - Incursion502, The Lost and Nemesis.
Friday, November 16 - Crazy Brass Smackers, Anotherday and The Derby City Project.
Saturday, November 17 - Crazy Train, Msd, False, Incursion502.
Friday, November 23 - Incursion502, The Lost and Farewell Soya.
Saturday, November 24 - Blyss, One with Misery, Sadistik and Caustic.
Friday, November 30 - Cell 13 CD release party.
Props Of The Month:
Props of the month go out to several bands for being totally professional in what they do, attitudewise and performance. Keep up the good work!
Outspoken, Flaw, Element H, Suckerpunch, Factor 9, Tornacade, False, Luther, Sen, Voodoo Machine, Vinal, Intak, and plan of man.
Well thats it for me this month, take care and don't kill nobody!
Band info and showdates should be sent to Eddymetal1@aol.com or you can send a CD to be reviewed. Send to: Eddy Metal, 4006 S. 5th St., Louisville, KY 40214.