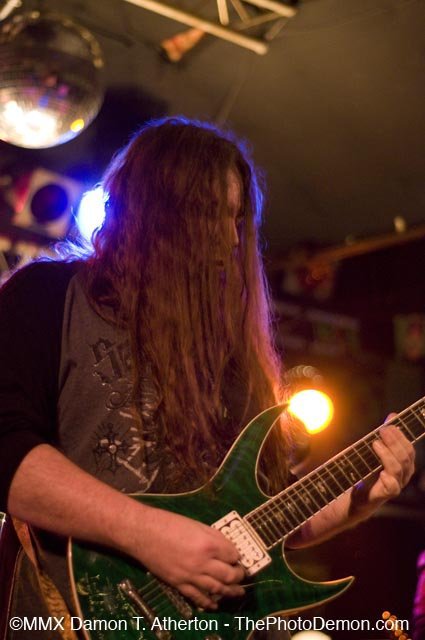 News From the Pit
Greetings, brethren, welcome to the wild and wonderful world of the Louisville metal scene.
First off, I'd like to thank Laura Spalding for the many years of support she has given this scene. Thank you and good luck in the future. Secondly, I'd like to thank the fans of local music, because you are people who have made enough noise lately - packing large venues and buying tons of local music and band merchandise - to get Louisville some serious recognition. You have basically brought the scene back to life, after the terrible demise of the legendary Toy Tiger.
Now that we have some attention on Louisville, maybe some of these record labels will pay a little attention to some of this scene's darker attractions, bands that sometimes get overlooked because they believe in and choose to play a heavier style that is not as commercial or radio friendly. That means bands like MSD, Incursion 502, False, My Own Victim, Sen, Point Of Anger, Abominant, Execrate, Kavehill, Adrenalintake, The Revenants, 13th Level, Kallus, Psychopathy, Filthporn, Rampant and many more. The Louisville metal scene has much more to offer than just the bands with the bigger names and people need to realize this. That is one of my goals.
The Metal Grapevine:
Flaw's Two-Week Rampage Opening For Mudvayne. On August 31, Flaw will depart on a two-week stint opening for Epic recording artists Mudvayne. The tour starts at Chicago's House of Blues and works its way through the Midwest, hitting cities such as Kansas City, St Louis, Oklahoma City, Lubbock, San Antonio and Wichita.
Then these guys get the pleasure of experiencing the Southwest, which I recently did. They have shows in Colorado Springs, Albuquerque NM, Phoenix and Las Vegas NV. After that, they will head northwest to Oregon to do a few shows with Cold.
Good luck guys, and look out for those wicked Vegas women!
Extreme Scene Teen Club:
Terry Harper (Sen and Spotlight Productions) is now booking for a new venue called Extreme Scene Teen Club, located at the corner of Preston and Gilmore Lane. The room is big and the stage is pretty cool. If everyone behaves, I think it will do well. However, here's a warning from old man metal. I used to practice there in `93 with my old band and found that the neighbors right next to the venue won't tolerate rowdiness. By rowdy, I mean squealing tires late, or fighting and screaming, leaving empty trash or drunkenness. So do Terry and the scene a favor and take my advice, play it cool, don't mess this one up.
For booking info email Terry at
xterryharperx@aol.com
Korefest 2001:
Charlie Brown, President and founder of Louisvillekore.com, has gotten everything together for Korefest 2001, which promises to be a great show. The lineup includes: Factor 9, My Own Victim, Incursion502, Rampant, MSD, Filth Porn, Sadtistik, False and Execrate. The show is on Saturday, September 29 at the Extreme Scene Teen Club. Showtime is 4:20 p.m. and it's an all-ages event. Admission is $10.
E-Flat Breaks Up
Sadly, the Louisville rapmetal hooligans in E-Flat have broken up recently. E-Flat was always a cool band to see and had good people too. The scene will miss them.
Faceplant Splits Up
After six years, Faceplant, perhaps Louisville's heaviest band ever, has decided to call it a day. This band cared nothing for trends or "what's in". They played what they believed in: brutality and the cruel ways of life. I respected them for their honesty, friendship and musical ability.
Kavehill's MCA Deal
Many people are asking about Kavehill possibly landing an MCA recording contract lately, so I'm gonna fill you people in on some news of late. Sadly, Kavehill did not qualify for the MCA finals in NYC, but I hear there are still some A & R people interested in them. So don't give up guys, keep doing what you've been doing and things will work out fine, I'm sure.
13th Level's New Vocalist
After a month long search, 13th Level has found a replacement vocalist, Billy Burton, 23, who is also vocalist in the cover band 24/7. Burton, "who plays around town quite a bit," has taken on the role of devilish frontman. Bill says he wants to "devote his time to his favorite type of music": skull crushing metal! And believe me, this kid has got a voice.
New Band Alert for Rampant
Rampant, featuring former members of Point Of Anger and Seth are ready to play out, so make sure you go check them out real soon.
Upcoming Shows:
BRYCC House
- Saturday, September 15 - Chugga Fest, featuring Countermeasure, 3 Nails For A False Prophet, Sealing Of The Tribes, Cast From Eden, Pflanz, Abscise, Crestfallen and Anthemboy.
Extreme Scene Teen Club
- Saturday, September 1 - Imperial Sound System, Jus Jeff, Monkeyboy, Chree, Biggs.
Friday, September 7 - Absence Of Faith, Urban Ritual Suspension Group, Dropshadow.
Saturday, September 8 - Quarterbounce, Countermeasure and T.B.A.
Friday, September 14 - Caustic and T.B.A.
Saturday, September 15 - Soulscrape, 11:1 Dome, Severedsoul, Blister, Scrapegrace.
Saturday, September 21 - Incursion502, Shuv, Engrind, Kavehill.
Saturday, September 22 - "Sen's 100th Show Party." Sen, Sadistik, MSD, Tornacade.
Friday, September 28 - Nemesis, Execrate, Blyss, Downside.
Sunday, September 30 - Onslaught, Cast From Eden, Pflanz, Abscise. 4:20 p.m.
Phoenix Hill Tavern
Friday, September 7 - "The Infamous Original Rock Show - .Aqua Jones, Brian Fox, Superface and Intak 9 p.m. $5
Friday, October 5 - .Element H, Southern Kentucky's Luther, Tornacade & Evil Engine # 9.
For booking info, contact me at
Eddymetal1@Aol.Com
Tekworld
Friday, September 1 All Access, Pose No Threat, Sound Of Blue & Machine 44
Saturday, September 7 Klasik Hip Hop Show 6 p.m.
Friday, September 8 - The Revenants, B.S.P and one more act T.B.A. 6 p.m
Saturday, September 14 Big Hip Hop Show 7 p.m.
Friday, September 15 - Kavehill, My Own Victim and Suckerpunch. 7 p.m.
Saturday, September 21 - Sadistik, One With Misery, False and Blyss. 7 p.m.
Friday, September 22 - Cornach, Abscise, Incineration and False. 7 p.m.
Saturday, September 29 - Adrenalintake + T.B.A 7 p.m.
Tom Sawyer State Park
Friday, September 7 Blister, Phrail, Execrate, Blyss
Union Station
Friday, September 1 - Southern Kentucky's Luther, Rampant,Incursion502 and out-of-
towners Saint Kane. This is an Xtremekore Promotions show.
Props Of The Month
Goes out to Flaw/Outspoken manager Scott Frasier for talking Channel 32 into doing a story on our music scene, which is pretty amazing.
Terry Harper also gets two thumbs up for giving bands a new place to play.
Well, that's it for me this month, my demented friends.
Keep up the excellent job of supporting these bands and always have the courage to stand up for what is right for our metal scene. Even though you may stand against a mighty or powerful adversary, the power of our whole scene is an alliance not to be taken lightly. Alone, we are vulnerable, but united we can move mountains.
Peace Out
Bands wanting to submit showdates, general info or a CD should have them to me them no later then the 13th of the month.
Email me at Eddymetal1@AOL.Com