Bluegrass Beat
SPRING, Oh Spring, where is thy fever? (apologies). The only fever I do not mind being affected with - a fever I actually look forward to, a fever that can only be cured by a good dose of itself - SPRING FEVER. Spring, the time of re-awakening, blooming of the trees and flowers, greening of the environment and cutting grass. OK, so everything can't be perfect. You just can't help but love spring 'cause you know pretty much what it has in store for you. How about bluegrass festivals for a big plus?
Good Show, Doyle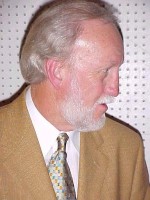 Photo by Berk Bryant
Doyle Lawson
Last month, among others, and top shows, Doyle Lawson was at Shepherdsville. Doyle can still bring in a near-capacity crowd. A most enthusiastic crowd of devoted fans. He has a new CD coming from Sugar Hill. Should be available in about a month. Something to watch for.
You'll like this jewel
I acquired a set of videos since the last writing. If you are a devotee of the honest traditional country music that most of us associate with and relate to, then this is a jewel of a set to enjoy. There is story telling, experiences related and some great insights to the artists. Stories you are really not likely to hear otherwise.
I am anxious to see the Osborne Brothers in Michigan this summer so I can have a conversation with them about this set. Sonny tells about seeing Roy Acuff going to places like Wal-Mart, standing out by the entrance and just meeting folks with, "Hello, I'm Roy Acuff from the Grand Ole Opry." Sonny comments he would not have believed it either if he hadn't seen it.
This is a very kind comment regarding my February column: "You make people feel like the music belongs to THEM." (Martha Adcock). The music does belong to us, and if you have that kind of relationship to traditional country, watch these videos and laugh, shed a private tear and remember.
Seeing Carl Smith perform was a really nostalgic scene for me. A lot of great bits from the Grand Ole Opry archives are integrated throughout to enhance the stories. Another example of a good situation laugh is in the story Bill Anderson tells of his duet with Jan Howard of "For Loving You." Bill tells about how he had to ... well, it's on the tape. Stories and stars like The Osborne Bros., Bill Anderson (host), Ferlin Husky, Stonewall Jackson, Charlie Louvin, Jimmy Dickens, Jean Shepard and many more, both familiar and some not quite so familiar to me.
Call 1-800-410-9860 for ordering information or go to the website http://www.gabrielcommunications.com. This is the real stuff, folks.
Mr. Clark Recommends ...
Have you read "TRAVELING THE HIGHWAY HOME, Ralph Stanley and the World of Traditional Bluegrass Music," by John Wright? My English friend, Chris Clark of Wolverhampton, England, sent me a note the other day in which he said he had just finished reading it for the fourth time and believes it is the best book he has ever read in his life. That's a lot of books. Chris is 80.
Learn from the best
Sammy Adkins was at Shepherdsville last month. Sammy is up and coming with his own band. Lead singer for Ralph a number of years, to his credit, it is obvious that Sammy learned a lot from his years with the Doctor. It shows in his stage presence, his fan relationship, and in his show in general. Sammy Adkins and the Sandy Hook Mountain Boys proved to be a crowd pleaser.
From the heart
I cannot go without saying a great big heartfelt thanks to the response we received for the WFPK Spring membership drive. You folks, friends, listeners gave a tremendous response. Thank you, Thank you, Thank YOU!
California Blend
I do want to tell you about a new CD received this last month. Chester Smith & Merle Haggard. CD is titled California Blend. Twelve tracks that include "Wreck On The Highway," "Old Fashioned Love," "The Titanic," "Go Look Now," "Great Judgement Morning" and more. An interesting bit in that they have made a few changes in some familiar tunes and given new meanings to the song. Example: "Go Look Now" is the Ernest Tubb song "Don't Look Now." A slight change and the line "Don't look now but your broken heart is showing" comes out, replaced by "Go look now, your Christian life is showing." I like it; you'll be hearing it on the show. For information mail to RNDRobin@bellsouth.net, check out http://www.chestersmith.com, or write Hag Record, Inc., 7733 Silver Bridge Rd., Palo Cedro, CA 96073.
What's in store? Well let's see.
· Music Ranch USA: Through May 25, each Saturday night, The Country Classics with guests. Friday night, April 5, and every other Friday, Gospel night. Rockin' Rancheros, April 12 and every other Friday night. The season wind-up at Shepherdsville will bring The Lewis Family and Jim & Jesse THURSDAY, April 4. On April 12, Melvin Goins & Tommy Brown. April 19, David Peterson & 1946.And last show till Fall, April 26, Dave Evans and Riverbend.
· At Babby's Steakhouse, Jeffersonville, Ind.: April 8, Karl Shiflett & Big Country Show. April 22, Heirline gospel.
· April 13, Bill Evans (four years with Dry Branch Fire Squad) Bluegrass Banjo Workshop in Dayton, Ohio, Dayton Contemporary Dance Company, Studio B, 126 North Main St., 2-5 p.m., $40. Class size is limited, advance reservation advised, contact Native and Fine Music, 888-599-2233, or e-mail bevans@nativeandfine.com.
· April 9, Wildfire at the Lighthouse, with usual after-the-show jam for all.
"O Brother"!
Another hoo-rah and we-have-been-telling-you-so. It seems that the "O Brother" soundtrack had another surge up the charts with, I think the figure was, 2,000-plus sales following the GRAMMY Awards. Congratulations to the single most requested artist I play, Dr. Ralph Stanley, for his win(s). Way to go, Ralph. One of the great things about all of this, the commercial "country?" stations whose guiding light is the "charts," have refused to play this. I really feel like we ought to say THANKS, fellows, for the favor.
Sunday Bluegrass Scoop?
"Down From the Mountain" will be on the road again this summer, making its first stop at Louisville's Freedom Hall on June 25. If you were tuned in to Sunday Bluegrass on St. Patrick's Day, you heard it from the promoter's mouth. If not, you may have read about it in the next day's Courier-Journal.
Stay Tuned
Next issue should bring more festival news. In the meantime, do stay with Sunday Bluegrass, Sunday nights, 8-11 p.m., and share it with all of your friends, especially those who don't know it but really need bluegrass, traditional and old-time country music in their life. Tell them how to go to the WFPK.org web and listen on line as we stream around the world. HAPPY SPRING.