I've Got A Mind To Ramble
Sonny's Story Part 2
My interview with Sonny Sitgraves continues this month with his experiences in Chicago, then finally returning home again to Kentucky. In 1966 Sonny was starting to raise a family, so the attraction of making better money in Chicago took him north. He cashed his insurance policy to get a little money in his pocket, thinking he was going to party a lot. In two weeks, his brother, who lived in Chicago, got him a job at Intercontinental Marketing, a firm making cameras. Sonny's wife, Jo Ann, soon followed him and his longtime friend, Foree Wells, rented to trailer to bring his drum set, the one he'd bought at Durlauf's.
Sonny's first exposure to Chicago blues was when his brother took him out on the west side to Sylvio's, where Howlin' Wolf was the house at. Before he knew it, he was in Wolf's band, playing with Hubert Sumlen, George Brown, Eddie Shaw and Andrew McMillian. Sometimes Willie Mabon joined the band on keyboards.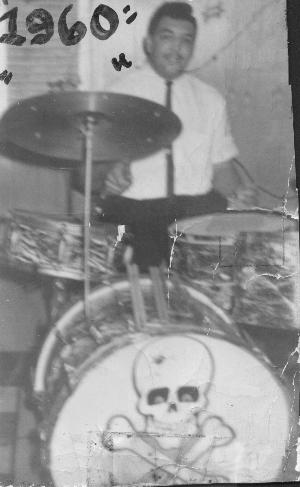 Sonny Sitgraves 1960s
Sitgraves played with the Wolf for a year, traveling to Boston, Cambridge, Windsor, Canada and Detroit during that time. They were in Detroit during the 1968 riots, playing at the Checkmate near Woodward Ave. Sonny always roomed with Hubert on the road, since neither of them drank. Sonny would occasionally sit in with Muddy Waters when Water needed a drummer. There was a great rivalry between Waters and Howlin' Wolf, especially when it came to taking musicians from each other's band. Once, when Sonny was playing with Muddy at Big Duke's, the Wolf came in and, in his deep voice, told Muddy "I get sick and tired every time I get a goddamned good musician, you SOB always want to take him. But this Red [Sonny's nickname], he gonna be my drummer, and you leave him alone. Waters replied "I just usin' him for a week or two until I find me a new drummer." So Sonny went back to the Wolf, as he as just like family to Sitgraves and Jo Ann.
Wolf lived at 88th and Cottage Grove and Wolf's wife, Lillian, was crazy about Sonny's daughters. Jo Ann recalls that Wolf had the biggest feet she ever saw in her life. Sonny told the story he heard from the Wolf about the time he finished building a jail in his home town. Later that night, he went out to celebrate and got drunk. The Wolf wound up being the first person to spend the night in the jail he helped construct.
Sonny in 2002
Sonny went into the Chess studios only once to record with Wolf's band and remembers the raunchy exchanges that the Chess brothers, Leonard and Phil, had with the Wolf. Leonard would say, "God dammit if you can't do it, get your ass out of here" and Wolf would growl back, "I do it the way I want to do it, you SOB. You can't tell me how to play my guitar and I can't tell you how to punch those buttons back there."
After his brief stint with the Wolf, Sonny played with other bands, including Buster Benton and A. C. Reed. At that time, Reed had an extraordinary guitarist, Ivory Banks, that Sonny said was the `baddest' around. Banks shaved his head like Michael Jordan. Sonny met saxophonist Ron Scott while playing with these bands. Scott now plays keyboards with Arte White, James Cotton, Little Milton, Willie Kent and Eddie C. Campbell. Every time Sonny goes back to Chicago, he looks up Scott, if he's not on the road.
Sitgraves settled into Johnny Littlejohn's band in 1968 when they recorded for Arhoolie Records. The picture of the band on the back of the album jacket shows Sonny misidentified as Book Sidgrave. Littlejohn called Sonny "Hawkeye," because he always checked out the women when they came into the clubs. Littlejohn would say "Oh, look at Hawkeye, he don't let nothin' get past him." He stayed with Littlejohn until 1971, occasionally playing with Buster Benton when Littlejohn went out on the road. Sonny couldn't travel because he was working with the Chicago Transit Authority as a bus driver and later as a fire battalion chief.
Sitgraves later dropped out of music, spending his spare time with the Dirty Dozen Motorcycle Club, where he was nicknamed "The Godfather." Sonny and Ron Scott would occasionally ride their Harleys and show up at the clubs to sit in, wearing all their leather gear.
When Sitgraves retired from CTA in 1995, he and Joe Ann returned to Taylorsville to the house that her mother owned. At Foree Wells urging, Sonny got back into drumming, beginning with the 10th Street Blues Band. They usually played at the Red Devils Motorcycle Clubhouse at 10th and Dumesnil. The band included Fred Murphy on vocals and harp, James Watkins playing bass, Pen Bogert on guitar, Pete Peterson on keys and Sonny on drums. The band still gets gigs at Festivals.
Sonny and James Watkins suddenly found themselves in a new band when Dennis abruptly left the Blue Collar band. Marcus Tharpe and Matt Swenson had promised the managed at the Smyrna Inn that they would have a band there the next day. So they called Sonny and James, since the motorcycle club had closed. When they all showed up the next day, Tim, the manager, asked "What's the name of the band now?" Marcus said "I don't know, I just got these guys at the last minute." Tim said, "That's a good name for a band," and it has been that ever since. Marcus has since left the band to find fortune in Texas and Billy Bird has taken his place doing vocals and blowing harp. They have recently gotten Danny Bagsby, who used to play with James Peterson, as second guitarist.
We got to reminiscing about older bluesmen and Sonny mentioned Marshall Anderson, whom he had just visited in Norton Hospital. Anderson was very ill and died two weeks later on February 24 of lung cancer. I'll miss Anderson's bass playing and his stories, some of which are in an interview I did with him in the December 1994 issue of Louisville Music News.
After interviewing Sonny, we went out to his garage past his six dogs. There he tinkers on his motorcycle and musical instruments. He still has his old Rogers 360 drum set, the one he used with Buster Benton. (Dig out your October 1994 issue of Living Blues and check on the photo on page 47 with the photo on this page.)
Sitgraves would love to open his own blues club some day and call it Forty And Over for the older generation.