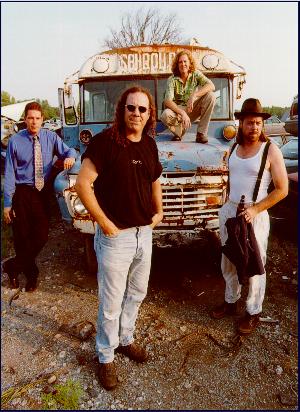 Jakeleg
Meet the many faces of Jakeleg
Ask a member of Louisville band Jakeleg about his art sometime - he will be more than ready to share his successes and failures, his joys and frustrations. He'll spill his passion readily, because it's so much a part of him.
And that's before you even bring up the subject of his band.
You see, Jakeleg is not your typical group. Each of these guys has a career that is as interesting - or maybe more so - than the band he plays in. Drummer Barrett Cooper is a Shakespearean actor. Bassist Patrick Donley makes his living as an abstract painter. Rhythm guitarist Jeremy Morris? He helps political refugees from around the world find a new start in America. Lead guitarist Kirkby Tuttle is a novelist.
But get Cooper, Donley, Tittle and Morris together, and the subject of music is going to come up. And it will commence to being discussed passionately. Hey, this is a band full of guys who at some point QUIT playing music to focus on their careers and relationships, only to return because the pull was so strong. Careers notwithstanding, these guys share their artistic souls with those of hardcore musicians.
Let's meet these interesting fellows ...
The Story Of Barrett
Cooper studied with Walden Theatre in the 1970s, which led him to become an actor. He went on to receive his BFA in acting from Southern Methodist University, then his MFA from the Alabama Shakespeare Festival through the University of Alabama.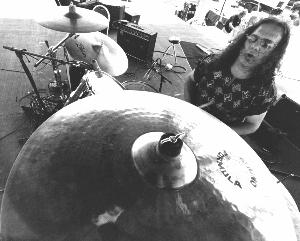 Barrett Cooper
Having performed all over the country - from the Pioneer Playhouse in Salt Lake City to a couple of "off-off-Broadway" productions - he certainly is qualified to direct and teach at Walden, which is what he does now. He also has directed with Kentucky Shakespeare Festival. He will direct a Walden production at the MeX Theater in October titled "The Rimers of Eldridge."
And he plays drums in Jakeleg.
The Story Of Patrick
Donley runs the Zephyr Gallery, Louisville's artist co-op, in addition to being an abstract artist.
"I make my living right now as a painter, which is not something many people can claim," he said. Not that Donley hasn't painted a house or two in the past to make ends meet, but he has been an abstract painter for more than ten years and involved with Zephyr Gallery since 1992, most of that time in some kind of director or co-director capacity.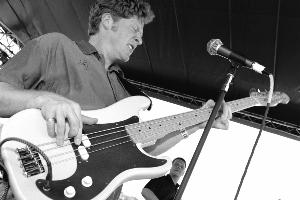 Patrick Donley
He has a BA from Davidson College in painting, and an MFA from Northwestern in painting and drawing. He manages to make a living as a painter largely through corporate sales. If you look around town, you can find Donley's work hanging in offices, lobbies and hallways at LG&E, Aegon, Brown-Forman and bCatalyst, among others.
Um, he also plays bass for Jakeleg.
The Story Of Jeremy
Morris, who holds two bachelor's degrees (Spanish and political science) and one master's (also poli-sci), not only works for Kentucky Refugee Ministries assisting newly settled immigrants from countries like Bosnia and Cuba, but he also speaks five languages.
He speaks Bosnian (or Serbo-Croatian), French, Spanish, German and English. Morris met his Bosnian wife through his job and visited her homeland in July. Word is, he also is working on learning to speak Swahili and Arabic. He also has a keen eye for art and can be seen at openings around town.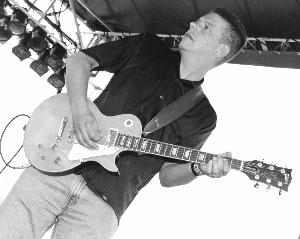 Jeremy Morris
And he plays rhythm guitar for Jakeleg.
The Story Of Kirkby
Tittle is an editor of fiction and poetry with Louisville-based $url="http://www.sarabandebooks.org">Sarabande Books, and his first novel is scheduled to come out this fall on Hill Street Press (under the pseudonym Kirby Gann). Hill Street Press, based in Athens, Ga., is rumored to be supported by members of R.E.M.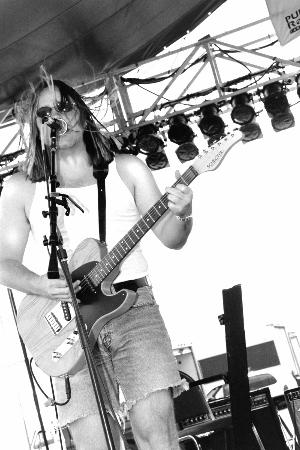 Kirkby Tittle
For five years, Tittle has worked at the non-profit Sarabande, a company that publishes poetry, short story collections and other books, many of which have won literary awards. Most releases are the writer's first book. He works with these authors in the editing and publishing process.
He describes his forthcoming book, titled The Barbarian Parade, as a coming-of-age story similar to Salinger's "The Catcher in the Rye." It's about a lot of things, however, he said, and the story takes place over the course of twenty years, not just a day.
Oh, and Tittle also plays lead guitar with a band called Jakeleg.
The Story Of Jakeleg
Jakeleg's web site describes the group as "four creative types who really had no intention of forming a band for any reason save for the sheer joy of playing."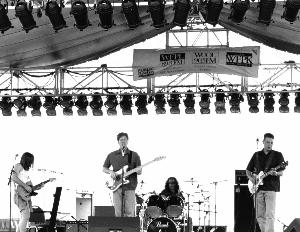 Jakeleg at Bowman Field Festival
That speaks volumes. These were four guys a few years ago who were all in various stages of emotional turmoil, with marriages or long-term relationships dissolving. All of them having been on hiatus from music for a while (some for as much as ten years), they came together and drowned their sorrows in guitars, bass and drums.
"It was kind of like we were like this major support group," said Cooper, "and the music was the thing that took our minds out of it. If you look at our early stuff, it's either really dark or especially silly, especially toward the opposite sex. My early lyrics were just a vomiting vitriol because of where I was. We practiced together and realized we were all just finding out sea legs again. We said, `Hey, let's see where we can take this.'"
The foundation of Jakeleg actually made its debut a little over four years ago at a Rudyard Kipling open-mic night under the name Mary Street. The members at that time were Tittle, Morris and a guy named Clint Gill. After their short set, club owner Ken Pyle said, "Take a Friday."
"On about 19 bourbons, they said OK," Cooper said. "They only knew five songs."
The name changed to Otis, after the character on "The Andy Griffith Show," for the next gig. "For the first couple of years, alcohol was a big part of it," Tittle said. "It kind of fit us."
The guys got together on Tittle's porch and put together a set list with Velvet Underground songs, deep cuts from R.E.M., and songs by Tom Waits, Johnny Cash and the dB's. Gill soon left, and Cooper and Donley entered. They were childhood friends who had played together in Alfred's Attack Slinky Band and Mr. Grover's B.C. Band back in the days when punk ruled Louisville and Tewligans was the place to be.
That's when things started coming together. The band began writing songs and getting more gigs, leading to the release of the first CD. But when the time came, the band found out a group from Chicago already had the name Otis. After much discussion - "We knew we had to stay with the falling-down drunk theme," Tittle noted - Jakeleg was hit upon. Jakeleg is a prohibition-era term for a paralyzing leg condition many people developed from drinking a certain kind of liquor known as "jake" (see sidebar).
At any rate, the band went into the studio at Al Fresco's Place with producer Jeff Carpenter and had a blast, coming away with a 12-song album from what was intended to be a 5-song EP.
"We ended up recording everything we had," Donley said.
"It was a lot of fun," Carpenter said. "We had a real good time because we did some experimenting with some different things. There's a lot of energy in that band. They're all talented guys. It's kind of neat to see that much talent in one band, and they all come together well."
Bryan Hurst came in to help out with some arrangements, David Barrickman added some keyboards, and Carpenter was so pleased with the outcome that he took a demo to his friend John Timmons, who runs ear X-tacy Records.
"I told John, I've got really cool band here with some neat material," Carpenter said. "I wish you would give this a listen." He did, and the album was released on the ear X-tacy label.
Meanwhile, the band built up its public appearances, playing at the Rud and Barretone's, plus other venues around town and around the region. With new material building up and getting a warm reception from audiences, they decided to go the extra mile for album No. 2, which would eventually be titled Junkyard Café. They agreed they wanted to take some time off from their careers to tour and see how far they could get as a band.
They also decided to spend more time in the studio producing the new disc.
"The first one went pretty quick," Morris noted.
This time around, the process took a year. A larger collection of songs to choose from added depth and diversity, and the process was more carefully planned, more methodical. Carpenter was indisposed at the time recording started, so Jakeleg went to TNT Productions in Louisville.
Roger Dane came in to add instrumentation, and the band experimented with sound effects to create an interestingly cohesive unit rather than just a string of songs. Finally, Jakeleg went to Stepbridge Studios in New Mexico to have the disc mixed and mastered by a guy named Tim Stroh, who won a Grammy for his work on Robbie Robertson's last album.
"He would do something with a song, and it would suddenly sound just like it did in my head when I wrote it," Donley said.
Said Cooper, "We were Fed-Exing tracks back home, saying, `You've got to hear this!'"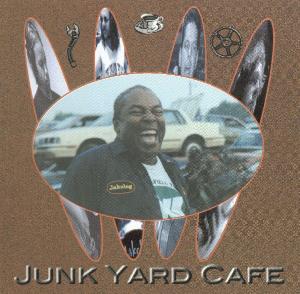 Jakeleg
The result has been good. The band is getting airplay around the region, and has more than 21,000 hits on MP3.com. The band was recently contacted by a small label about future recordings. They've had inquiries from France and received feedback on the CD from as far away as Brazil. Most of all, Jakeleg ended up with a good product.
"You could play it next to anything," Donley said. "You could put in your CD player and the quality is there."
Describing the band's sound takes some doing. They've been compared to the dB's, a power pop band that was an underground favorite during the mid-1980s. The band's influences range from the Beatles to not-quite-so-famous bands like Pylon, Camper van Beethoven and XTC. Tittle also grew up on Johnny Cash and Bob Dylan. The band covered Lou Reed's "New Sensations" on Café.
There are plenty of pop influences in that mix but Donley prefers to think of the band as eclectic, noting, "We aren't straight pop - we don't write hooks necessarily."
To which Morris added, "Which is a good thing AND a bad thing."
So, when does the tour start? Well ... it should be noted that Cooper became a father a little over a year ago, and another is on the way. Meanwhile, the band has mellowed a bit. OK, it has mellowed a lot.
"We used to have very Replacements-like shows," Tittle said, referring to the 1980s alt-rock band known for its drug-induced stage antics. "We're more mellow since Imogen (Cooper's daughter) came along."
When the tour idea initially came up, " There was kind of a boyish, `Yeah!'" Cooper said. "But somewhere there was this adult inside going `How are you going to pay rent?' Then we all started getting girlfriends and getting serious. I ended up getting married and having a kid right away.
"So the whole thing of playing stadiums and stuff like that immediately just goes out the window," he continued. "To a certain extent, it's made things kind of cool off as far as the band goes, because I just can't pick up and leave whenever I want to. But I just enjoy being in the band. The past year or two it's been a slow thing, like `Where's this going to go? Let's take a realistic look at this and see what we're in it for.'"
"We love playing live and we would love to tour," Donley said, "but someone's got to pay for the tour. We're all different as people - music is not our primary chosen profession."
The truth comes down to the fact that these four talented and artistic guys really are doing this Jakeleg project for the joy of it far more than the prospect of getting signed to that big-time label deal. In fact, the Jakeleg guys have become almost like a family. Getting together under the trying circumstances in which they did, they all became closer friends.
" It would have to be lot of money to pull us away from what we've got," Donley continued. "We were talking about that the other night. We haven't given up hope in terms of the quality of what we have done we feel very strongly about. But we're not shopping for minor labels or anything. If someone from a big label happened to get their hands on (the new CD) ... it would have to be a really awesome offer."
But the band isn't about to call it quits either.
&quotI love playing the drums," Cooper said. "And I especially have thought `What if Jakeleg was no more? Would I get into another band?' I'm not sure I would, because I enjoy playing with these guys. My style of drumming I feel goes really well with the stuff that Pat and Kirkby come up with. Lots of times they come up with new stuff that stretches me. ... The thing is you build that rapport with someone -- we did that very quickly -- and I'm not sure I have the energy or the time to get to know another guitarist or another bass player, or even if I want to."
"Another thing is that we're all really good friends," Morris said, wisecracking that "if any of us ended up in jail after a show, the other three would come pick him up."
But Tittle points out that just because the band isn't necessarily looking for stardom doesn't make Jakeleg any less legitimate. " If I had a band as good as this band when I was 22, I would have been all about hopping in the van and touring for six months," he said. "You've got Barrett with kids, and all of us is married or close to it. But I think we still have the same commitment as a young band does to writing new material and developing our sound. It's just music for music's sake."
"It's one of those things where we're not relying on this to pay the rent," Cooper agreed. "It's something we enjoy doing and we have fun doing it."
Ironically, the term "jakeleg" eventually came to mean anyone that is incompetent, as in the term "jakeleg mechanic." While Kirkby joked that's another reason they chose the name, it's hard to justify the notion of a "jakeleg novelist" or a "jakeleg Shakespearean actor." Certainly not a "jakeleg multi-linguist" or "jakeleg abstract artist."
In this case, we're not talking about a jakeleg band, either. Just a band called Jakeleg that makes music and makes it well, for the sheer joy of it -- and doesn't walk with a limp.