Louisville Rock Lowdown
Kallus
"Scrap Metal" at its finest.
Kallus is Sol (Muddshine, Aggressive Noise, P.B.A.) on vocals, Cliff (Point of Anger, Circumcision) on guitar, J.D. on bass, Josh on percussion, and Chris (Hadrians Wall, Kroneosphere) on guitars. The last names of these individuals have been hidden to protect the guilty.
Louisville metal has many faces, and Kallus personifies them all. When asked about their influences, the band had much to say. As far as bands go, Acid Bath, Dillinger Escape Plan, P.O.D., Incubus, Mastodon, Neurosis, Cradle of Filth and others were mentioned. In comparison to genres of metal that were influential to the sound of the band, we have a mixture of death, black, stoner, doom, sludge, hardcore, thrash, and more. The result? "Scrap Metal:" a mixture of everything that is heavy, intense, and so very Kallus.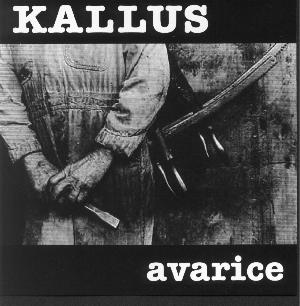 Avarice
The band began a few years back, in the days of The Firehouse. Cliff was playing with Point of Anger at the time, and says that Kallus snuck on the show and they had to cut their set short because of it! P.O.A. was later set to do a farewell show at the 540 Club, also with Kallus. Sol talked a little trash that night and a riot broke out. P.O.A. had a genuine farewell because they did not even get to play. It was a match made in heaven. Former guitarist Nathan McDaniel moved too far away to continue his term with Kallus. "Big D," former bassist at the time, called Cliff in to fill the spot. Cliff came into the band, things went in the right direction, and then the famous words came to burst the Kallus bubble. "I don't mean to throw a wrench in your-all's gears or anything..." These words from Big D meant he was quitting. Sol quit a week or two later. A year went by and the "band" jammed with some other people. J.D. had a drunken audition to sing, and now sings backup vocals in the band. As Sol puts it, they knew from his "drunken, angry, deep-seeded-hatred" that he had that "Kallus" quality. Sol came back, and the band was back on its feet.
The band has been on the move to perform around town and elsewhere since last year. They have turned the heads of more than just a few show-goers here in Louisville. The band has earned the reputation of being one of the heaviest acts in the scene, as well as hard working. The band puts everything they have into the set every time they play, whether there are 5 or 500 people present to see it.
An example of this energy comes from their first show. The group was performing at New Albany Amphitheater. Sol broke his belt and button on his pants from jumping around and had to hold his pants up the entire show. Later, during that same show, he busted his lip open with his knee. Hmmm...
The band is also known to throw punches at each other onstage and fight during their sets. Sol explains this as expressing what cannot be expressed musically. "We don't want to f&c% with the crowd, so we f&c% with each other."
Sol had a habit of trying to piss people off all the time that he has since grown out of. "I've matured," he said.
Performing, according to the band, is as good as (or better) than sex. It is a rush they all chase that serves as free therapy. At the end of the week, after everyone is done "f&c%ing them," it is their release. No matter how mad they may be at each other or the world, after the show, they are all friends again. It is a "pissed off, positive release." Musically, this is expressed as a real emotional drive that is obvious to anyone in the crowd.
Cliff states it very clearly when he says, "The crowd is not there to work. It is our job to put on a show. You shouldn't yell at the crowd to put on a show for you."
The band has a few favorites in Louisville when it comes to the scene. One of these is the infamous Crunch Zone that had its demise recently. It was a second home to the band, and they recalled many stories about it and its glory. Chairs being thrown, fights breaking out, smoking weed onstage, carpet being rolled around, and of course, Greg (the manager). When stuff would get broken during their sets there, Greg would say, "That's rock and roll, man." Your payments there may only be enough for a 10-10-220 phone call, but you would always have fun.
Drum dives, grocery carts and stage monitor tosses are only part of the stage show of Kallus. The other side is the low-tuned bass and guitars (tuned to C# 438, probably the lowest tuning around. Used, it goes down to a low G#), head-banging beats from the drums and indistinguishable growling from the vocals. Sol says he likes to be in the crowds' face when he performs. "The stage belongs to everyone." The band stated: "If you want to light an M-80 onstage with your butt crack, do it." They also said that people should clothesline J.D. and dive into Josh's drums- nothing else.
Some of the favorite local bands Kallus enjoys/has enjoyed/would enjoy sharing the stage with is Luther, Panure, Nemesis, ((downSIDE)), False, Delta 9 Theory, Engrind (wish they were still together), Faceplant, and Sealing of the Tribes, just to name a few.
One of the problems the band sees with their shows, however, is the lack of following they have. They stated, "After your first ten shows or so, all your friends and family have seen you play. You don't want to keep asking them over and over again. You need a good following."
One of the things the band had done to combat the lack of following is get their name and music out more through the release of their new CD, Avarice. (Pronounced like Ava-Riss, meaning "Greed.") The CD features five songs that denounce corporate greed and slave treatment, and it is brutal. Sol says it is a war cry to those who try to "ram it in you dry." It is awesome to hear the bands' studio work after seeing them live so many times to find that it is equally aggressive as their stage show. You can pick up a copy for yourself at Ear X-Tacy, Better Days, CD Warehouse, and Showcase Music. It ranges from seven to eight dollars in the stores, but can be picked up for $6 at their shows direct from the band. Over 200 copies have been sold so far.
When it comes to songwriting, the responsibilities are divided fairly equally between band members, though Sol writes most of the lyrics and the rest of the members write most of the music.
The band recently performed at the Tattoo Convention here in Louisville at the Holiday Inn. The venue was a lounge - not a traditional metal venue, to say the least. Kallus brought the walls down, nonetheless. The crowd got a little crazy in between interventions by staff security and the police. In addition to the usual chair throwing and ceiling hanging, the climax of the night included a crowd member stabbing himself with an ink pen and beating himself up. He was eventually stopped by the security, but not before he got a few cheap shots in on himself.
The message of the band is... well... it is hard to say. They say they are not trying to save the world or be rock stars. They are too busy smoking weed to worry about those things. They are chasing the "high" they get from the music and performance. Their mission is to get the crowd into it, and to find their "own sound."
They also wanted to add that they hate the lead singer of Adema.
The band would like to get signed by an Indie label like Sanctuary or Spit Fire, but knows the realistic side of metal and music. Eric, their manager is sending out promos to labels and shopping the band. He can be contacted at 502-353-1953 or emailed at emarc1@msn.com. J.D. says the band wants to be a band that appeals to all. Thrash, metal, punk, whatever. They do not want to be known as just a Tek World band or a BRYCC House band. They want to be able to play and energize anyone, anywhere, the way the Kinghorse did 10-12 years ago.
During the month of August, you can catch the band at Korestock (2nd to last) in Shepardsville on Saturday the 17th and Tek World (with Gasket, Shuv, and Fubar) on Friday the 30th.
Good luck to Kallus in everything they conquer...
As always, you can contact me at JJKSLACKER@cs.com with your submissions for Louisville Rock Lowdown. Rock on Louisville!