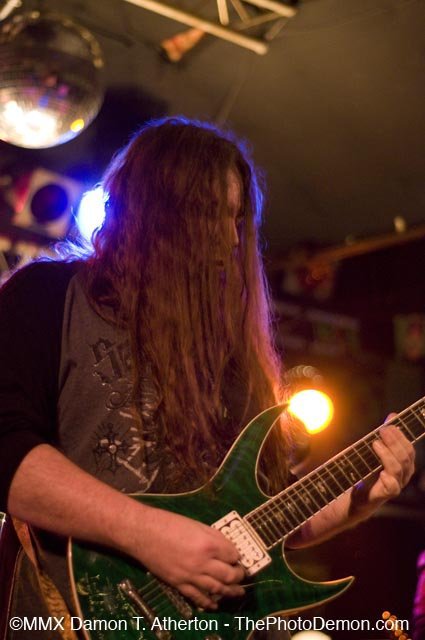 News From the Pit
Hey what's up everybody!
Boy, do I have some bones to pick before I jet off to the Florida Keys for a much-needed vacation. Benefit concerts are one topic I'd like to address. It seems everyone and their mother is having benefit concerts. Don't get me wrong. Benefit concerts for untimely deaths are definitely justified, but I have seen a few other reasons to have benefits that are not worthy of the true cause of a real benefit concert, like the benefit for some dude's grandma's corn to be removed, or the benefit for some guy who got stoned and dropped his thousand-dollar guitar down a staircase? C'mon, people, if It's gonna be that way, maybe we should have a Eddy Metal benefit so I can go to Amsterdam to enjoy the wonderful cafes I've heard so much about!
And another thing, (while I'm in the midst of a rant): there is a scam that is being perpetrated in this scene that has gone on a long time. It's time to get this out in the open. It is called "weaseling."
"Weaseling" is when a band makes up an excuse for why they can't play too early or too late. Usually the excuse is "I've got to work late" or "I've got to go to work after."
I realize it may be true, but 70% of the time it was a lie just to get a good timeslot. I've seen bands do this and it is wrong. If you book a show, be sure you can actually do it before you commit. Don't be a weasel.
There are all kinds of metal shows coming up. Metal is on the rise again, people. We cannot and will not be denied anymore!
The butt-kissing lighter bands getting all the breaks is caca. So I'm gonna do what I can to get the Louisville metal veterans their due. But I need some help, so be sure to support local metal by attending all the killer shows this summer, and buying me frosty alcoholic beverages. Thank you.
The Metal Grapevine
Three Days of Louisville Music: Korestock is coming to the Bullit county area. The three days of Kentucky underground music starts on Friday, August 16 and ends on Sunday, the 18th. Twenty-five Kentucky bands will rock your world, so we want to see everyone out there in full force.
For directions and info, email VixenVideo502@aol.com.
BRYCC House Closed. From what I hear and read, the place has closed and is looking for a new location. They've been under fire by the scene for making bands submit lyrics to get shows there. To me, that is ridiculous. What does it matter what you say in your songs!? They should be happy just to get a crowd in there.
[Lyric guidelines were likely a result of the City of Louisville money the BRYCC House received. - Ed.]
Element H To Get Signed? After amassing a large following, playing all the best clubs and getting continuous airplay on both stations, Element H is likely on the verge of getting a record deal. Having gone to New York two weeks ago to play in front of Elektra records and returning home with huge smiles on their faces may mean good things loom in their future. In all my years of jamming and putting on shows, this is one of the most professional bands I've worked with.
Nemesis To Release CD Soon: The band Nemesis has completed their new CD entitled Retribution and plan to release it in August.
Noise Bucket Is Back And Kicking: Louisville metal veteran Shaun Lynch and his band Noise Bucket are back in action with their original lineup. Check them out at the Bluegrass Brewing Company on August 10 with Concrete Peach.
1080 To Debut In August: The band 1080 features former members of Rampant. I hear the new sound is way more brutal. I can't wait to check them out.
Gaebelein Has New CD Out: Look for it at their shows or at a local music distributor near you.
Upcoming Shows and Such
Phoenix Hill Tavern
The Original Rock Showcase Series is held on the first Friday of every month in the Roof Garden.
Friday, August 2 - After The Fall, Intak, Phearus and Outrace.
Friday, September 6 - Screaming Through December, Tha Joint, The Mad Taxpayers and Puc.
Tekworld
Tekworld shows are all ages and generally start about 7 p.m..
Friday, August 2 - Victory records recording artists Hatebreed with special guests Hopesfall, Not Waving But Drowning, False and Adrenal intake.
Saturday, August 3 - Factor IX, 13th Level, Outrace and The Lost.
Friday, August 9 - Nemesis CD release show with False, Incursion502 and Look What I Did. (Nashville)
Saturday, August 10 - Abominant, Somnus, Summer Dying, All That Is Evil and Akoshic Matrix.
Friday, August 16 - Intak, Unhinged, V-Mob and Execrate.
Saturday, August 17 - Plan Of Man , After The Fall, Red Saturday, Some Kind Of Peace and Born Yesterday.
Friday, August 23 - Moafunkaz CD release with Blyss, Static Divide, Exhaustion Method and Harbinger.
Saturday, August 24 - Punk Rock Fest: Dead City Rejects, Ants In An Argument, Five Hours, Ghost Buster, 1point3's, The Shanks, Sickies and Purple Stain.
Friday, August 30 - Shuv, Fubar, Kallus and Gasket.
Saturday, August 31 - Incursion502, Sockculture, Silent Q, One With Misery and Scapegrace.
Union Station
Friday, August 9 - Incursion502, Kallus and 13th Level. 9 p.m.
Trixies
Sunday, August 4 - Preston Highway (yes, it's the strip bar!) Faceplant, Execrate, Incursion502, The Constant, Adrenal Intake and 13th Level. 6 p.m.
Outtatownerz and Otherz
Friday, August 16 - Korestock (in Bullit county). Fubar, Shuv, Delta Nine Theory, Caustic, Silent Q, Static Divide, A Strange Day, and Desecrate.
Saturday, August 17 - Korestock Faceplant, Kallus, 13th Level, Flatlyne, Adrenal Intake, Unenlightened, Soma and Maltese Cross (Columbus IN).
Sunday, August 18 - Korestock Incursion502, False, Nemesis, Downside, Unhinged, Execrate, Blind Addiction and 1080.
For Korestock info and directions, email Vixenvideo502@aol.com.
Props Of The Month
This months props goes out to both rock radio stations. You know who I mean. These folks have done a decent job of supporting Louisville music. Louisville music radio shows like "Louisville Rocks," "The Kentucky Fried Radio Hour" and "The Attitude Network" keep the Louisville music scene rolling on like a big steamroller. So be sure to call in and give them your support. And tell them what you would like to hear. I'm with one of these stations and believe me, we do listen to your requests. And YES, we do play the heavy stuff, too.