I've Got A Mind To Ramble
10 Years After
This article marks the 120th time I've been rambling for Louisville Music News. Back in December 1992, Jean Metcalfe and Paul Moffett, then co-publishers of LMN, asked me if I would write a regular on the blues. During these past ten years I've not skipped a beat (excuse the pun), and, Paul, I'm still waiting for my first paycheck. As these monthly deadlines keep rolling around there never has been a lack of subjects to write about. It may be a concert, a festival, a KBS event, a record, an interview or just some blues musings. I enjoy doing interviews the most, for it gives me a chance to share some of these musicians' experiences and aspirations with you. In addition to writing these s, it has gotten me to start photographing blues events and people to illustrate what I write about. If you are a local musician, there is a good chance I have a picture of you taken at some blues club or festival. This isn't my swan song, as I hope to photograph and write about the blues for another decade.
KBS `B'Day Blues Bash
Each year the Kentuckiana Blues Society has to officially elect its officers and board of directors at a general meeting open to all the members. To make this mundane matter of business more attractive to our members, the KBS made the event a birthday bash on November 17 to celebrate our 13th year of incorporation.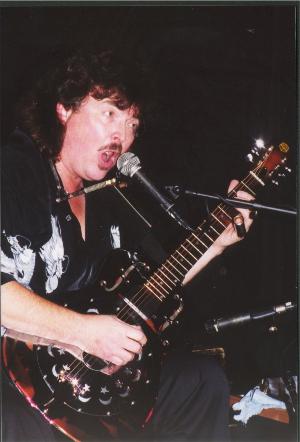 Michael 'Blind Dog' Gatewood

Once our slate of officers, which included Brenda Major as President, Debbie Wilson vice-president, Lynn Gollar treasurer and Martha McNeal secretary, were reelected, it was time to party. And what a party it was! Michael "Blind Dog" Gatewood started the bash playing his Gibson chromed Dobro, harp, and tambourine on a tramp like he did when he won the KBS Unsigned Blues Talent Competition last August. Earlier in the day he recorded eight songs at Jeff Carpenter's recording studio and was on Scott Mullins' Saturday Night Blues Party the night before. When Blind Dog isn't performing, he tends bar at the J J Sports Bar in his hometown of Newburgh, Indiana. Since he won the KBS competition and recently the Telluride blues Festival contest, the owner of the bar asked Blind Dog to play regularly at his place. Michael said that all the solo acts will be competing together as a separate category in the International Blues Competition in Memphis next year.

Between sets it was time for some barbecue provided by Smoke Daddy's. They managed to keep things warm out back in the VooDoo Gardens where there was a sharp chill in the air. This was also the night for the citywide benefit for Steve Ferguson who has had some medical expenses following heart surgery. Lamont and his band, the 100 Proof Blues Band, showed up at the bash before their fundraising gig later that night at the Lighthouse. This was a fortuitous appearance for Mark Stein, Lamont's lead guitarist, because he received the 2002 Sylvester Weaver Award from the KBS. Mark is one of Louisville's premier blues guitarists who plays with boundless emotion. His "axe attacks" have driven the Steamrollers, the Rib Tip Kings, and Sue O'Neil's' Blueshounds. Now he has settled in with Lamont for I hope a long stint. Mark and Lamont play in sync with each other and give it everything they got night after night. Lamont, who won the award in 1998, was there on stage to present the plaque to Mark along with Brenda Major and Mark's wife, Beth.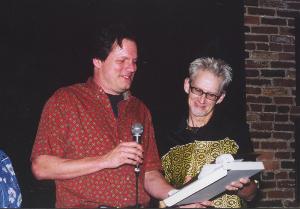 Mark Stein and Lamont Gillispie
Wally Stewart invited several of his contra and ballroom dancing frieds to the bash and they livened up the dance florr as the night went on.
The best was yet to come with Michael Burks. The band rolled in an ancient B-3 organ that looked like it came from a flea market while Michael set up his arsenal of three Gibson flying "V" guitars and two Fenders in a special display case. These were just a few clues of what was in store for us. I, as well as most of the crowd, was not familiar with Michael. He performed at last years W.C. Handy Blues Festival in Henderson, received the Albert King Award at the International Blues Competition and has been nominated for a W. C. Handy Award for his recent CD, "Make it Rain," on Alligator.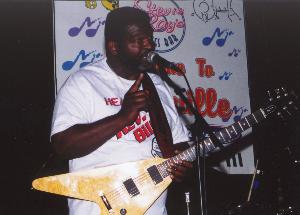 Michael Burks
His unassuming appearance of a crew cut, casual attire and little emotion defied what came out of his guitars. He opened with a slow moving instrumental that got everyone's attention. For the next 2½ hours, Michael and his band played nonstop. We all kept waiting for that break between sets that never came. When he did come to the end of what he thought was his first set at 10:30 p.m. Eric Hamm, the sound guru, mercifully said all you need to do is an encore. Michael responded with "The Thrill is Gone" and the same instrumental he opened with. This extraordinary Camden, Arkansas guitarist laid down a solid, mature style of soulful blues that drew a lot of inspiration from Albert King. When he did "Move on the Outskirts of Town," singing in his deep voice, you could feel Albert was there with us. His road band has been together for a year and is different from the band recorded on the CD. They included Don Garnet on bass, Cecil Barker on drums and Wayne Sharfer behind the Hammond. Michael Burks was a sleeper at the start of the evening, but he definitely gave us all a wake up call to let us know he is a rapidly rising star on the blues scene to be reckoned with.