Louisville Rock Lowdown
They keep going and going...
This band has been through more member changes than Wilt Chamberlin in the bedroom.
Now it is all paying off for Execrate, as they have opened for such acts as Hatebreed, American Head Charge, Flaw and more. The group traces its roots back to the summer of 1996 when they formed Project Blue Book, which later evolved into the current project. The original lineup included current lead singer Trey Landrum (then playing bass as well) and former members Alex Koenig on drums and Andy Lauersdorf on guitar.
The band got their start playing gigs at Pandemonium and found their spot in the Louisville music scene. A revolving door of members spun about before the final (or at least current) lineup of: Trey Landrum (vocals), Jon Mattingly (guitar), Jeremy Nash (bass) and Chris Marple (drums) came together to assemble the force that has become one of the premiere bands in the scene.
Some of the bands' influences include Metallica, Deftones, Flaw, Hatebreed, Incubus, Pantera, Nonpoint and many more. The sound of the group shows through its influences, but there is a sound that is all their own incorporated into this form of flattery. Hip hop and rock-rap textures are included in the sound of Execrate, on top of the layers of heavy riffs and melodic tones. The sonic realm of guitar tones created by Jon produce a multi-layer symphony of aggressive, energetic rock that excites audiences wherever the band plays. He humbly contributes his sonic exploration to boredom and wanting to find something new. Each member has a good stage presence and seems confident and thrilled to be performing. Trey actually talks to the crowd, which is a plus. (Some other bands need to take notes here.)
Jon is not the only one responsible for putting this band on top of the scene. Trey's vocals have a large range of spoken, sung and screamed verses that contribute to the dynamics necessary to keep the attention of crowds that are all too used to the constant screaming of 502 metal. Jeremy's bass tones are excellent, as a result of nice equipment and a control over the instrument. Chris' drumming is heavy and moving, shaping the music as it shifts directions frequently.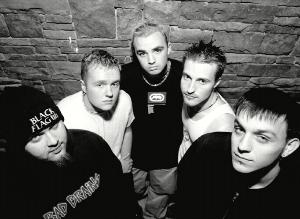 Execrate

Though I have seen the band perform on many occasions, the performance at Good Times Pub on November 16 was the most recent I have witnessed. It was an outstanding show with a lot of energy and the crowd there posted several messages about them on the local message boards. The band has a devoted following including a street team and many online promoters. The band conducts themselves very professionally and it is obvious that they are in this for the long run.

When I asked Jon about their best show to date, he said that it would probably be the upcoming show on November 29 at Tek World with Flaw, Tornacade and Doubting the Obvious. This show will have taken place prior to the paper's release, so I will let it slide as a fortune-telling experience. As far the worst show goes, he described the events in detail on the night of their return show with the lineup before this one. He stated that the technical difficulties, lack of togetherness and lack of preparation ensured that this show was one of the lowest points of their career.

In lighter news, the band has received a warm reception both onstage and on the airwaves in other cities than Louisville. Some of the more recent trips the band has embarked on are Indianapolis, IN and Xenia, OH. The band received airplay in Dayton, OH in the form of "Trick," a single from their collection of songs. The band has a demo they have been giving away lately with 5 songs on it. They will be adding to this group of tunes and returning to the studio (Canyon with Chris Cassetta) after the first of the year to compile their next album by mid-year 2003. You can get your hands on this demo now for $5 at an upcoming show, or wait for its arrival in full-form next year.

The band is revamping the site as well, as the web designer of

www.entermsd.com takes a shot at it. The "Nightmare Inc." touch may bring a darker feel to the online experience, so stay tuned to your computer for that. New features of the site will include contact information for the band's photographer and promotions manager, new pictures of the newest 3-month-old lineup and a brand new flash introduction.

On a side note, Jon has too much nice equipment and needs to give some of it to me.

The band uses some excellent equipment such as Marshall, Shure, ESP, Gibson and more. What does this mean? First of all, they are serious about what they do. Second of all, a lot of money goes back into equipment, thus reinvesting in the band. Always a good sign.

Another side note worth mentioning is the personal information that can be found on their web site,

www.execrate.com (which has nearly 19,000 hits). Here you can find your usual round of pictures, news, bios and more. However, you can also find out whether the band members are "available for bitches" or not. Ah... rock and roll.

As far as upcoming shows, the band has a few to mention:

December 14 at Tek World for Metal Fest (Day 2).

December 28 at The Dungeon in Radcliff.

January 18 at The Dungeon in Radcliff.

Future plans include traveling to Texas and Pennsylvania next summer to play a few dates. The new CD will be out, as well as new merchandise (stickers, shirts, etc. All sporting a new logo).

You can contact the band through the following email addresses:

Trey-

master169@aol.com

Jon-

flipguitar@hotmail.com

Chris-

ocpercussion502@aol.com

Execrate (all members) & Webmaster-

execrate13@hotmail.com

The band wants Louisville to stay open-minded to new things, as they are. They now feel they have a better idea of what people want and what the industry at large wants. Their stage show is more energetic than before and the new stage props they hope to have soon will help the visual portion of their performance.

The band is well on their way to great things...

Send me your information to

JJKSLACKER@cs.com... Next month, look for Algae in the Louisville Rock Lowdown.

Rock on Louisville!