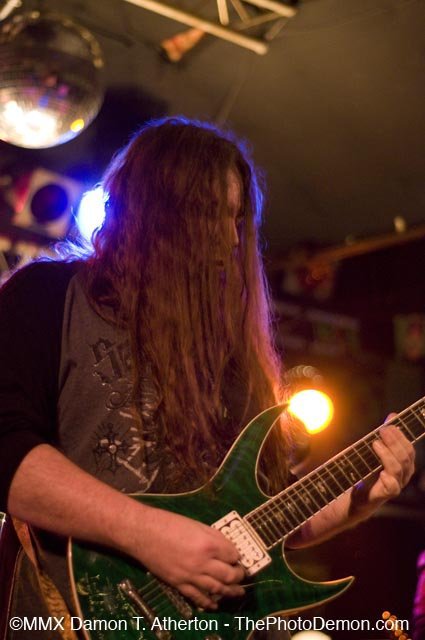 News From the Pit
What's up, freaks.
It's been a good month for shows and it seems that a lot of the drama has died down. I'm sensing a tad more unity in the scene for the first time in a while. Hopefully, all our bitching has knocked some sense into the scene and to all the lowly weasels out there. The only thing I see that could use a little work is the lack of promoting shows anymore. And that goes for me too. I've been a lazy Bee-yotch! But so have a lot of other bands too. But I have a pretty good reason, too. Nobody will let you put up flyers anymore! Hell, I almost got charged $300 for putting up flyers at Freedom Hall! The Management was being downright rude about it. Fortunately there are still a few places to put up flyers. So let's get off our rumps and plaster this fargin town with show flyers! Like the good ole days!
The Metal Grapevine
The Scene Takes A Loss:
Nicholas Seth Holbrook, the drummer for One With Misery passed away October 28, 2002. He had been fighting malignant brain tumors for about nine months. Even though he was bedridden and on numerous medications, he never gave up. Nine months after being diagnosed, he passed away at his home in Middletown. Nick had stayed positive and tried his best to hold on and live throughout his battle. Nick was a very talented drummer but he did not have an ego about it. He was only nineteen years old, but still one of the best and would have become something great. Nick only recorded one CD with the band, but he did help the other members make a lasting impression on the Louisville music scene. They were about to go into the studio to record the second album Wastelands, when he became sick.
The band wishes to assure everyone that Nick's drum parts will be heard on the next CD. Yes, the band will continue. That is what Nick told us he wanted, but Nick will never be replaced by anyone in our hearts. There will be a benefit show for Nick's parents at Tek World December 7th. The money will be given to Nick's mother to donate to a cancer charity in his name.
Nicholas Seth Holbrook, July 18, 1983 - October 28, 2002 The beat of Nick's drum will go on forever.
My Own Victim Puts Out New CD:
Louisville Hardcore/Metal veterans My Own Victim have just put out an eleven track CD, "Above It All." It's at stores now, so go pick one up!
And if you don't - you're lame.
Another New Venue:
There's a new venue on Floyd Street called Tailgaters, across from Cardinal Stadium. I've talked to them and they are cool people and seem eager to hook some original shows up. Even the brutal stuff.
Its 21 and over, so you younger folk will probably not care, but if you are old enough and can, try to get out there and support the place.
Point Of Anger Auditioning Guitarists:
Point Of Anger is searching for an aggressive and dedicated guitar player. Must play brutally If interested, contact Pointofanger@msn. com.
Metalfest Is Coming:
Two days in a row of heavy music is coming to Tekworld on December 13 and 14. You probably don't want to miss it. Check out the bands that are playing in Tekworld showdates listed below.
Expo 5 Closes Its Doors:
The relatively new venue Expo 5 has closed its doors. This sucks, another venue gone, gone, gone -
Upcoming Shows
Phoenix Hill Tavern
The Original Rock Showcase Series.
On the first Friday of every month in the Roof Garden.
Friday, December 6 - Tha Joint, Unhinged, 13th Level, Faceplant and Nemesis.
Friday, January 3 - Sara Tonen, Arch, Odesa, Shuv and Silent Q
Tailgaters
Friday, December 6 - Artie Dean Harris and Thaddeus Strange.
Friday, December 13 - Highline and Sunday Six.
Saturday, December 14 - Month Of Sundaze and Area Grey.
Friday, December 20 - Thaddeus Strange.
Tekworld
Saturday, December 7 - Nick Holbrook Benefit Show with Crazy Train, My Own Victim, One With Misery, Factor 9 and Incursion502.
Friday, December 13 - Metalfest Day, One. Harbinger, Nemesis, Lust 4 Hate, Point Of Anger, Doubting The Obvious, Exhaustion Method, Silent Q and Tornacade. 4 p.m.
Saturday, December 14 - Metalfest Day, Two. Incursion502, 13th Level, Execrate, Sara Tonen, Odesa, Flatlyne, False and Faceplant. 4 p.m.
Friday, December 20 - "A Phat Show"
Ill Nino, 3rd Strike, Otep, Noise Therapy and E Town Concrete.
Saturday, December 21 - Flaw, Faceplant, Blyss, Evil Engine # 9 and Small Town Drama.
Outtatownerz and Otherz
The Dungeon (Radcliff)
Saturday, December 28 - Nemesis and Execrate.
Props Of The Month
This month's props goes out to the soundman from hell, a guy who could make a gorilla amp with the speakers blown out sound good!
His name is Gus, I never knew his last name but he used to run sound at the Toy Tiger. Now he currently works with Flaw and a few other bands and venues as well.
In my opinion, his specialty is vocal effects. This cat has been in the scene for years! So this one's for you, Gus! you rule dude! And a little advice for any new band that is fortunate enough to have Gus running sound: buy the man a shot of tequila and your vocals with sound killer.
And Allen from the Phoenix Hill gets thumbs up, also.