Bluegrass Beat
You are my valentine, my only valen ...... (Sorry about that, Mr. Davis, I just thought it would sound good that way this month.) Well, it is Valentine's month. You know, the flowers, those tender notes and heart sentiments and always that heart-shaped box of chocolates and you whisper sweet nothings in her ear and she whispers sweet ...... nothing-doings in yours. Take heart; spring can't be too far away.
Rocket Launcher
Wow, did this year start like a rocket!
The fourth day of the year, or rather the fourth night, brought Dr. Ralph Stanley to Shepherdsville. All of the bluegrass lovers were breaking the barrier. This should be a lesson to all of you Ralph fans; when Ralph is there it is prudent and behooves you to Be Early. It was bulging at the seams. They had a turn-away crowd. Tommy Brown and his band could barely get in. A great show. Seize the moment and opportunity. How often have you heard that?
A stop for a biscuit after the show, and Ralph came in. When the pie was finished, I sat with Ralph and had a really good, enjoyable visit. Thank you, Ralph.
Amen, Brother!
Dr. Ralph, Emmylou, Gillian Welch, along with many others in the music cast of O Brother, Where Art Thou?, have kicked off a tour in Lexington. As I am writing this, I do not know how it turned out, but several weeks ago I was told Rupp Arena was sold out in two hours after the tickets went on sale. I can believe they will find that to be the case at all of the nineteen or so stops across the country. Are you surprised? Enough of the superficial artificial "country."
And speaking of O Brother, an item I saw on one of the Internet sites today is reporting that the soundtrack sales have now passed four MILLION and still counting. Kind of knocked the stuffin' out of Garth Brooks' Scarecrow and regained first place.
Icing Man Cometh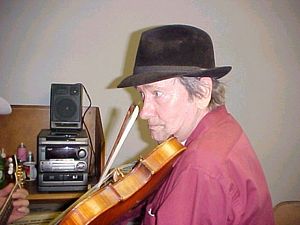 Art Stamper
If seeing Ralph wasn't enough, there was icing on the cake that night. Art Stamper showed up and played for an audience for the first time since his throat problems began. Art, as you know from all of the response, it was great to see you there and to hear you play. We all hope this is just the beginning. All things considered, you were looking good and sounded good. God bless.
Bluegrass at Babby's
On the 14th I had the opportunity to see our good friends The Lewis Family at Babby's Steak House in Jeffersonville, Ind. My first time at Babby's and hopefully not the last. A good show, as always from the Lewis's, and a dinner.
One thing I enjoyed especially was watching the audience. Watching the audience you say? Now why would I do that? Well, there were a lot of folks there who had never seen The Lewis Family and that always makes it fun to watch. In fact, there were three of them at our table. John Butler, a friend I worked with at Ft. Knox, joined me. He and the couple we were seated with were having a first-time experience. In very typical fashion, John told them he would see them again.
John, as well as all of us, will have that opportunity April 4 at Shepherdsville when The Lewis Family, along with another favorite, Jim & Jesse, will be there.
New Year, Old Hank
The response to the Hank Williams SR. New Year's Day special on WFPK this year brought in many great responses. I thank everyone for their kind and encouraging comments. Looking for this to be a regular annual show.
To quote, in part, one of the e-mails I received, "Hank Williams is as timeless as Bach and Beethoven." Never heard it put that way, but that's pretty solid.
Well, Now!
All's well that ends well, and for now the WSM fiasco ended well. A very brief synopsis for those who may not have heard too much: It seems the powers that be had decided they wanted to change WSM AM 650 into an all-talk/sports radio. The Opry would have been moved to WSM FM.
To cut to the quick, folks like Mike Armstrong (Nashville), Bill Knowlton (Syracuse, N.Y.), Mike Bacayu, Sonya Cotton, Jim Collings (Louisville), and thousands more across the country and out of the country, through e-mails, phone calls and peaceful protest, persuaded a change of course. As some have encouraged through e-mails, it would also be a good thing to now send thank-yous, just as the protest notes were sent. Can't hurt. (See addresses below.)
Lesson learned, or should be: the fans, the listeners, have proven once again a unified voice can/will be heard and heeded if action is taken on our part other than just talk among ourselves.
CEO Colin Reed: creed@gaylordentertainment.com
GM of WSM AM John Padgett: jpadgett@wsmonline.com
Gaylord toll free: 877-457-0001
Snail Mail: Colin Reed, Gaylord Entertainment, One Gaylord Drive, Nashville, TN 37214
>Where it's Happening
· West Point Music Ranch USA: Feb. 8, Verland Hatmaker with Rockin' Rancheros. Feb. 9, Adam Davis & Jaclyn Shields. Feb. 10, Talent Roundup, 2 p.m. Feb. 15, Rockin' Rancheros. Feb. 16, Country Classics with Beth Harris. Feb. 22, Rockin' Rancheros. Feb. 23, Kentucky Sisters return. Mar. 1, Rockin' Rancheros. Mar. 2, Dickie Butterbeans Moore & Gena Emerson.
· Shepherdsville: Feb. 8, Karl Shiflett & Big Country Show. Feb. 15, Mike Snyder. Feb. 22, James Monroe & Midnight Ramblers. March 1, Martha & Eddie Adcock & The Moron Bros.
· The Lighthouse (corner of Frankfort & Pope): Feb. 6, 8 p.m., Bluegrass Anonymous (Louisville Bluegrass Association) presents James King. Bluegrass jam to follow the show.
· Opera House, Mitchell, Ind.: Feb. 9, 8 p.m.: Doyle Lawson & Quicksilver.
· Also, a special benefit show for "Uncle" Josh will be at Shepherdsville Feb. 24, noon to ?? Artists to be confirmed. For information, contact Gary Brewer at g.brewer5@gte.net or www.brewgrass.com. You may also phone 502-448-9107.
Tune In, Join In
Lots going on, lots to do. Be a part of it. Keep listening to bluegrass radio wherever you find it. I'll continue to be at WFPK, 91.9 FM., 8-11 p.m. each Sunday night, and I hope YOU will be too. And be sure to pass on to your e-mail friends across the country and beyond that we are streaming audio. Just go to WFPK.org, our website, and follow directions.