I've Got A Mind To Ramble
Robbie Goes International
Robbie Bartlett is known locally, regionally and, more recently, internationally as a powerful jazz, R$B and blues vocalist. Her international reputation started in the summer of 2000, when she was asked to come to England to perform at the Mid-Summer Ball at Narracome Farm in Ilsington. She returned to England last summer to appear at the same festival, plus to present series of workshops over an eight-day period to kids in the public school system, a job she really enjoyed. Dartmoor School, in the County of Devon, has invited her back again in June. She will be working with both young and older kids, coaching them on vocals and musical instruments. All the hard work culminates with a public performance at the Mid-Summer Ball. Last year, she brought the house down with her students doing Aretha Franklin's version of "Chain of Fools."
Bartlett has stayed at a 14th Century Manor house that's been renovated into a bed and breakfast, plus she has gotten in some sightseeing, in particular visiting nearby Exeter to see a beautifully preserved cathedral. Once the workshops are done, she will embark on a three-week tour of clubs and festivals around England and in Italy, joined by her band members, Don Pollard, Mark Richardson and David Marasco.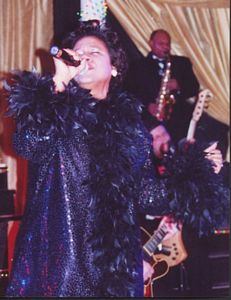 Robbie Bartlett at the House Of Ruth.
Robbie has had some interesting gigs lately, including a New Year's fund raiser in a huge 10,000 square foot warehouse off Bishop's Lane. The $100-a-head event benefited the House of Ruth, an agency that serves those struggling with HIV and AIDS. The space was made over to look like New York City and was staged by Barbara Cullin. (Note Robbie's feathery sequined gown in the photo.) Other jobs included a fortieth birthday party at Equus Run, a winery near Versailles and a performance in Greensburg, KY at the Cow Days Festival. Bartlett is currently writing songs for her next CD, which will have an R&B sound with a live feel.
Good luck on your third trip abroad, Robbie.
An Axe For Auction
"Do you know of anyone who wants to buy an established blues club in the greater Cincinnati area?" When I received this e-mail in early January, I went to their website for more information. The club, located in Latonia, Kentucky, is Lucille's, named after B. B. King's guitar. Blues Review magazine featured Lucille's as one of the best "Off The Beaten Path" venues in their January/February 2000 issue. As Dave Warford wrote, "Add a good sound system, cheap tickets and good people and you've got the perfect prescription for a night of quality blues." The Greater Cincinnati Blues Society likes it, too, for they hold their monthly meeting there.
Lucille's was started in October 1994 by Greg and Patti Malos. Through hard work, they converted a 90-year-old shotgun-style hardware store building into a cozy, laid back club. The renovation included installing an ornate 1883 German "Union Brunswick" mahogany back bar and pressed tin ceiling, adorned with angels - or cherubs, depending on how you look at it. The ceiling tiles were salvaged from a nearby building.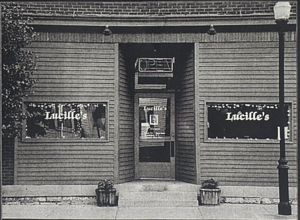 Lucille's.
There is a beer garden patio with a cabana-style bar out back and a three-bedroom apartment with solarium and hot tub above the club. It has been a "mom-and-pop" project from the start, with Patti running the bar and kitchen, while Greg does the music booking and presentation. Greg Malos is a licensed social worker who counsels troubled teenagers, but he always wanted to play guitar in a blues band. His first group was called "Soul Therapy; now he performs in the house band under the name of G. Miles and the Hit Men. This band includes Jim Bays on sax, Cliff Mayhugh on bass, Paul Sketch on drums and Jim Penman as the percussionist and spiritual advisor. Malos plays lead guitar, sings and writes most of the band's songs. They have a first CD, called There's More Than One Way to Skin a Cat.
The club's music features local acts on weekends, blues jams on Thursdays and regional and national acts of special weekends. This small venue seats a little over one hundred people but has hosted some big names, including Tinsley Ellis, Debbie Davies, Carl Weatherby, Kenny Neal and Little Charlie and the Nightcats during its seven-year history.
When the auctioneer's gavel comes down on Tuesday, January 29, I hope the high bidder will continue Lucille's blues legacy.