Who Will Replace Him?
J. Kelly McKnight posed the question to the throng pressed into the flower-filled room, made suddenly gloomier as all stared through their tears at the majestically simple hand-made coffin containing the body of Gerry Ford. Heads dropped as the answer welled up out of our hearts ... no one. No one can be the husband, father, artist, musician, businessman, publican, friend ... in the way that Gerry Ford was. Although he supported the old heritage festivals on the Belvedere, he yearned for an Irish festival in Louisville - with real Irish music, without green beer, with substantive exhibitions of Irish culture, without the freckle-face contests, et cetera. He got his wish in 1989 and it grew in size and scope every year until its last hurrah in 1996. Many have since mourned its demise but none more than Gerry Ford.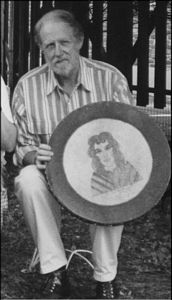 Gerry Ford
Who will replace him? The realization of another of his life's major goals continues though Gerry has joined the shades. It is no slur to observe that the pub epitomizes Irish culture - not for the drink but for its community - the "poor man's university,6," the craic. A place where the good news, the bad news, the old friends reminiscence and the new friend's introduction, the jokes, the rumors, boasts, curses and benedictions fill the air. Children eat while old men nod off. The world turns. Gerry yearned for such a place in Louisville. Kitty O'Kirwan's finally opened this summer to universal acclaim. During his final months, Gerry described his deep joy at when working away on his beautiful copper art in his shop while he could hear the tumult of life in the pub below. His pub. Done right. Who will replace him?
The Chieftains at Louisville Palace
A drop of the pure stuff, the real McCoy, with Good Housekeeping Seal - as good as it gets. The epitome of their art, the Chieftains are naturally consummate collaborators as well. Wither role will inspire even the most discerning musician. Many will no doubt welcome their return on February 28 for their 8 p.m. show at the Louisville Palace. Tickets ($37.50/$45/$65) are now on sale at the box office or through Ticketmaster (call 361-3100). For additional information, call 583-4555 during business hours. Thank you, Louisville Palace!
Never Despair
Cincinnati's premiere traditional Celtic music group, Silver Arm, has released a new CD entitled Never Despair. This latest release exemplifies the musical depth of this fine band. A few old favorites like "Sergeant Early's Dream" and "Britches Full of Stitches" are there but then you will surely enjoy their sojourn into a couple of sets of Swedish, Romanian and Macedonian tunes. Katie Else has a lovely pure voice as well and Tim Benson's uileann pipes and whistles are exquisitely played. Silver Arm performs regularly at The Dubliner in Cincy and Jack Quinn's Ale House in Covington. The have many fans in Louisville who would love to see them at the Irish Rover, Molly Malone's, Kitty O'Kirwan's or O'Shea's. What about it, ye wise publicans? For more information you can contact Silver Arm at (513) 871-4527 or matyi@fuse.net.
Jez Lowe in Concert
Rock's favorite singer/songwriter is Jez Lowe from Durham, England. Richard Thompson has called Jez "the finest songwriter to come out of England in a long time." One way to describe Jez would be: a northern English ("Geordie") John Prine, with perhaps a little more humor and a little less despair. He has a light, somewhat dreamy voice, which nonetheless has tremendous power to evoke emotions and images. Jez will be performing a solo concert at Franklin College (Indiana) on Tuesday, February 12 at 7 p.m. (local time) in the Eli Lilly Campus Center, Franklin Room. Tickets are $10 and all proceeds will benefit the Boys and Girls Clubs of Franklin as well as the John Lorenzo Memorial Scholarship (Lorenzo was a Franklin alum who was killed in action as a firefighter). To order tickets, call 317-738-8044 or 800-852-0232, extension 8044 during regular business hours.
Sessions Anyone?
Molly Malone's has a regular session every Sunday at 4 p.m. and Kitty O'Kirwan's sponsors a jam every Thursday at 8 p.m. The Irish Rover often has jams on weekend nights but call before driving. There are some high quality sessions in Lexington, Bloomington and northern Kentucky but more on those later.
St. Patrick's Day Parade
Here's any early heads up. The parade will be on Saturday, March 16 in the Highlands at roughly the route to pass a reviewing stand at Molly Malone's. Don't miss it! Call 451-0871 if you want to have a marching unit. One of the Blarney Boys from Arizona has already contacted Rock to make sure they make their usual outrageous appearance.